This Massive Connected-Car Play Is Sitting Right Under Your Nose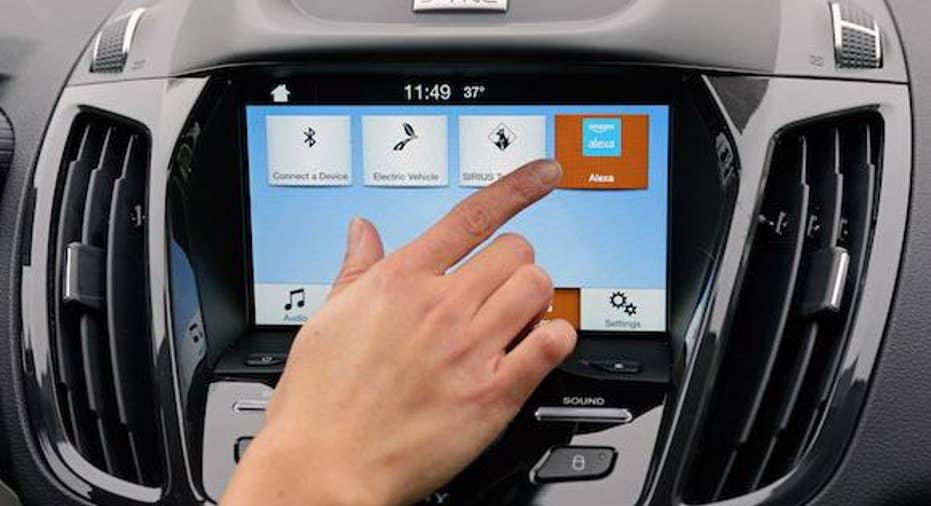 Image source: Ford.
Your car has way too many buttons. The automakers know it, the tech companies know it, and you know it. Apple and Alphabet's Google think they've got the solution to the problem with CarPlay and Android Auto, but I'm not so sure.
First of all, both of those systems are adapted versions of iOS and Android. They're good systems to be sure, but they were built primarily for mobile devices and adapted for use in cars. That's not ideal.
Secondly, carmakers hand over a lot of control in their vehicles when they bring in CarPlay and Android Auto. Automakers haven't exactly made the most user-friendly infotainment interfaces so they're having to yield a bit to the simplicity iOS and Android offer.
But there's a third option that's emerging, and I think there's reason to believe it could gain serious traction. It's Amazon.com's voice-controlled digital assistant, Alexa, Ford already sees its potential.
Alexa, where have you been all this time?Just a few months ago, Ford said it was "exploring" how to integrate its SYNC infotainment system with Amazon's Alexa-powered,voice-activated Echo speaker. That's pretty notable considering that Ford has 14 million SYNC-enabled vehicles, and will have 43 million by 2020.Ford said it wants to pair the cars with the Echo speaker so car owners could ask Alexa to turn their car on from inside their home, unlock the car doors, or check the gas mileage.
But the real news was buried a bit further down in the press release, where Ford said that it also wants to tap into Amazon's cloud-based Alexa voice assistant from inside the car, so that drivers could ask Alexa whether the garage door is closed, if the porch lights are on, and even when their next appointment is scheduled.
Syncing the car to smart-home devices isn't anything new, but bringing Alexa into the car could be just a tad transformational.
Yes, Siri is in the car. But is it really? Siri is just funneled through your iPhone into the speakers of the car. But if Ford integrates Alexa directly into the vehicle, then she'll always be right there, waiting to answer questions, connect to your smart-home devices, and manage in-car infotainment.Alexa would serve as a digital assistant that complements a car's infotainment system, rather than replace it like Android Auto and CarPlay do.
An add-on feature for the rest of usNearly 250 million connected vehicles will be on the road by 2020, according to Gartner. But there's also a lot of potential for Amazon to bring Alexa into older vehicles as well.
A recent CNET video showed just how easily Amazon's small version of the Echo speaker, called the Dot, can be plugged into a car's auxiliary port, wirelessly tethered to a phone's hot spot connection or a 4G LTE connection through the car, and then allow drivers to use Alexa the same way they do in the home.
CNET even suggested a 3G or LTE connection could be added to the next version of the Dot so it could tap into Alexa on its own. Adding a few upgrades for turn-by-turn directions and the ability to sync with smartphones could easily make Alexa the go-to after-market digital assistant in the car.
Think of the next version of the Dot shrunken down the size of an Amazon Fire Stick, Internet-enabled, and able to plug right into a USB orauxiliaryport in the car and you can start tosee Amazon's potential for an after-market automotive digital assistant.
What's in it for Amazon?It's no secret that cloud-based services are becoming increasingly important to Amazon. The company's Amazon Web Services (AWS)cloud storage system brought in $7 billion for the company last year.
Alexa is much different than AWS, of course, but she does give Amazon more access to what consumers are searching for, where they're searching for it, and when. And just as Google uses all of its data to serve us better ads, Amazon could continually use our Alexa searches to better sell us goods from its site.
Imagine driving around town and asking Alexa to find you a dry cleaner, and then later that night you go online and find an Amazon ad for a new dress shirt, or stain remover?
Amazon is increasingly in the business of offering its users the most relevant products and services at the exact time its users want them (its Dash Replenishment Service, Amazon Prime, and Subscriber & Save, are all good examples). Alexa is already making it easier for Amazon in our homes, and the next step is to bring her into the car.
The article This Massive Connected-Car Play Is Sitting Right Under Your Nose originally appeared on Fool.com.
Chris Neiger has no position in any stocks mentioned. The Motley Fool recommends Gartner. Try any of our Foolish newsletter services free for 30 days. We Fools may not all hold the same opinions, but we all believe that considering a diverse range of insights makes us better investors. The Motley Fool has a disclosure policy.
Copyright 1995 - 2016 The Motley Fool, LLC. All rights reserved. The Motley Fool has a disclosure policy.