The Outlook for General Electric Company's Most Important Product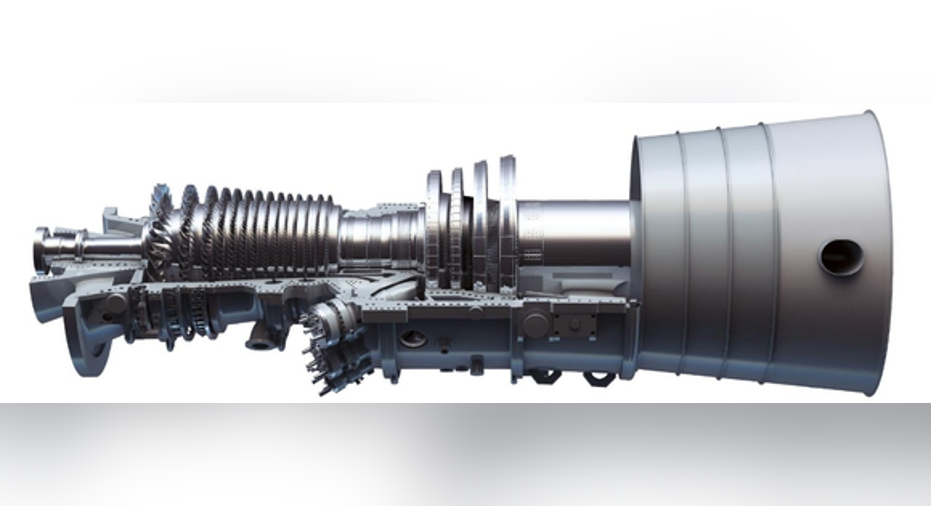 Power matters to . In fact, the segment is the company's largest industrial business, contributing 25% of industrial segmental profit in 2015. Within the power segment, gas turbines -- traditionally the company's most important product -- are a key part of its future prospects. But what can investors expect in the next five to 10 years from end demand from bulk power spending, and how is General Electric Company positioned in this market?
General Electric claims its H-Class turbine is the world's most efficient heavy-duty gas turbine. Image source: General Electric.
Three considerations Answering these questions requires a look at three key factors:
The general outlook for bulk power spending. Also, does it have stable "utility-like" end demand, or is it cyclical?
The impact of ongoing low gas prices on gas turbine demand -- positive or negative?
How is General Electric positioned to compete with and other peers, and does the deal make sense?
Positive spending outlook, but risks remain Ultimately, spending on bulk power solutions is determined by a combination of end demand for electricity and the capacity of the network in question to deal with demand loads. Focusing on the domestic market, the projections of the North American Electric Reliability Corporation (NERC) -- an authority charged to ensure and enforce reliability standards -- is a good place to start.
Delving into NERC's 2015 Long-Term Reliability Assessment, the general picture is of a moderate outlook for utility spending in the next five years, but conditions could improve in the medium term. It's a broadly positive outlook, but subject to economic conditions. NERC usually uses a metric called the reserve margin -- a measure of how much additional resources a network has to meet demand -- to judge network capacity. A lower number signals more spending on capacity is needed.
Quoting from the 2015 assessment's summary: "Reserve Margins in all Assessment Areas appear sufficient but continue to trend downward. Reserve Margins are trending downward in many Assessment Areas despite an ongoing decline in the growth rates of electricity demand."
Moreover, despite reserve margins declining, and weak electricity demand, NERC argues that "none of the Assessment Areas' Reserve Margins fall below Reference Margin levels in the short-term horizon" in the period between 2016 and 2021.
All told, there is no immediate pressure on utilities to ramp up spending, but since reserve margins are falling, spending is likely to increase in the medium term. The fly in the ointment could come from an economic slowdown acting to reduce electricity demand, which, as NERC outlines above, is declining in growth.
Low gas prices to the rescue If gas prices remain low, then gas turbines are likely to be run more -- a boon to services demand for companies with large installed bases such as General Electric and Siemens. Moreover, retirements of plants using competing energy sources (such as coal) could accelerate due to the relatively more attractive price of gas coupled with government regulation against coal.
Is it safe to assume, as some well-respected observers think, that lower gas prices are a net benefit to the gas turbine demand?
Not so fast. The reality is that a lot of the growth in electricity spending is coming from emerging market countries, some of which are reliant on high energy prices in order to support government spending on utilities. Moreover, electric capacity expansion is often tied to oil and gas projects, which may be curtailed because of low energy prices.
As you can see below, a significant part of General Electric's 2015 power revenue comes from the Middle East and Africa.
Data source: General Electric Company presentations.
General Electric Company is well positioned Siemens' management believes the turbine market is very competitive, with overcapacity in the large turbine market. In such conditions, it's usually a good idea for large players to consolidate the industry (as in Siemens' acquisition of ) or develop game-changing technologies.
Here's what General Electric has been doing:
The purchase of Alstom's energy assets is a good strategic move in a slow-growing market and will add a significant installed base.
Developing Industrial Internet of Things (IIoT) solutions will create growth opportunities for the company's power services business. (Power services generated 63% of power revenue in 2015, with equipment making up the rest.)
General Electric's new H-Class turbine isgenerating strong order growth, due to its enhanced efficiency characteristics, and it is helping the company gain share in the larger turbine market.
In short, management should be lauded for its strategic moves in an otherwise moderately growing market.
The bottom lineThe power spending outlook is moderately positive, but cyclical risk remains. Lower gas prices offer an opportunity, but they arealso creatinga threat to revenue generation. It all sounds inconclusive, but what isn't in doubt is management's maneuvering to generate growth in power.
General Electric's purchase of Alstom's energy assets increasingly looks like a good move, and the company's IIoT initiatives and focus on services growthis ensuring the company can outperform a moderately growing power market.
The article The Outlook for General Electric Company's Most Important Product originally appeared on Fool.com.
Lee Samaha has no position in any stocks mentioned. The Motley Fool owns shares of General Electric Company. Try any of our Foolish newsletter services free for 30 days. We Fools may not all hold the same opinions, but we all believe that considering a diverse range of insights makes us better investors. The Motley Fool has a disclosure policy.
Copyright 1995 - 2016 The Motley Fool, LLC. All rights reserved. The Motley Fool has a disclosure policy.