Tesla rival Nikola wins Anheuser-Busch electric truck order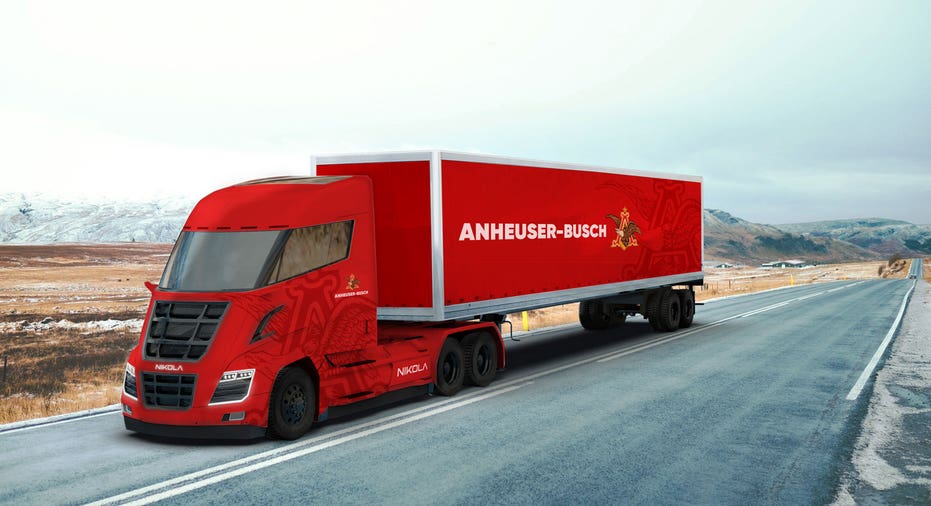 Anheuser-Busch said Thursday it has placed an order for up to 800 hydrogen-powered semi trucks made by Nikola Motor, which is competing against Tesla to win over buyers looking for an alternative to diesel big rigs.
The Budweiser brewer, which reserved 40 Tesla Semi trucks in December, plans to add Nikola's trucks to its long-haul fleet starting in 2020. The entire Anheuser-Busch fleet will use renewable fuel by 2025, the company said.
"The transport industry is one that is ripe for innovative solutions and Nikola is leading the way with hydrogen-electric, zero-emission capabilities," Anheuser-Busch CEO Michel Doukeris said in a statement.
The Nikola trucks will be able to travel from 500 to 1,200 miles on one hydrogen fuel tank, according to Anheuser-Busch, a unit of AB InBev. The tanks can be refilled in 20 minutes. Nikola said it expects to have more than 700 hydrogen stations in the U.S. and Canada by 2028.
Companies that operate large truck fleets are turning to electric big rigs to curb transportation costs and emissions.
Walmart, UPS, PepsiCo and others have placed early orders for the Tesla Semi. Before the Anheuser-Bush deal, Nikola had received pre-orders for more than 8,000 trucks. The company has now booked nearly $9 billion in pre-orders, according to Nikola CEO Trevor Milton.
Earlier this week, Nikola filed a lawsuit against Tesla claiming that its rival violated patents in designing the Semi. In response, Tesla said it's "patently obvious there is no merit to this lawsuit."
The all-electric Tesla Semi is scheduled to enter production in 2019. Nikola plans to start building its long-haul electric truck in 2020 at a new $1 billion plant in Arizona.