Terrible Tuesday: Wall Street Walloped in Worst Slide of 2012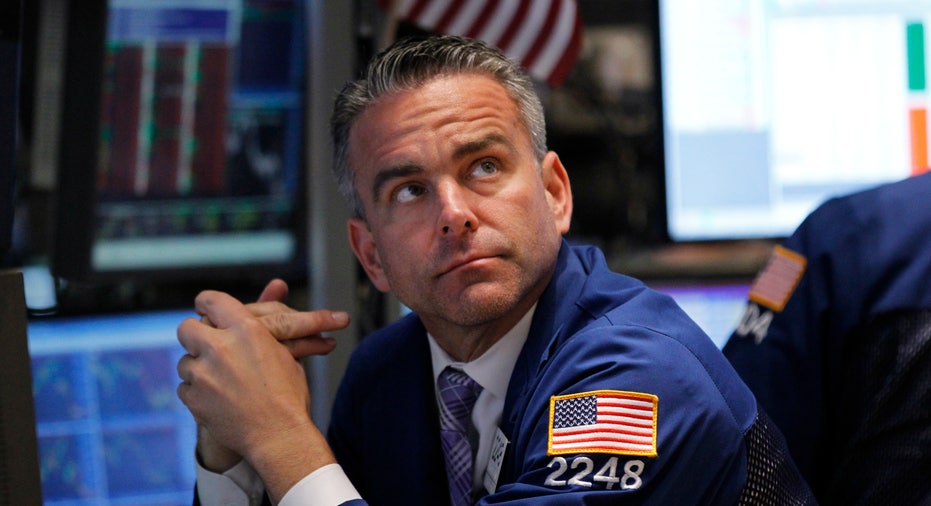 FOX Business: The Power to Prosper
Wall Street took its worst fall of the year on Tuesday as doubts over whether Greece will be able to coax enough creditors into partaking in a critical debt swap swelled, sending traders dashing out of equity markets and into perceived shelters.
Today's Markets
The Dow Jones Industrial Average fell 204 points, or 1.6%, to 12759, the S&P 500 dipped 21 points, or 1.5%, to 1343 and Nasdaq Composite slumped 40.2 points, or 1.4%, to 2910.
All but one Dow component ended in the red, led by Caterpillar (NYSE:CAT), the world's biggest maker of heavy machinery maker, which fell 4.1%, costing the blue-chip index more than 30 points on its own. Other major point drags included IBM (NYSE:IBM), 3M (NYSE:MMM) and United Technologies (NYSE:UTX).
Volatility shot up by 15.6% as tracked by the CBOE's VIX, while traders bid up safe-haven U.S. Treasury bonds. The benchmark 10-year yield dropped 0.056-percentage points to 1.948%.
Looking at the broader markets, materials, financial and industrial shares took the biggest beating. The utility sector was spared the brunt of the selling, while consumer staples and technology companies also mildly outperformed on the day.
Commodities followed equities far into the red.
The benchmark crude oil contract traded in New York fell $2.02, or 1.9%, to $104.70 a barrel. Wholesale RBOB gasoline dipped 0.86% to $3.23 a gallon. A gallon of regular costs $3.746 on average nationwide, up from $3.478 last month and $3.509 last year, according to the AAA Fuel Gauge Report.
Gold slumped $31.80, or 1.9%, to $1,672 a troy ounce, the lowest level since late January.
Another Eurozone Recession Looming?
The eurozone's economy shrunk by 0.3% in the final quarter of 2011, Eurostat confirmed on Tuesday, compared with a 0.1% gain in the previous quarter. The currency bloc's economic output expanded at a pace of 1.4% for all of 2011, slower than a previous estimate of 1.5%.
Household spending and investment both took big hits as consumers and companies struggled against strong headwinds from the debt crisis. Economists are expecting another contraction in the first quarter of 2012, meaning the eurozone would officially be back in recession territory for the second time in three years.
"Despite some recent overall improvement in [eurozone] surveys and evidence that Germany is returning to growth, we doubt that the [eurozone] will be able to avoid further contraction in the first quarter of 2012 and very possibly the second," IHS Global Insight Chief European and UK Economist Howard Archer wrote in an e-mail.
All together, the European Union countries make one of the world's biggest economies, meaning a drastic pullback there could lead to weakness abroad. Analysts also worry about the growing divergence between expansion in the core countries, like Germany, and the embattled periphery.
On Monday, China, the world's second biggest economic player, pared back its growth target for 2012 by 0.5-percentage points, in the first cut in eight years.
Many European bourses were more than 3.5% to the downside, with the Europe Dow tumbling close 3.8% on the day. The euro slid 0.62% to $1.3135, while the U.S. dollar rose 0.45% against a basket of six world currencies tracked by the dollar index.
Analysts also pointed to uncertainty over whether Greece will be able to finish its bond exchange in which private creditors are taking losses of more than half on the face value of their debt as another reason for the negative sentiment.
"It appears the Greece debt swap will go down to the wire," analysts at Barclays Capital wrote in a note to clients on Tuesday.
If the country can't convince bondholders to take the deal, or its rescue with European lenders falls through, it could lead to a chaotic default that could further rattle the financial markets. Greece's next bond payment is due on March 20.
Spanish and Italian borrowing costs crept higher as traders grew more wary about the sovereign debt crisis once again. Indeed, both countries' 10-year bonds pushed above the 5% level on the day, according to data compiled by Reuters.
Corporate News
Merck (NYSE:MRK), the pharmaceutical giant, said it expects adjusted first-quarter earnings of between 95 cents and 98 cents a share, weaker than the $1.01 analysts were expecting.
Foreign Markets 
European blue chips fell 2.8%, the English FTSE 100 dipped 2.8% to 5770 and the German DAX slid 2.8% to 6773.
In Asia, the Japanese Nikkei 225 slipped 0.63% to 9634 and the Chinese Hang Seng tumbled 2.2% to 20806.