Taser Maker Offers Free Body Cams to Police, NYPD Not Interested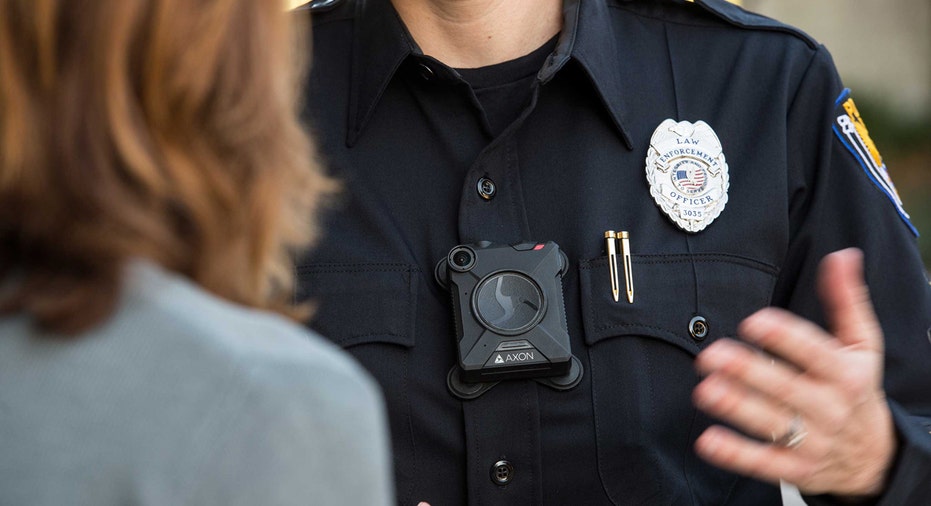 Taser International, known for its controversial electrified non-lethal weapons, has changed its name to Axon (NASDAQ:AAXN) and is now offering free body cameras to police officers in the U.S., the company announced this week.
The Scottsdale, Arizona-based company said the name change reflects its expanded product offerings beyond the Taser. In addition to body cameras, Axon offers cloud-based data storage and other technology services.
Only 20% of U.S. police officers today are wearing body cameras, but 95% of police departments are committed to implementing the device into their forces, according to a recent survey by the Major Cities Chiefs Association and Major County Sheriffs' Association.
Axon said it will provide one body camera and two camera mounts per sworn officer. The offer is a one-year trial and includes supporting hardware, software and training.
"This offer gives departments the chance to prove the benefits of body camera technology before investing taxpayer dollars in purchasing it," Axon said.
Axon CEO Rick Smith believes the use of body cameras allows officers to "more safely and effectively do their jobs," he said in a statement.
"We believe these cameras are more than just tools to protect communities and the officers who serve them. They also hold the potential to change police work as we know it, by seamlessly collecting an impartial record and reducing the need for endless paperwork. That's why we're giving this opportunity to every single police officer in America," Smith added.
VIEVU, another provider of body-worn cameras, criticized Axon for what it deemed a "publicity stunt."
"These so-called 'free cameras' come with significant internal implementation costs for law enforcement agencies that will be left with unusable raw data at the end of a year-long trial period, essentially forcing them to commit to TASER's overpriced services or face exorbitant switching costs," the privately held Safariland Group, VIEVU's parent company, said in a statement.
The New York Police Department, the largest law enforcement agency in the country, selected VIEVU over Axon for a $6.4 million contract to supply body cameras. The NYPD was ordered by a federal court to equip its officers with 1,000 body cameras through a pilot program. The contract with VIEVU remains under review by city officials.
An NYPD official said accepting Axon's offer of a free trial would be "inappropriate according to rules governing the procurement process," according to the New York Daily News.
Axon's effort to secure a contract in Phoenix also fell short after the city determined that an offer of free body cameras skirted procurement rules, disqualifying the company's contract bid. However, in February, the Arizona Republic reported that Phoenix would reopen the bidding to allow its new police chief to oversee the process.
The Fraternal Order of Police could not be immediately reached for comment.