Target Shares Rise on 1Q Earnings but CEO Not Ready to 'High Five' Yet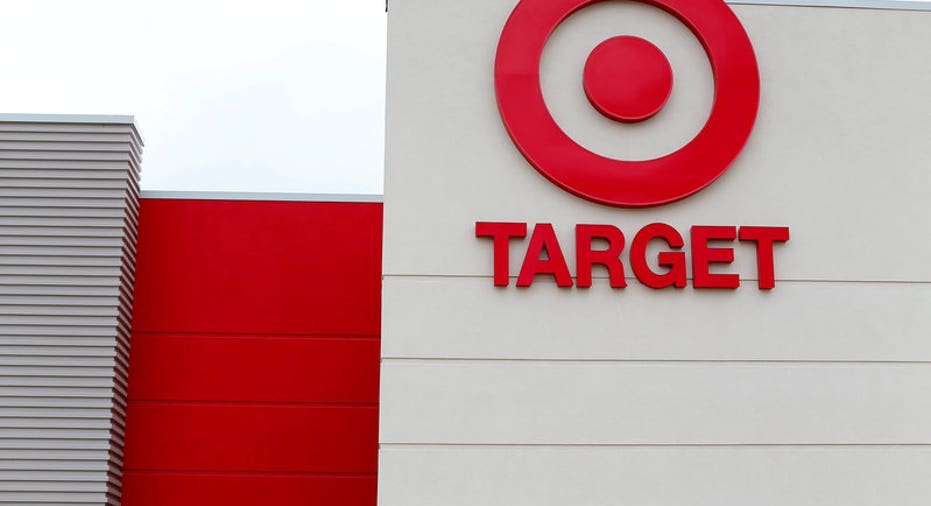 Target's (NYSE:TGT) first-quarter earnings were a bullseye for investors who sent the company's shares up 3.5% Wednesday as the broader market moved sharply lower after it reported a smaller-than-expected decline in same-store sales. But the company's CEO said he's not ready for a round of high fives just yet.
The Minneapolis-based retailer reported a 1.1% decline in revenue from a year ago to $16.02 billion, outpacing expectations for $15.62 billion. Comparable-store sales, a key metric for retailers which measures completed transactions at stores open at least a year, declined 1.3%, driven primarily by a decline in traffic and purchase sizes. However, the decline wasn't as steep as the 3.6% drop analysts forecast, according to Consensus Matrix expectations.
Same-store sales were a source of weakness for retailers as a whole in the first quarter, especially department stores like Macy's (NYSE:M) and JCPenney (NYSE:JCP), as shoppers continue to shift their spending online rather than browsing through aisles in physical stores.
"We feel good about progress in the first quarter, but we're not doing high fives. We know we have a lot of work to do. As a company, we have a very strong foundation…we have a very clear strategy in place and our focus will be on week-to-week execution from a physical and digital standpoint," chairman and CEO Brian Cornell said on the company's earnings call with analysts.
While e-commerce giant Amazon (NASDAQ:AMZN) continues to challenge traditional industry players, Target has revamped its focus in the space and saw sales rise 22% across its digital channels in 1Q. The company has worked to streamline in-house digital operations, abandoning a partnership with Curbside, an app that allowed customers to pick up orders outside the stores, instead working on developing its own service, the Wall Street Journal reported this week.
Additionally, while facing mounting pressure from Walmart (NYSE:WMT), which acquired Amazon rival Jet.com last year and has been on a buying spree – snapping up companies like Modcloth and Moosejaw –  Target had reportedly been working on an acquisition strategy before opting to develop its own competitive platforms. The company eliminated Goldfish, and in-house start up that would have provided a marketplace for third-party sellers, and walked away from various acquisition discussions including ones for Sprouts Farmers Market and online wholesale retailer Boxed, according to the Journal.
Cornell, in a statement said, that while the quarter began with "very soft trends," Target saw improvement later in the quarter, particularly in March.
"We are in the early stage of a multi-year effort to position Target for profitable, consistent long-term growth, and while we are confident in our plans, we are facing multiple headwinds in the current landscape," he said. "As a result, we will continue to plan our business prudently while preparing our team to chase business when we have an opportunity."
To that end, Cornell said his company will evaluate M&A opportunities that will enhance Target's current business initiatives and strengthen the core strategies of accelerating sales and complementing the brand's interaction with its customers. Cornell and a team of executives on the earnings call repeatedly reiterated that focus going forward remains on growing in-store and online traffic, capturing more market share, and investing in brands while also improving the value proposition with customers.
While investing more heavily online, Target has also doubled down on its brick-and-mortar strategy as it tests small-format stores in various parts of the country, including New York City, in an effort to reshape the brand's big-box image. At the same time, the company in March unveiled new concept stores aimed at elevating the in-store experience and emphasizing exclusive brands as well as ease and simplicity for quick trips to the store for household items. The first new-format store will open in Richmond, Texas in October.
In the first quarter, Target's net earnings of $681 million, or $1.21 a share, represented a 6.1% decline from the same time a year ago, but were well above Wall Street expectations of 91 cents. The company expects a low single-digit decline in same-store sales both in the second quarter and for the full year, with earnings per share between 95 cents and $1.15 in the current quarter.
Target shares rose to $56.16 on Wednesday, but have posted declines of 25% over the last year amid industry-wide fears about a challenged retail environment.