Super Bowl serves as peacemaker between Uber and Houston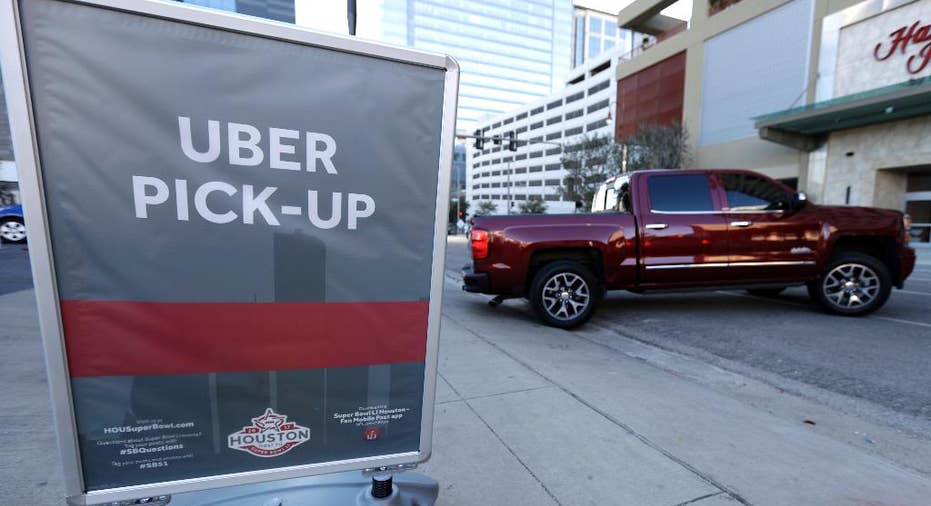 Anybody using Uber in Houston during Super Bowl week can thank the big game for their ride.
Up until a couple of months ago, it was unclear if the popular ride-hailing service would be helping shuttle many of the more than 1 million people expected to take part in Super Bowl-related activities in the host city.
Uber had threatened to leave Houston ahead of the festivities, insisting various city regulations, including fingerprint background checks of drivers, were too burdensome and prevented drivers from working.
Houston officials and Uber reached a compromise in November, keeping the service in the city through at least the Super Bowl. But the dispute highlights the ongoing debate many cities across the country have had with the app over how to balance sufficient regulation and public safety.
Kyle Chank, director of transportation and operations with the Houston Super Bowl Host Committee, said organizers are "definitely glad" Uber will be one of transportation choices for people.
"The clientele that's coming to the Super Bowl, they expect to use their Uber app to help get them around the city," he said. "It represents a much-needed (transportation) alternative."
Kevin DePaola, one of the many Uber drivers in Houston expecting to see a boost in their incomes thanks to the Super Bowl, said he had been concerned about Uber's departure. He depends on his driving to help supplement his income since losing his job in seismic imaging in October 2015. Many in Houston have lost jobs as oil prices have dropped.
He said it will be difficult for Houston to drive off a transportation option like Uber from a city that — while it has made great strides in its mass transit system — is still very much a place where a car is a necessity.
"It's already begun to build up a consumer base. If Houston chases them out, I think they are going to hear it," said DePaola, 50, who has also worked as an aerospace engineer with NASA.
Since it began operating in Houston in 2014, Uber and the city have been at odds over regulation. While Uber criticized many of the city's requirements, including a drug test and a physical for drivers, the main sticking point has been the fingerprint background check. Last year's compromise eliminated the drug test and physical and reduced licensing costs but kept the fingerprint check.
Uber has pulled out of cities that have required a fingerprint background check, including Austin, which voted in May to keep rules requiring ride-hailing company drivers to undergo such checks. Last year, Chicago dropped a proposed fingerprinting requirement when Uber threatened to leave.
Ginger Goodin, director of the policy research center at the Texas A&M Transportation Institute, said while 38 states have laws regulating ride-hailing services like Uber, none of these states require fingerprint background checks for drivers. Texas is not one of those states, but it's an issue that is being reviewed during the current legislative session.
Sarfraz Maredia, Uber's general manager for Texas, said Houston's regulations have prevented more than 25,000 people who had been qualified by Uber to be drivers from being licensed by Houston. Maredia said Uber's background screening of drivers is thorough and covers a person's driving history. He criticized fingerprint background checks as relying on incomplete databases and possibly being discriminatory.
"We were proud to work with the mayor and the city council to reach a compromise that allowed us to continue operating through this important week. We want to be a partner to the city for these major events," Maredia said.
Lara Cottingham, deputy assistant director of Houston's Administration and Regulatory Affairs Department, which handles licensing procedures for vehicles for hire, said the city has continued to insist on having fingerprint background checks, believing it's the best way to ensure public safety.
"It was important to put this issue to rest because with the Super Bowl, all eyes (will) be on the city of Houston," she said. "You don't want transportation to be a problem."
Maredia said he continues to work with local officials on the fingerprint requirement but is optimistic Uber will be in Houston "for decades to come."
Josh Weekly, an Uber driver working this week, said while he supports efforts to ensure drivers are properly vetted, he also doesn't want the city to make the licensing process so burdensome that the ride-hailing service leaves.
"If you want to use Uber, use it. If you think Uber is unsafe, then don't use it," said Weekly, 35, who lives in Beaumont but drives for Uber in Houston.
___
Follow Juan A. Lozano on Twitter at www.twitter.com/juanlozano70
___
For more NFL coverage: http://www.pro32.ap.org and http://www.twitter.com/AP_NFL