Stocks Trim Losses, Greek Developments Eyed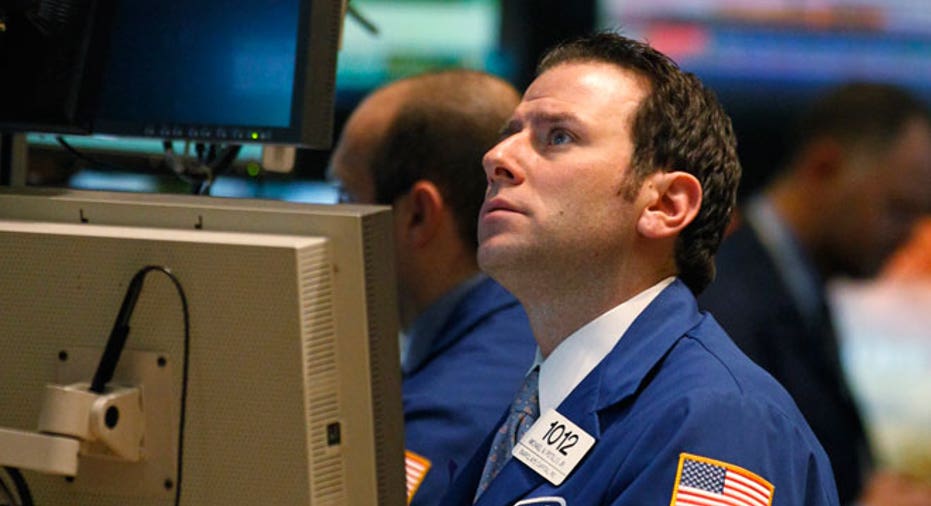 FOX Business: The Power to Prosper
The markets pared heavy losses, but remained to the downside, as market participants parsed through a flurry of headlines on Europe's sovereign debt crisis, specifically focusing on Greece.
Today's Markets
As of 3:25 p.m. ET, the Dow Jones Industrial Average slid 105 points, or 0.91%, to 11,404, the S&P 500 dipped 10.9 points, or 0.9%, to 1,205 and the Nasdaq Composite tumbled 4.3 points, or 0.18%, to 2,617.
The financial sector sustained the strongest selling on Monday, but every sector was in the red. Indeed, Bank of America (NYSE:BAC) and American Express (NYSE:AXP) were among the worst-performing Dow components.
The markets posted a five-day rally last week, with the blue chips soaring 517 points, or 4.7%, pushing the Dow to the highest point since late-August.  However, sentiment quickly took a turn for the worse on Monday as the euro zone crisis once again took center-stage.
The European Union and International Monetary Fund told Greece it must enact deeper austerity measures, and cut its deficit further, to qualify for roughly $11 billion in aid due next, which is part of a larger bailout package.  The Mediterranean country has been struggling to pay its debts, and will likely default if it doesn't receive this aid tranche.  Concerns over Greece, and its potential spillover to larger economies like Italy, have pressured markets for months.
The markets came back somewhat, however, after a Greek official said it is close to a deal with European inspectors over making fiscal cuts.  Indeed, the euro, which had sustained heavy losses bounced into the green, climbing 0.14% against the U.S. dollar.  The greenback, meanwhile, held on to gains of 0.73% against a basket of world currencies.
There have also been broader worries over the unity of the 17-member currency bloc, which have also come to focus after German Chancellor Angela Merkel's party was defeated in a state election.  There has been political strife in Germany, Europe's biggest economy, over aid it has given to struggling countries, like Greece, and this is yet another upset, market participants say.
European banks such as Barclays (NYSE:BCS) and Deutsche Bank (NYSE:DB), which are likely to be the most directly affected by a sovereign default, were pummeled in trading there.
As a result of fresh instability in equities, traders have once again raced to the perceived safety of U.S. debt.  The yield on the benchmark 10-year Treasury note slumped to 1.952% from 2.051%.  Gold, which had been higher, changed course and plummeted $35.80, or 2%, to $1,779 a troy ounce.
On the U.S. front, market participants will also be focusing on President Barack Obama's plan to trim the federal budget deficit by some $3 trillion over the next 10 years.  The plan is includes a tax on the wealthiest Americans, reforms to entitlement programs, and spending cuts across the spectrum.
Homebuilders' sentiment fell in early September, according to the National Association of Home Builders. The Housing Market Index ticked lower to 14 in September, from 15 the prior month.  Homebuilders such as Toll Brothers (NYSE:TOL) and KB Home (NYSE:KBH) may be particularly affected by these data.
Market participants are closely eyeing the Federal Reserve's two-day meeting slated to begin on Tuesday.  The central bank is widely expected to take some additional measures to fight growing economic headwinds that policymakers increasingly see as structural, as opposed to temporary.
Energy markets were broadly lower following strength in the dollar.  Light, sweet crude slid $2.26, or 2.6%, to $85.70 a barrel.  Wholesale RBOB gasoline tumbled 9 cents, or 3.2%, to $2.70 a gallon.
Corporate News
UBS (NYSE:UBS) widened the estimated loss from the rogue trade unveiled last week to $2.3 billion from $2 billion, and also started an internal investigation that will be run by David Sidwell, a former chief financial officer at Morgan Stanley (NYSE:MS).
Netflix (NASDAQ:NFLX) is breaking up its streaming and DVD-by-mail service.  The streaming service will continue to be called Netflix, and the rental service will be branded Qwikster.  The move comes after the company boosted the price of its services, upsetting many customers.
Tyco International (NYSE:TYC) is splitting into three separate, publicly traded entities, a process that should be completed over the next 12 months.
United Technologies (NYSE:UTX) is in talks to acquire aircraft systems maker Goodrich (NYSE:GR), according to a report by The Wall Street Journal.  Goodrich shares soared more than 10% on the report.
Foreign Markets
The English FTSE 100 tumbled 2.9% to 5,259 and the German DAX plummeted 2% to 5,260.
In Asia, the Japanese Nikkei 225 jumped 2.3% to 8,864 and the Chinese Hang Seng plunged 2.8% to 18,918.