Stocks Head South; Nasdaq Back in the Red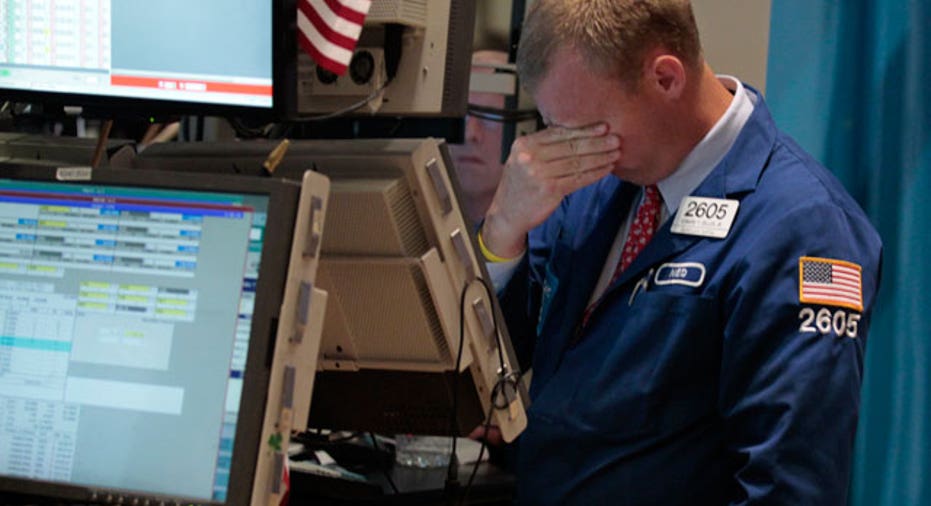 FOX Business: The Power to Prosper
After getting a mid-day bounce, stocks headed back toward session lows with less than an hour to go until the closing bell as traders mulled a slew of corporate news, and continued fears over the euro zone debt crisis.
Today's Markets
As of 3:15 p.m. ET, the Dow Jones Industrial Average tumbled 196 points, or 1.8%, to 10,459, the S&P 500 fell 17.1 points, or 1.6%, to 1,082 and the Nasdaq Composite slid 31.1 points, or 1.3%, to 2,304.
The S&P 500 has swung into and out of bear market territory for much of the session, an indication that the broad average has fallen 20% from its highs of the year. Indeed, nine stocks on the S&P 500 have hit 52-week lows on the day.
Utilities like Consolidated Edison (NYSE:ED) suffered some of the worst selling, but financials and technology shares were down sharply as well.  In particular, technology heavyweight Apple (NASDAQ:AAPL) tumbled more than 5% after unveiling the iPhone 4S, the next iteration of its popular iPhone line.  However, some market participants were disappointed the the company didn't reveal more improvements, and worried that some of its magic might be lost without former chief executive Steve Jobs.
Bank of America (NYSE:BAC) performed the worst out of the big banks, while the cost to insure its debt jumped to a record high, amid continued concerns over its capital levels.
On the economic front, Federal Reserve Chairman Ben Bernanke told a joint session of Congress that the central bank sees continued weakness in the economy.  Bernanke noted that manufacturing has been heating up as exports have increased, but consumer confidence remains depressed because of a stubbornly anemic labor market. Additionally, the Fed chief noted that monetary policy alone can't solve the country's economic challenge, and called on policymakers across the spectrum to step in: "Fostering healthy growth and job creation is a shared responsibility of all economic policymakers, in close cooperation with the private sector," he said in prepared remarks.
Factory orders declined 0.2% in August, worse than expectations of no change.  Excluding the transportation segment, orders were also down 0.2% -- the first fall in six months.
Europe's deepening sovereign debt crisis has been weighing heavily on sentiment.  News that European officials are considering re-crafting Greece's bailout package spooked traders across the globe on Tuesday: the Global Dow recently fell 1.6%, while the Euro Stoxx 50, an index that tracks euro zone blue chips, plummeted 2.9%.
Luxembourg Prime Minister Jean-Claude Juncker said Tuesday the group of euro zone ministers are considering "technical revisions" to Greece's bailout.  Greece needs another tranche of rescue aid by the middle of the month to avert a bailout that many analysts worry will put the European financial system under additional strain.
"Even if the revision is 'technical', we think this would create a negative precedent, opening the door for much larger haircuts," economists at Nomura wrote in a research note, indicating that bondholders may have to take heavier losses under a redesigned bailout.
Indeed, shares of Belgian municipal bank Dexia were under intense pressure on worries regulators will be forced to break the bank up as its ability to find funding in the private markets has reportedly been paralyzed because of its perceived exposure to European sovereign debt.
The turmoil there prompted Goldman Sachs to slash its global economic outlook, and forecast the European economy to fall into recession by the fourth quarter.  A recession in Europe, analysts at the investment bank anticipate, will push the U.S. economy to the brink.
"The European crisis threatens US economic growth via tighter financial conditions, reduced credit availability, and weaker growth of US exports to the region," the economists wrote in a not to clients. "This impact is likely to slow the US economy to the edge of recession by early 2012."
Treasury yields have plummeted close to historical lows as a result of turbulent equity and commodity markets and the Federal Reserve's pledge to extend the maturity of its balance sheet.  However, yields were more stable Tuesday: the benchmark 10-year note recently yielded 1.763% from 1.761%.
The euro bounced back 0.84% against the U.S. dollar after plunging more than 1% in the prior session.  The greenback climbed 0.1% against a basket of world currencies.
Energy markets were mixed on the day. Light, sweet crude fell $1.94, or 2.5%, to $75.67 a barrel.  Wholesale RBOB gasoline rose a penny to $2.63 a gallon.
Gold plunged $41.70, or 2.5%, to $1,616 a troy ounce.
Corporate News
Ford (NYSE:F) reached a tentative agreement on a new contract with the United Auto Workers union.
UBS (NYSE:UBS) says it will still report a third-quarter profit despite the $2.3 billion trading loss revealed last month.
Foreign Markets
The Euro Stoxx 50 fell 1.8% to 2,099, the English FTSE 100 dipped 2.4% to 4,954, and the German DAX plunged 2.7% to 5,231.
In Asia, the Japanese Nikkei 225 fell 1.1% to 8,456 and the Chinese Hang Seng plummeted 3.4% to 16,250.