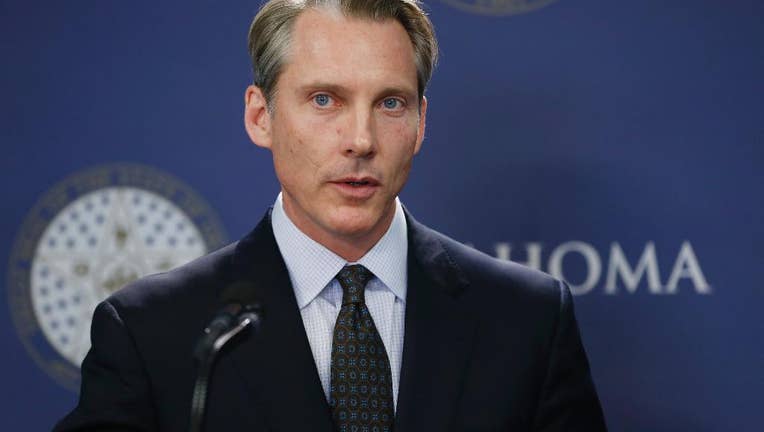 Oklahoma's economy performed well to close out 2014, but continued low oil prices will eventually start to drag down not just taxes on production, but also income and sales taxes, State Treasurer Ken Miller warned on Wednesday.
Miller's office released revenue figures showing that overall collections by the state in December and in the 2014 calendar year exceeded those from the prior year.
However, December oil and gas production tax collections reflect oil field activity from October, when oil prices were still around $85 per barrel. The same oil was selling for less than $55 per barrel in late December, Miller said.
"We have yet to feel the impact of the current, lower prices," he said.
The price of oil has fallen by more than half since June, and U.S. crude closed Wednesday at $48.65 a barrel on the New York Mercantile Exchange.
Miller said he met Wednesday with representatives from several of the state's largest oil and natural gas production companies, many of which are cushioned from the falling prices because of contracts that were locked in before the slide in oil prices.
"They're saying what we're all saying: We're hoping the softening of the prices does not continue for a very long time because of the spillover effects that will have on the state," said Miller, who also is an economist.
While Oklahoma's economy has significantly diversified since the oil bust of the 1980s, Miller said oil and gas production taxes still account for more than 6 percent of the general revenue fund, the state's main operating fund. Increased energy production also leads to higher corporate and income tax collections, sales taxes and other sources of revenue for the state.
"We are an energy economy," Miller said. "I enjoy like everybody else to pay less for gas at the pump, and it's good for consumers for a while, but if it is sustained, we would feel other effects that would mitigate the positive feeling we get at the gas pump."
The Oklahoma Legislature already is projected to have about $300 million less to spend on next year's budget, a hole that will grow if oil prices remain depressed. Legislative leaders in the House and Senate are warning state agencies to prepare for possible budget cuts.
"We're all concerned about it. The energy sector helps pay the bills in this great state," said Rep. Earl Sears, chairman of the House Appropriations Committee. "Hopefully this downturn in the oil market does not last long, but if it does it will continue to create problems for us."
___
Follow Sean Murphy at www.twitter.com/apseanmurphy