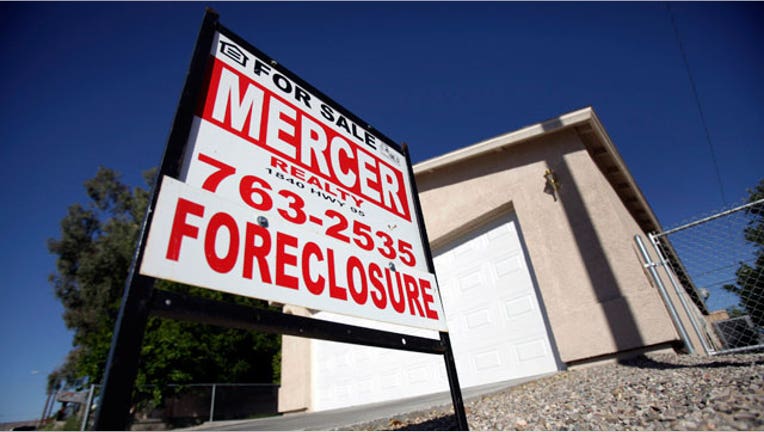 The mortgage and foreclosure settlement between state attorneys general and the nation's banks is likely to expand outside the top five mortgage servicers, FOX Business has learned.
Geoff Greenwood, spokesman for Iowa Attorney General Tom Miller, who is leading the foreclosure settlement negotiations on behalf of the 50 states, tells FOX Business that the attorneys general don't plan to stop with just the five big banks—they plan to go after other mortgage servicers as well, as the plan is to reform the entire industry, he says.
The state attorneys general are seeking a settlement in the range of $20 billion—the sum could rise or fall—with the nation's five largest servicers, which control 59% of the market. The five are Citigroup (NYSE:C), Bank of America (NYSE:BAC), JPMorgan Chase (NYSE:JPM), Wells Fargo (NYSE:WFC), and Ally Financial, parent of GMAC.
But the attorneys general may not stop there. "We won't be done with just them," Greenwood says. "We felt early on it would make the most sense to impact the largest chunk of the market at the top by starting with the five largest servicers. Assuming we get a deal, we will then proceed with the next group lower down."
High foreclosure states like Nevada could get more settlement money than others--and mortgage principal reductions are definitely on the table.
It is unclear when a deal could be reached. "We're always hoping for a deal," Greenwood says. "We're hoping for that. It could come next week, it could come by the end of the year We're going to know whether we have a deal sooner than that. The negotiations have been under way for a long time."
On the table are mortgage-principal reductions out of a fund run on the national level that Congress could not touch, Greenwood says, as well as pro-rated sums for states who face higher foreclosures than others, for things like foreclosure mediators.
Not all states are fully on board. California has expressed misgivings about giving banks legal immunity when their conduct, the state believes, has not been adequately probed. But Greenwood says a deal can go forward without California, and the attorneys general would still offer the state the chance to take the final deal.
But Greenwood insists that banks will still be on the hook if they did anything criminal. "We are not negotiating criminal immunity, We're not discussing criminal activity," he says. "We're negotiating a limited civil liability release for the banks."
The goal is to potentially overhaul the mortgage servicing industry, akin to the degree of the overhaul of the tobacco industry in its settlement in 1998. Under the contours of the settlement so far, the states would get a chunk of whatever figure is settled upon – say, $20 billion -- for their own state-run funds, which the states can then use for things like a foreclosure hotline, to train loan counselors, or to get a mediator involved. Other states may have other initiatives to do on their own.
A separate chunk of bank money for mortgage principal reductions is definitely a priority in the deal talks, Greenwood says.
"Mortgage principal reductions are part of the national level of the deal, it's about targeted principal reductions," he says.
Who and what office would oversee this fund for principal reductions is also under heavy discussion.
"The question of who would oversee this and also who would oversee this whole thing when it's over is still in the talks," says Greenwood. "There would be an independent monitor, an independent overseer. The money would not sit in a federal fund, Congress can't access it for, say, potholes. It's a national fund. The banks will make the decisions about principal reductions."
Greenwood tells FOX Business that if California does bow out—he says Miller's office has received a letter about that from the state--then a settlement could still be reached anyway with the other states. That is what happened in the tobacco settlement of 1998, reached with 46 states and tobacco companies. The tobacco settlement exempted cigarette companies from private tort liability claims of harm caused by tobacco use.
Other states could balk, as well, with New York, Delaware and Massachusetts expressing concern.
Bank executives are optimistic a deal is forthcoming soon, but talks could fall apart once again over their demands for legal immunity from future tort claims, as reported Monday, among other things.
"We were hopeful for a deal by this week or next, or certainly by the end of the year, because the talks have dragged on for about a year, it's getting a little ridiculous," says a Citigroup executive.
"Speaking on behalf of my boss, there very well may be pressure on the banks' end to get a deal done," Greenwood tells FOX Business: "If we don't get a deal, then we go to plan B."
And what is plan B? "Plan B is to litigate against the banks," Greenwood says. "And the banks don't want that."