Starbucks Expands Its Hiring Plans for Veterans; Talks More About Refugee Hiring Plans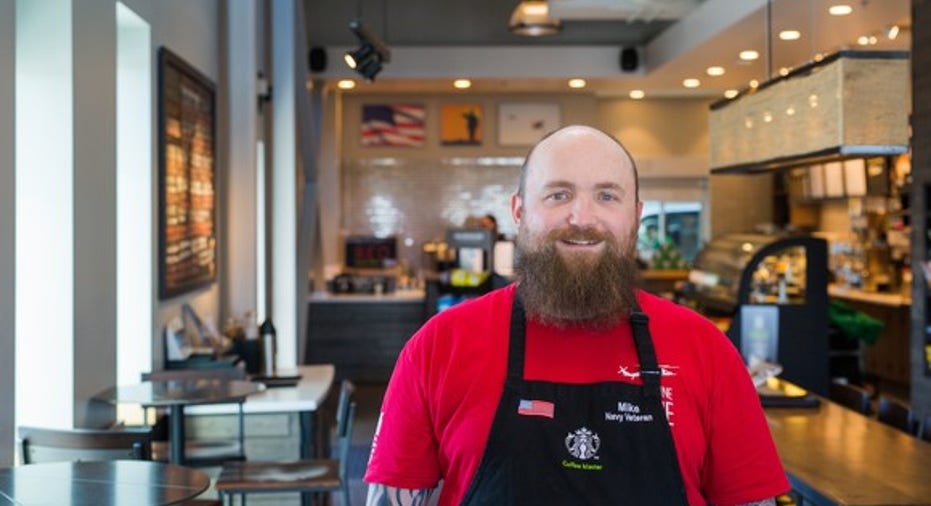 As Starbucks (NASDAQ: SBUX) dramatically adds to its number of stores both in the United States and globally, the chain has committed to using its hiring power to affect the communities it operates in. The company, which plans to add 12,000 stores by 2021, has increased the number of veterans and military spouses it has pledged to hire to 25,000 by 2025, having already reached its goal of hiring 10,000 by 2018.
In addition, at the company'sannual shareholders' meeting on March 22, CEO Howard Schultz restated his company's plans to give jobs to 10,000 refugees at its stores around the world by 2022. That program, when it was announced earlier this year, led to social media fallout and threatened boycotts of the brand.
The controversy appears to have had little impact on the company's plans. Instead of rolling back the chain's refugee plans, or at least being quiet about them,Schultz, who will soon be vacating the CEO job but will still serve as executive chairman, gave them nearly equal play at the shareholders' meeting alongside the company's efforts to hire veterans and their spouses, its plans to open stores near military bases, and its ongoing work to train disadvantaged youth to work in its stores.
U.S. Navy veteran Mike Campbell now manages a Starbucks. Image source: Starbucks.
What is Starbucks doing?
The company currently has 25,000 stores employing 330,000 people. Adding another 12,000 stores over five years creates a huge demand for employees that the company has chosen to partly fill with veterans and their spouses, refugees, and at-risk youth.
For its veterans efforts, Starbucks has built stores near military bases where it trains not just veterans but also their spouses for jobs with the company. The goal of the stores, according to a press release, is to "function as hubs within their communities and help to ensure smooth transitions back into the civilian world for U.S. service members."
The Opportunity Youth program involves hiring people age 16 to 24 who aren't working or going to school and building 15 stores in "underserved" areas that can also serve as training centers. Starbucks has already achieved its goal of hiring 10,000 people under the Opportunity Youth program. In fact, the company has hired 40,000 Opportunity Youth workers and has expanded the program's goal to 100,000 by 2020.
With its refugee efforts, the company did not walk back its commitment in the wake of the backlash, but it did offer further explanation. First, the company made it clear that the 10,000 refugees would be all around the world, not just in the United States. Starbucks also explained that it would be working with the United Nations High Commission for Refugees and that its first hires would be "interpreters and others who have worked with United States armed forces."
On a global level, the coffee chain has partnered with the International Rescue Committee and the Tent Foundation to find refugees to hire. In the U.S., it's working with No One Left Behind, "an organization that assists American military allies who served alongside American armed forces," according to Starbucks.
Part activism, part need
Starbucks is clearly making political statements with its commitment to veterans, disadvantaged youth, and refugees. Of course, that decision carries some risk, as seen by the limited but vocal negative reaction when the refugee plan was announced. Still, it's hard to paint a company with a broad political brush when it's deeply committed to veterans and at-risk youth, and most people probably see the chain as largely working toward the greater good.
There has been no sign that the refugee controversy hurt the company. In the 13-week period that ended Jan. 1, Starbucks saw U.S. same-store sales grow 3%, the same percentage they grew by on a global basis. In addition, the chain had record consolidated net revenue of $5.7 billion, up 7% over the previous year, and saw its earnings per share rise 11% over the year-ago quarter.
There are certainly people against Starbucks' refugee hiring plans, and probably some who disagree with giving disadvantaged youth an opportunity. There are probably even a few people against the chain's plan to hire veterans. The reality, though, is that while Starbucks is acting for the greater good, it's also serving its own needs.
Hiring for 12,000 new stores in five years is a major challenge. Tapping large pools of workers makes that job a little bit easier. This is a clear case where doing the right thing is also what's right for business.
10 stocks we like better than StarbucksWhen investing geniuses David and Tom Gardner have a stock tip, it can pay to listen. After all, the newsletter they have run for over a decade, Motley Fool Stock Advisor, has tripled the market.*
David and Tom just revealed what they believe are the 10 best stocks for investors to buy right now... and Starbucks wasn't one of them! That's right -- they think these 10 stocks are even better buys.
Click here to learn about these picks!
*Stock Advisor returns as of February 6, 2017
Daniel Kline has no position in any stocks mentioned. The Motley Fool owns shares of and recommends Starbucks. The Motley Fool has a disclosure policy.