Southwest shares slide after airline cuts 1Q revenue outlook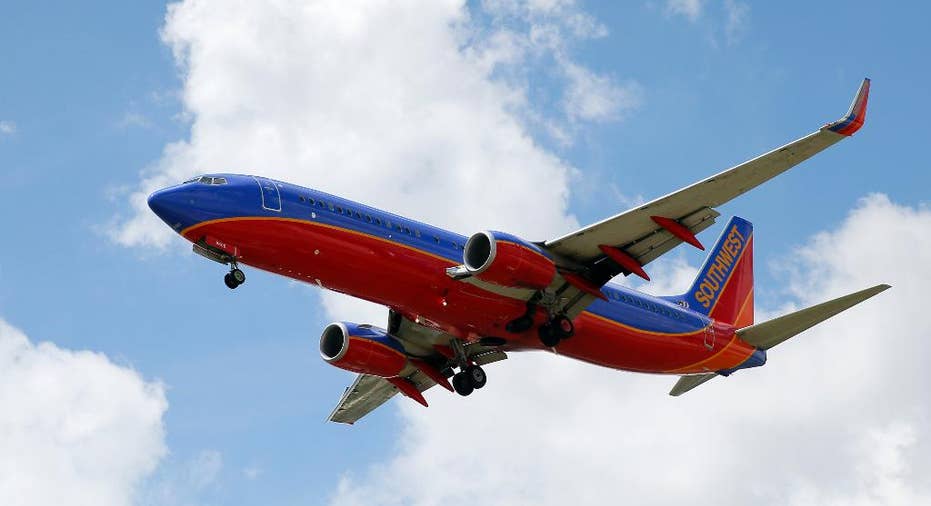 Southwest Airlines shares closed nearly 5% lower at $57.78 after the no-frills carrier cut its first-quarter revenue outlook on Wednesday.
The Dallas, Texas-based airline said in a regulatory filing it lowered its projected first-quarter revenue per available seat mile (RASM) compared to the same period a year earlier due to the "competitive fare environment" and lower-than-expected travel demand. Southwest previously expected a 1% to 2% increase in revenue.
"It's a competitive marketplace out there right now, more competitive than they expected going in. Not that market deteriorated," Jack Atkins, managing director at Stephens, Inc., told FOX Business.
Southwest cited the retirement of its Boeing 737-300 fleet as a key factor in its "sub-optimal" first-quarter flight schedule. The airplane maker's new 737 MAX single-aisle jets will replace the -300 fleet, which the airline retired last year.
On a positive note, the airline still expects to see year-over-year RASM growth in 2018, including expected benefits from enhanced revenue management capabilities starting in the second quarter of the year. It also sees full-year RASM trends as "favorable" for the peak Easter travel period. The cost per available seat mile (CASM) in the first quarter is expected to be flat to up to 1% compared with the prior year.
"Domestically, there's a very strong demand for seats and a solid economic backdrop," Atkins said. "It's just not translating into yields the way it should."
A big question among investors is what's next for pricing among the major carriers in the industry. The latest threat of a fare war came after United Airlines announced it plans to increase its capacity by 4% to 6% this year, and at the same rate in 2019 and 2020, as well as a pricing strategy to compete with budget carriers.
"The best way to compete with a low-cost carrier is match their prices," United President Scott Kirby told analysts and investors during a call in late January. "We can't let low-cost carriers have price advantages in our hubs."