Smith & Wesson owner seen posting earnings decline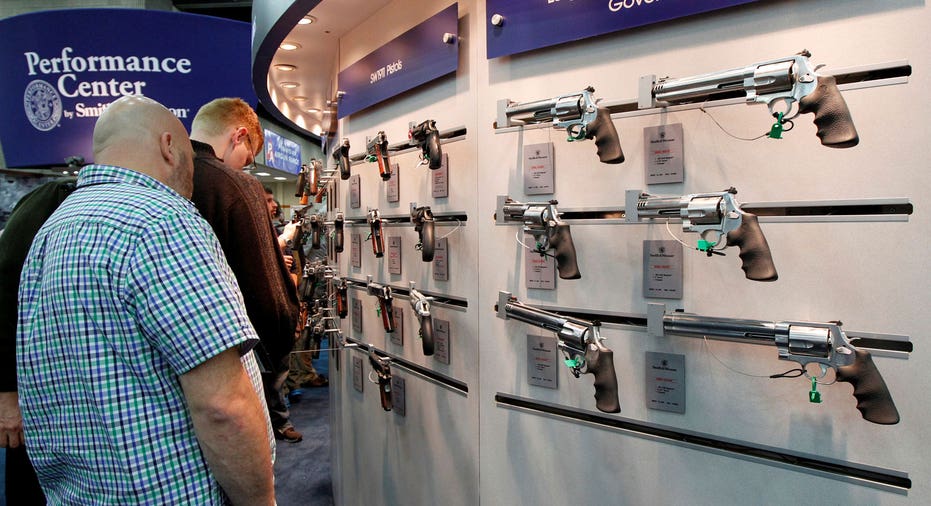 American Outdoor Brands, the parent company of Smith & Wesson, is expected to report a decline in quarterly earnings Thursday as the gun industry experiences a sales slump.
The company's quarterly report will come amid a renewed debate over gun control after the shooting of 17 people at a Parkland, Florida, school. Dick's Sporting Goods announced Wednesday that it will stop selling AR-15-style rifles and limit gun sales to customers over 21 years old. The retailer also urged Congress to ban "assault-style rifles" and raise the minimum age.
Gun manufacturers and retailers have seen weak consumer demand since the election of President Donald Trump. Historically, gun sales go through a period of growth under Democratic administrations, with buyers anticipating additional gun-control regulations. Shares of American Outdoor Brands and Sturm, Ruger & Co. climbed during much of President Barack Obama's tenure in the White House, and the stocks were up in advance of the 2016 election while the industry reported strong sales.
Since Trump's election victory, American Outdoor Brands has lost about 67% of its value while Ruger's stock is down 33%.
American Outdoor Brands' financial outlook for its third quarter calls for $170 million to $180 million in net sales, implying a year-over-year decline of about 25%. Adjusted earnings per share, which strip out one-time items, are internally projected to be 7 cents to 10 cents. The Springfield, Massachusetts-based company earned 66 cents per share in the year-ago quarter.
Analysts expect earnings of 8 cents a share, excluding one-time items, and revenue of $172.54 million.
Ruger recently revealed a 27% decline in revenue for its quarter ended in December. It also laid off 50 workers in January and disclosed a plan to spend less in 2018.
Ruger said background checks processed by the FBI during the quarter fell 11% when adjusted by the National Shooting Sports Foundation to remove non-purchasing activity, such as permit applications. CEO Christopher Killoy noted that overall consumer demand was down in 2017 because of stronger-than-normal demand before the 2016 election.
American Outdoor Brands' name change from Smith & Wesson, which took effect in 2017, reflected an effort to broaden the iconic gun manufacturer's product offerings and supplement the boom-and-bust cycles seen in firearm sales. The company has purchased multiple accessory brands in recent years, including knife maker Taylor Brands and Crimson Trace, known for its laser sights.