Sears files for Chapter 11 bankruptcy protection
Sears Holdings made it official early Monday morning, announcing the retailer has filed for Chapter 11  bankruptcy protection.
Banks have agreed to provide Sears with a bankruptcy loan.
Sears says that Eddie Lampert's hedge fund will provide $300 million in bankruptcy financing.
Lampert will also stepdown as CEO, but remain Chairman.
Under the bankruptcy plan, Lampert's executive role will be replaced by a three-person committee, though he will remain as chairman of the board. Mohsin Meghji, a managing director of the M-III Partners corporate advisory firm, was appointed chief restructuring officer.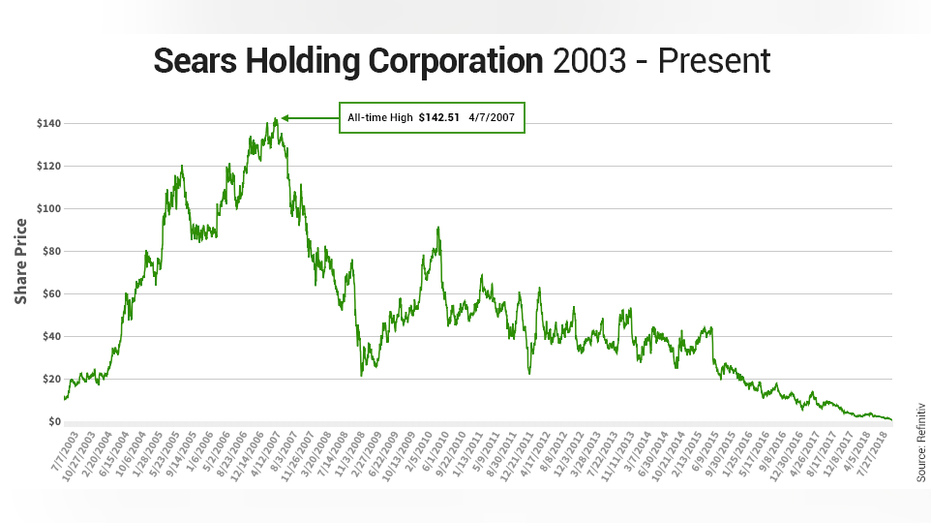 According to a court filing, Sears Holdings lists assets of  $1 billion to $11 billion and liabilities of $10 billion to $50 billion.
Sears had a debt payment of $134 million due on Monday.
Sears and Kmart stores and their online and mobile platforms will remain open for business, according to a company statement.
According to the plan, Sears Holdings will close 142 unprofitable stores near the end of the year.
Over the coming months, the company expects to market and sell certain company assets.
The Wall Street Journal first reported on Oct. 9 that Sears has hired M-III Partners, a boutique advisory firm, to prepare a chapter 11 filing.
Sears hasn't earned a profit since 2010.
Sears had a humble beginning, back in 1886, when Richard W. Sears, a railroad agent started selling watches as a side gig in Minnesota. Over time, the company became the largest retailer in America widely known for its catalogs, but that business fell out of favor by the 1990s.
With the overall brick-and-mortar business also struggling, Kmart—controlled by Lampert's firm, ESL Investments—acquired Sears in a $12 billion merger in 2005.
As the company has struggled to turn a profit, it has made numerous moves to improve its finances, shuttering stores, around 300 this year alone, while securing more and more financial lifelines.
One of the major assets sales included Stanley Black & Decker's purchase of the Craftsman brand from Sears Holdings for $900 million.
FOX Business' Leia Klingel contributed to this article.