Sears' slow decline kills iconic brand – recapping the downfall
The floundering retailer has closed hundreds of Sears and Kmart stores, cut costs and borrowed millions of dollars from CEO Eddie Lampert's hedge fund to keep the business afloat. Even after years of various measures to rescue the retailer, it seems a bankruptcy may be imminent with The Wall Street Journal reporting that the company is preparing for a filing.
This comes less than a month after Sears CEO and Chairman Eddie Lampert pushed for a major debt restructuring and asset sale. "Sears now faces significant near-term liquidity constraints," according to the securities filing by ESL Investments Inc., Lampert's hedge fund unveiling the debt restructuring push. His moves were seen by many as a last ditch rescue effort for the company which has seen its share price implode.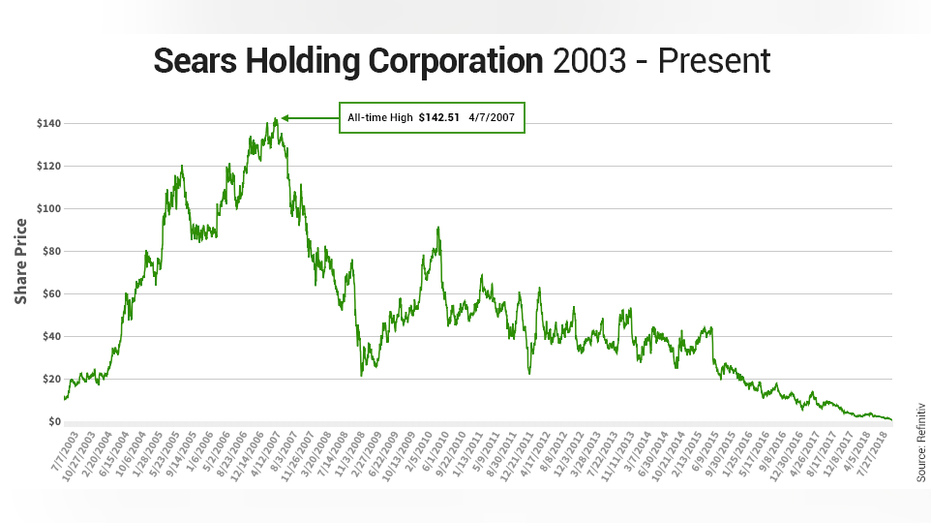 Sears had a humble beginning, back in 1886, when Richard W. Sears, a railroad agent started selling watches as a side gig in Minnesota. Over time, the company became the largest retailer in America widely known for its catalogs, but that business fell out of favor by the 1990s. With the overall brick-and-mortar business also struggling, Kmart—controlled by Lampert's firm, ESL Investments—acquired Sears in a $12 billion merger in 2005.
The company has not turned a profit (on a non-GAAP basis) since the quarter that ended in March 30, 2012 – which appears to be a bit of a blip. Prior to that the company posted six-consecutive losing quarters, according to data provided by Dow Jones Market Data.
As the company has struggled to turn a profit, it has made numerous moves to improve its finances, shuttering stores, around 300 this year alone, while securing more and more financial lifelines. One of the major assets sales included Stanley Black & Decker's purchase of the Craftsman brand from Sears Holdings Corp. for $900 million.
Lampert, with a net worth of $1.4 billion per Forbes, has stepped in numerous times to help out Sears, lending the retailer, in total, hundreds of millions of dollars from his hedge fund.
On March 9, 2015 the company disclosed its "ability to continue as a going concern" – expressing substantial doubts to investors about staying operational.
But now,  time may be running out. The retailer faces a $134 million debt payment due on Monday. Once worth over $140 per share, Sears is now a penny stock, trading around 37 cents as of Wednesday.
FOX Business' Matthew Rocco and Suzanne O'Halloran contributed to this article.