Russia a Popular Market for U.S. Companies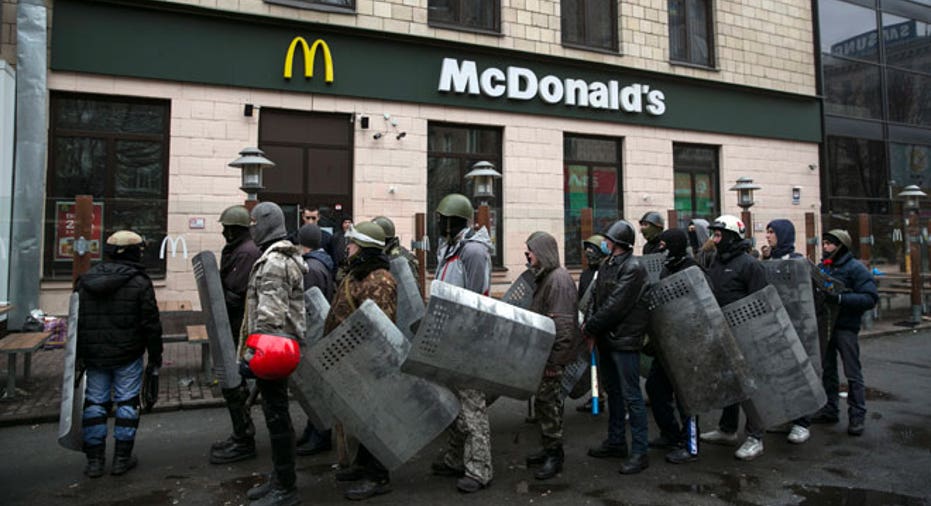 As Russia's move to send its military into Ukraine rattles global markets, some of the most recognizable companies in the U.S. are also bracing for whatever might lie ahead.
The food, automotive and technology sectors in Russia have several major American players, according to a 2012 report from the non-profit International Research & Exchanges Board and the U.S. Russia Foundation.
PepsiCo (NYSE:PEP) became the first American company to do business in the Soviet Union in 1974. Over the 40 years since, the company has created more than 30,000 jobs and invested more than $3 billion.
Coca-Cola (NYSE:KO) and privately held candy maker Mars Inc. also have a footprint in Russia's food sector. In 1991, McDonald's (NYSE:MCD) opened the doors to its first restaurant in Russia.
General Motors (NYSE:GM) and Ford (NYSE:F) manufacture cars in Russia, while Caterpillar (NYSE:CAT) has plants that build its heavy equipment. IBM (NYSE:IBM) and Microsoft (NASDAQ:MSFT) have a large presence in the country as well.
According to the company's website, Mars entered the Russian market in 1991 and has since invested more than $1 billion. Mars built its second chocolate factory in Russia two years ago.
Procter & Gamble (NYSE:PG) also launched its Russian unit in 1991, and the segment has grown to become one of the largest for the consumer goods giant.
The report said ExxonMobil (NYSE:XOM) has invested the most in Russia over the years, despite the difficulties of doing business in the country. From 2000 through 2011, the largest     U.S. energy company poured $10 billion into its Russian operations.
Boeing (NYSE:BA), Chevron (NYSE:CVX) and ConocoPhillips (NYSE:COP) have also been heavy investors. Between 1992 and 2009, Boeing spent $5 billion in Russia.
Russian investors have increasingly looked to the U.S. as well, focusing primarily on the iron and steel industry, financial sector and telecommunications.