Rhetoric Becomes the Focus in Debt Limit Debate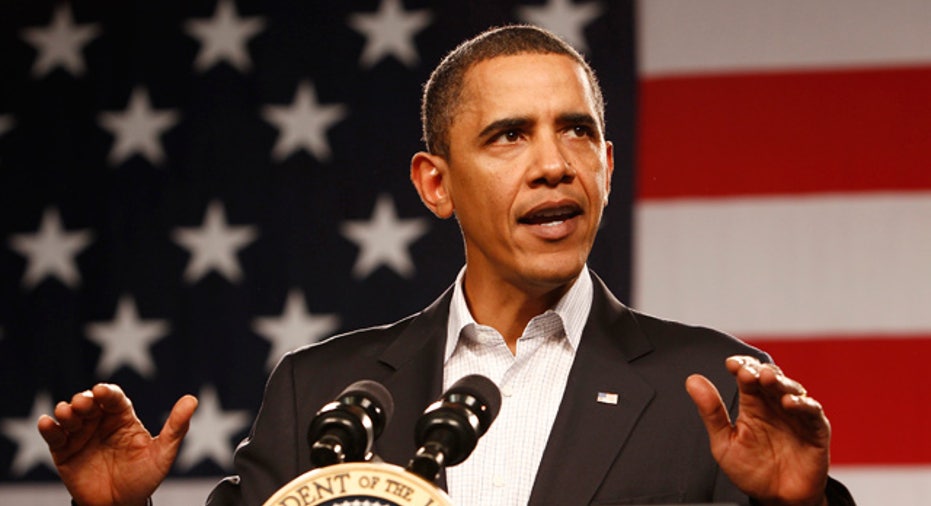 President Barack Obama sounded pretty tough on Wednesday, claiming Republicans are more concerned with tax breaks for their corporate fat-cat buddies than in warding off a potential default by the U.S. on its massive debt load.
Obama even provided specifics: Republicans support tax breaks for corporate jets at the expense of children and the elderly.
Republican Congressman Eric Cantor, meanwhile, dramatically walked out last week on negotiations seeking an agreement to raise the U.S. debt limit, citing Democrats insistence on raising taxes. Republicans, he suggested, wont even sit at the table as long as tax increases remain on it.
On the surface, these episodes seem to underscore the vast gap between the two parties positions on a deal that would raise the debt limit above the $14.3 trillion level where it currently stands. But more than likely its just political theater. High stakes political theater for sure, but political theater all the same.
Its part of the game, said Alex Brill, a research fellow at the American Enterprise Institute.
In fact, most of the debate hasnt really been over whether or not the ceiling should be lifted (although some conservative Republicans have questioned the necessity of such a move) but rather over a deficit reduction package thats tied to the debt limit. Democrats have said tax increases have to be considered part of any serious debt reduction plan, while Republicans are seeking deep spending cuts instead.
An agreement to raise the limit and eliminate the threat of a U.S. default is, by most accounts, all but certain between now and the Aug. 2 deadline set by Treasury Secretary Timothy Geithner.
Leaders from both parties have acknowledged that a U.S. default -- even the serious threat of a U.S. default -- could ripple through the global economy with cataclysmic results. Neither party wants to be blamed for an economic catastrophe.
So while it would seem to be counterproductive to insult the very people with whom youre trying to negotiate an important compromise, Obamas unexpected attack was actually a pretty safe political play. Given the stakes for both sides if no agreement is reached, and the ultimate likelihood of an eventual deal, Obama didnt risk much by going on the attack.
This is the right time for bomb throwing, said Brill, noting that Obama was merely feeding his base.
Same goes for Cantor (R-Va.) and Senator Jon Kyl (R-Ariz), who were doing essentially the same thing when they noisily bailed out last week on negotiations on a debt limit deal being presided over by Vice President Joe Biden.
Its all part of the endless Washington, D.C., kabuki dance.
Also participating has been Senator Minority Leader Mitch McConnell, (R-Ky), who earlier framed the debt limit debate as one between the Democrats goal of massive tax hikes and the Republicans desire to save our entitlements and our country from bankruptcy.
Obama took the bait during a nationally televised press conference Wednesday. His approach was to pit public sympathy toward corporate bosses and their private jets against children and the elderly, as if Republican negotiating tactics will support those private jets while the methods of Democrats will help the needy.
Instead, the president was widely criticized for politicizing the issue and needlessly injecting class warfare into the debate.
House Speaker John Boehner has been another participant, saying recently, Let me be clear: Tax hikes are off the table. That would seem to suggest that the removal of tax hikes from the argument is more important than the threat of default.
But that was the same Boehner who said at a press conference in April that not meeting our debt obligations is a very bad idea and nobody wants to take that risk.
The earlier comment sounded as if Boehner had taken to heart Geithners oft-quoted warning of what could happen if the ceiling is not raised.
Default, according to Geithner, would effectively impose a significant and long-lasting tax on all Americans and all American businesses and could lead to the loss of millions of American jobs. Even a very short-term or limited default would have catastrophic economic consequences that would last for decades.
Scary stuff that has resonated through much of Washington and Wall Street. Consequently, the politicians charged with forging a deal are acutely aware of the consequences of doing nothing, a fact that makes an agreement all the more likely.
Bliss said hell be far more concerned if Obama goes on national television and insults Republicans in late July, days before the deadline.
If we see bomb throwing at the end of July as we approach the deadline that could pose more of a threat to the process. When we get down to the end of the negotiation were going to need all the participants to be cooperative and constructive, he said.