Panera Bread Has a Lot to Prove on April 26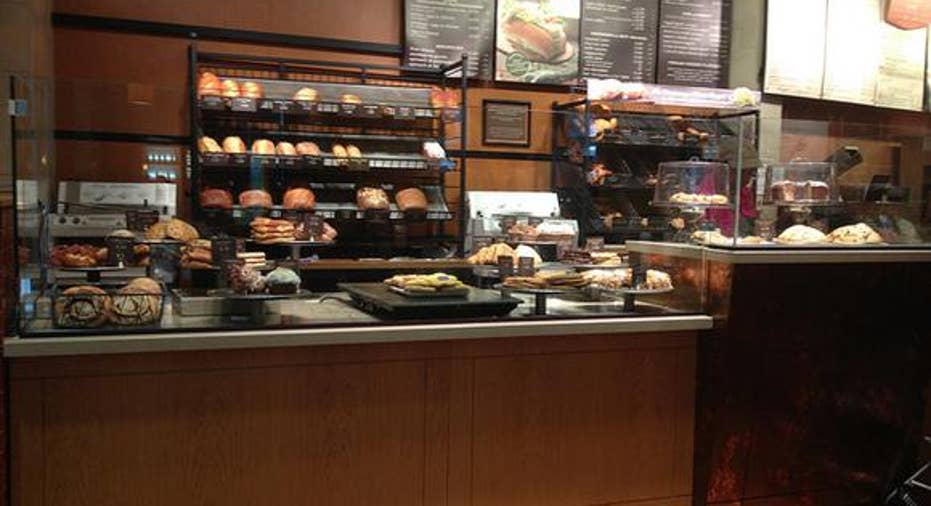 Things are starting to get better forPanera Bread investors. The chain of bakery-cafe restaurants reports fresh quarterly results a week from today, and this morning, it lined up an analyst that is turning bullish on the stock's prospects.
Jefferies is upgrading the stock from hold to buy, pushing its price target up to $245 from $195. The optimistic take comes on the notion that the recent strength in comps will continue through the next few years. Jefferies analyst Alexander Slagle feels that mobile ordering, catering, delivery service, and Panera 2.0 conversions will help push sales-per-store higher in a way that will also boost margins and profitability. He's eyeing comps growth of 4.5% to 5% through the next two years, just ahead of where his peers are perched, and well ahead of forecasts for the restaurant industry in general.
If you can't get it right the first time, rebootPanera 2.0 is a platform where guests can use touch-screen tablets -- or their own mobile devices -- to place orders if they want to speed up the process. Servers then bring orders out to tables, unlike the current model, where guests have to wait for their names to be called or for pagers to start buzzing to head back to the counter to collect their sandwiches, pastas, soups, and salads.
The tech and service upgrade doesn't come cheap. A typical Panera 2.0 conversion costs roughly $125,000, and then there's another $20,000 to $30,000 in transition and training costs. The costs don't end there, either. The restaurants that have already converted to the new platform since Panera began testing it two years ago see an uptick in operating expenses. Food runners delivering food to the tables need to be staffed. There's also an uptick in credit card processing fees since mobile and in-store ordering don't take cash. There's also an IT support element to supporting the tablets that needs to be considered.
However, the goal with Panera 2.0 is that orders will increase as patrons don't flinch the next time they see long lines snaking at the register during the breakfast or lunchtime rush. Customers are also likely to spend more when given a digital platform to order, something we have seen at casual dining chains that have embraced table-top tablets.
Getting it right the second timePanera needed to do something after being tripped up in 2014. The chain is now coming off of back-to-back years of declining earnings and operating profits, and top-line growth also fell into the single digits for 2014 and 2015 after years of double-digit spurts.
Analysts see revenue growth decelerating again in 2016 -- to 4.8% from a 6% gain last year -- but they do see margins and earnings starting to bounce back.
Panera is trying to do right by its customers. It vowed last year that it would eliminate artificial colors, flavors, and preservatives from its ingredients by 2017. It's a move that should please fans of organic edibles without alienating those that don't care as long as prices don't inch higher.
It's still a good sign to see an analyst upgrade a stock just days before it announces financial results. A Wall Street pro would have to be pretty confident that the market will like the numbers instead of just waiting a week and seeing if Panera is on track to turn things around this year before upgrading his view. Panera's performance has been disappointing during the last two years, but 2016 is a brand-new year to make dough.
The article Panera Bread Has a Lot to Prove on April 26 originally appeared on Fool.com.
Rick Munarriz has no position in any stocks mentioned. The Motley Fool owns shares of and recommends Panera Bread. Try any of our Foolish newsletter services free for 30 days. We Fools may not all hold the same opinions, but we all believe that considering a diverse range of insights makes us better investors. The Motley Fool has a disclosure policy.
Copyright 1995 - 2016 The Motley Fool, LLC. All rights reserved. The Motley Fool has a disclosure policy.