New Mexico economists slash revenue expectations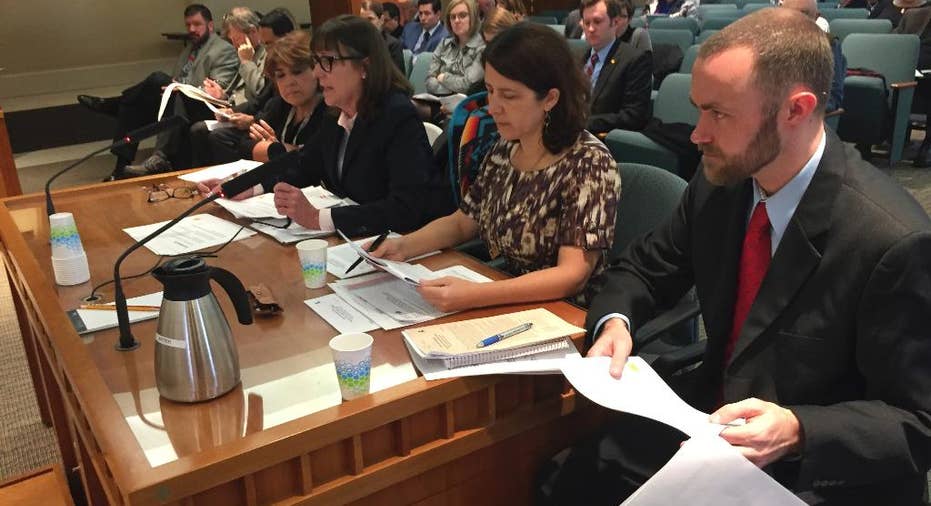 New Mexico expects to collect far less revenue this budget year and next than previously forecast as employment, wages and economic growth lag, a group of state economists said Monday.
The economists from three executive agencies and the Legislature said the state will collect $109 million less during the current budget year than last year.
The forecast indicates spending is likely to eat through all the state's reserve funds and require another $69 million if changes are not made.
The sustained slump in fossil fuel prices and the declining employment in the oil sector have significantly decreased revenue from taxes.
The figures presented in Santa Fe set a benchmark for lawmakers who meet in January to shore up state finances and craft a new budget.
"We have a challenge in trying to put this thing together," Rep. Larry Larranaga, a Republican from Albuquerque, said about the budget. He emphasized the need to contain costs and "right-sizing" state agencies.
State economists substantially rewrote funding estimates issued in August, lowering revenue projections for the current budget year by $131 million to $5.6 billion, and by $127 million for the fiscal year starting in July.
The budget crisis has spilled over into courts where public defenders say they cannot keep up with caseloads. Other state agencies and universities are grappling with annual spending cuts as high as 8 percent.
Next year, revenues are expected to fall $93 million short if New Mexico continues to spend at its current pace of just over $6 billion a year.
Spending at most state agencies was cut by 5.5 percent during a special legislative session in October. New Mexico has nearly depleted general fund reserves, prompting a slight downgrade in the state's credit rating.
Jon Clark, chief economist for the Legislative Finance Committee, said the health care sector has grown rapidly but added little to tax revenues.
"Our fastest-growing industry in the state remains largely untaxed," he said.
Sen. John Arthur Smith, chairman of the Legislative Finance Committee that drafts the state budget, warned that lawmakers and the governor will need to find a quick way to restore the state's operating reserves.
"We can talk about all of these loopholes, we can talk about being tougher on taxpayers who haven't paid," said Smith, who is urging a gasoline tax increase. "But we need now-money."
Clark told lawmakers that job losses in the oil industry have leveled off but other sectors are faltering, resulting in total year-over-year job losses for September and October.
State economists expect the financial picture to recover substantially during the coming fiscal year because New Mexico is winding down so-called hold harmless payments that compensated local governments for lost revenues after they were stopped from collecting gross receipts taxes on food and some medical services.
The state also expects to collect more tax dollars through new restrictions on high-wage job tax credits and health care deductions.
Revenues for the first quarter of the fiscal year, ending on Sept. 30, were down 9.4 percent to $1.3 billion. The state collected just $5.3 million in corporate income taxes — a decline of $36 million from the same period in 2015.
In 2013, New Mexico approved a gradual reduction to its corporate income tax rates. But state analysts said those changes alone do not explain why those revenues nearly dried up.
Taxation and Revenue Secretary Demesia Padilla called the reduction "a little bit of a mystery until we start to dig in deeper."