Netflix Stock Crashes: Buying Opportunity or Time to Panic?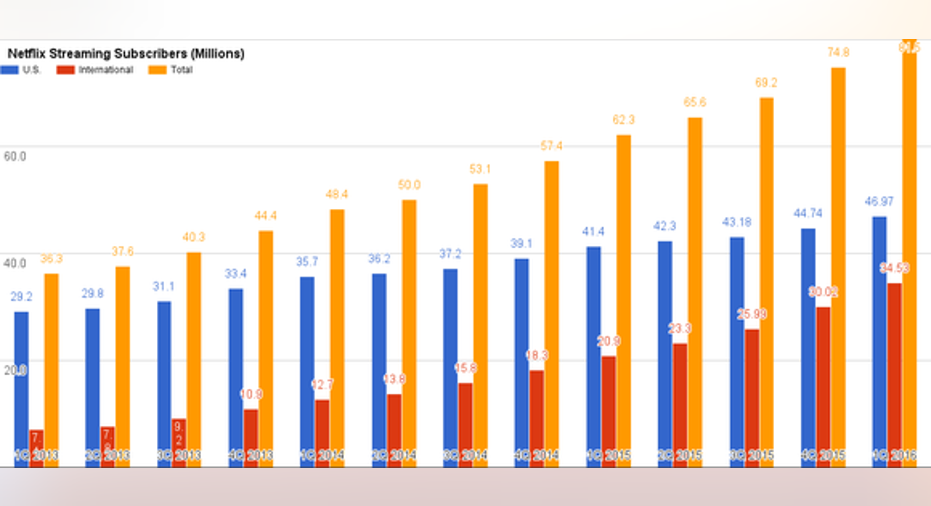 Image source: Motley Fool.
Netflix stock took a big beating on Tuesday, falling by nearly 13% in a single day as investors reacted with negativity to the company's earnings report. At current prices, shares of Netflix are down by nearly 30% for their highs of the last year, and this raises a crucial question: Is it time to buy Netflix or should you run away from the company before the decline gets even worse?
A horror movieNetflix has been under heavy selling pressure lately. Even before the company released earnings, investors were getting increasingly concerned about growing competitive pressure from Amazon.com . The online retail king has recently implemented some changes to its Amazon Prime offering, the subscription service that includes free shipping, a music library, and online video streaming, among other benefits.
Amazon Prime was previously offered for a $99 annual fee, but the program will now also be available for $10.99 monthly. Not only that, Amazon is also offering a video-only service for $8.99 per month, indicating that Amazon is paying more attention to video streaming as a business opportunity on its own merits, not just a component of a Amazon Prime service.
Adding to the negativity, Netflix announced disappointing growth guidance for the second quarter of 2016. The company is expecting to gain 2.5 million subscribers in the coming quarter, this is materially below expectations from Wall Street analysts, and also a deceleration versus 3.28 million new subscribers in the second quarter of 2015.
Increased competition from Amazon, in combination with disappointing growth guidance, was a one-two punch for Netflix, and many investors are now wondering what to do with the stock. Like Mike Tyson once said: "Everyone has a plan until they get punched in the face."
The good guys win at the endSuccess attracts the competition, and Netflix is obtaining impressive success in online streaming, so it makes sense to expect growing pressure from Amazon and others over the coming years. Nevertheless, Netflix is still strong enough to continue growing at a healthy rate in spite of increasing competition.
Wall Street analysts and the financial media typically look at the competitive dynamics in a particular industry as a zero-sum game, meaning that one company's gains come from the other one's losses. But this is an excessively simplistic approach, online streaming is a booming industry, and it will probably allow enough room for multiple players to succeed and grow in the long term.
Netflix is increasingly betting on original content to build competitive strength and differentiate the service from the competition, and this is generating impressive results for the company. In fact, growth in the U.S. was substantially above the company's guidance last quarter because of the positive effect of original content debuts. Netflix gained 2.23 million customers at home, considerably higher than management guidance for 1.75 million additions during the quarter.
Investors could also be overreacting to lower-than-expected guidance for the second quarter. Management was quite clear at explaining that the deceleration in growth is because the company entered Australia and New Zealand in the second quarter of 2015, and this will make comparisons especially challenging for the same quarter this year. If it weren't for this factor, international growth would be accelerating in the second quarter of 2016.
The following chart shows user growth in the U.S. and in international markets over the last several quarters, and an image is worth a thousand words. While the rate of growth can fluctuate considerably from quarter to quarter, the long term trend is clearly in the right direction, and international markets a are a powerful driver for the company.
Data source: SEC filings.
Netflix entered 130 new countries in January alone, and the company is barely getting started in these markets. This should provide ample room for expansion going forward.
Buy Netflix and chillOnly because competition is increasing, that's no reason to run away from Netflix stock. The company has the first mover advantage in the industry, growing brand recognition, and successful original content, which differentiates Netflix from other industry players. Besides, everything indicates that the online streaming industry should offer more than enough room for Netflix, Amazon, and other companies to successfully expand over the long term.
As for disappointing growth guidance, investors in Netflix need to be willing to tolerate some volatility in the short term, since performance will fluctuate from quarter to quarter. However, the long term growth story in Netflix is still pretty much intact, and the company is offering enormous room for international expansion over the long term.
The way I see it, the recent decline in Netflix stock is no reason to panic. Far from that, it looks like a compelling opportunity to buy an amazing growth stock on a short-term dip.
The article Netflix Stock Crashes: Buying Opportunity or Time to Panic? originally appeared on Fool.com.
Andrs Cardenal owns shares of Amazon.com and Netflix. The Motley Fool owns shares of and recommends Amazon.com and Netflix. Try any of our Foolish newsletter services free for 30 days. We Fools may not all hold the same opinions, but we all believe that considering a diverse range of insights makes us better investors. The Motley Fool has a disclosure policy.
Copyright 1995 - 2016 The Motley Fool, LLC. All rights reserved. The Motley Fool has a disclosure policy.