Neiman Marcus Sees Experiences, Tech as Way Forward Amid Retail Slowdown
Traditional retail is stuck in the eye of a hurricane as shoppers continue to flee the in-store experience in favor of shop-from-the-couch e-commerce platforms. But, despite a potential sale, luxury chain Neiman Marcus says it is positioned to weather the storm, thanks to large collections of data on its niche customer and out-of-the-box thinking on tech.
Revenue growth on the S&P 500 department store index has been stuck in a downturn for seven-straight quarters as brands like Nordstrom (NYSE:JWN), Kohl's (NYSE:KSS), Macy's (NYSE:M) and more grapple with rapidly-changing consumer shopping habits. Neiman is no outlier: It has seen six-straight quarters of revenue and same-store sales declines as customers become increasingly less loyal. The uncertain environment even led the luxury brand in March to begin exploring strategic alternatives.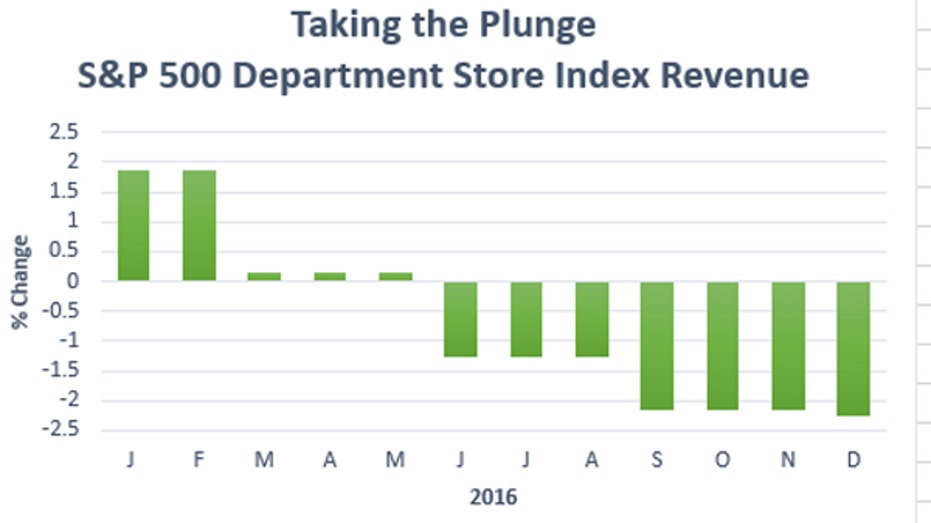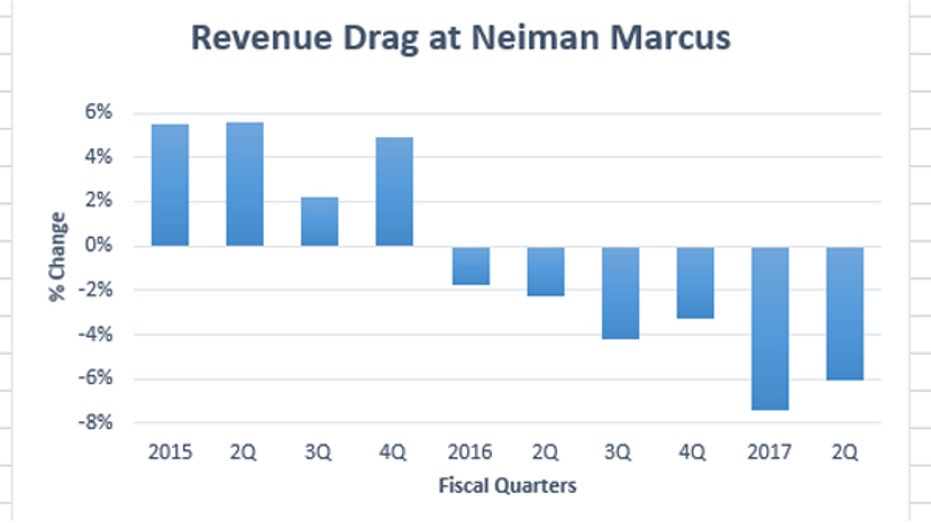 "It's entirely driven by consumer adoption of technology, and retailers are running out of time before the next generation of buyers – which includes Millennials – get used to surviving without retailers," said Brian Kilcourse, managing partner and co-founder of Retail Systems Research, adding, though, that Neiman Marcus is working itself into a position to not just sell goods, but an experience.
Kilcourse describes it like this: Imagine a graph that, on one axis includes basic human needs at one end, and esteem at the other. On the opposite axis is price and convenience. So, the lower left would include base-line goods at low prices – characteristics aligning mostly with retailers like Walmart (NYSE:WMT) and Target (NYSE:TGT).  On the upper right, where esteem and experience matter most are brands like Neiman Marcus and Nordstrom. The focus for them, Kilcourse said, has to be on providing not just a shopping hub, but a shopping experience.
"There's not a thing in any Neiman Marcus store anywhere that any human needs. It's all items they want to buy. So, the experience has to be entertaining."
"There's not a thing in any Neiman Marcus store anywhere that any human needs. It's all items they want to buy. So, the experience has to be entertaining…the more it has to be about the individual shopper and not the average shopper. Exclusivity becomes the key," he said.
That's a trend Rajeev Rai, vice president of customer facing technologies and information services at Neiman Marcus, knows all too well. To try and provide that unique and compelling shopping experience, he and his team have rolled out a range of gadgets shoppers can deploy not just in store, but from home and on the go.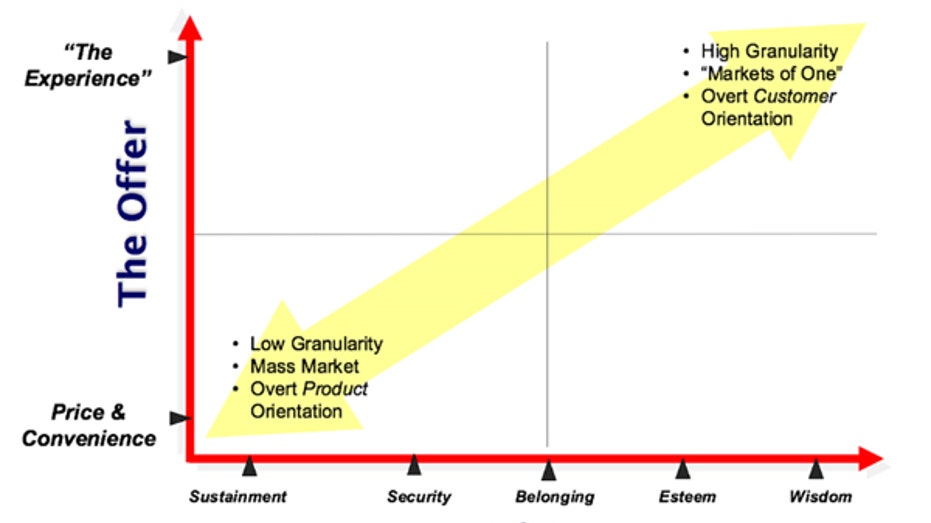 The company's mobile app features tools like Snap, Find, Shop, which customers can use to take a picture of a co-worker's boots, for example, and find out whether Neiman Marcus sells same or similar pairs. In store, customers can take advantage of mobile-phone charging stations and Memory Mirrors that record 360-degree views of various apparel items customers try on, or the steps in a new makeup routine at the cosmetics counter.
While fun for customers to use, Rai said the technology has also given the company valuable insight into their consumer base. In exchange for being able to use those pieces of technology, the customer gives an email address, phone number, and in some cases, answers a survey question about their experience.
"There's a fundamental tectonic shift happening in retail on how customers engage with brands, what they value. Loyalty is very fickle now. People are looking for 'what's in it for me,' 'what's the brand doing and how are they engaging with me,'" Rai, who spoke last week at the WWD Retail 20/20 Forum about the new store experience, told FOX Business. "The amount of digital exhaust that has been generated and the amount retailers have to learn…is tremendous to get to understand the customer."
Indeed, a 2017 study from Gartner found retailers expect the customer experience to be impacted most by digital technology.  All of that comes down to aggregating and understanding customer analytics, which luxury and high-end retailers have had initial success doing, said Robert Hetu, research director for retail at Gartner.
"When it comes to the mid-tier like Macy's on down to JCPenney, you find these retailers are struggling a lot more to figure out what this digital experience looks like in store…you find that these retailers know less about their customers," he explained.
To that end, Fitch Ratings said Neiman Marcus is sitting in a somewhat protected position, despite what seems like an imminent collapse of retail as consumers know it. Fitch cited Neiman's ability to distribute sought-after designer brands through just 46 stores worldwide, and its loyal customer base that generates 36% of the company's overall revenue through its InCircle rewards program. It also pointed to its "established" sales model that includes multiple channels and platforms and a direct business -- including online and catalog sales – that accounts for 30% of total sales, the highest online penetration of all major department stores.
To continue making headway, Kilcourse said Neiman needs to move more toward curated customer offerings, and that's where Rai said he sees the most opportunity.
"The day's not far away where conversational commerce will become a reality. You don't have to type at your keyboard and think about the right words to choose to put in a search engine. You'll be able to ask the question 'What should I wear to this event, what complements this dress, what shoes or accessories,'" he said. "We're getting ready to experiment with those technologies that allow the seamless experience to happen."