Motley Fool on 3 Drugs Heading to the FDA Soon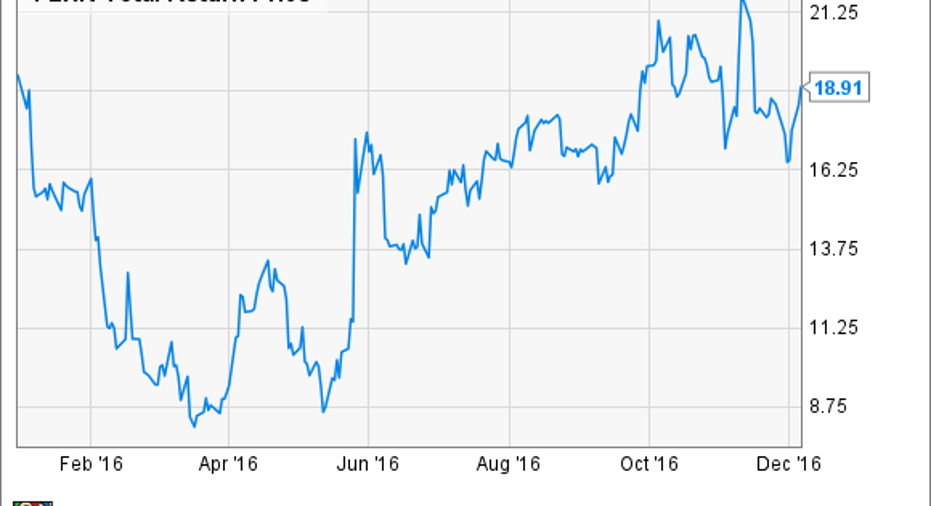 It's incredibly difficult to usher a drug successfully through scientifically controlled clinical trials to the FDA, but when drug developers pull it off, the payoff for investors can be huge. At least that's what investors in Flexion Therapeutics (NASDAQ:FLXN), Kite Pharma (NASDAQ:KITE), and Agios Pharma(NASDAQ:AGIO) hope. All three of these companies are about to deliver their respective drugs to the FDA for approval next year, and if the FDA gives them a go-ahead, then these stocks could become top performers in 2017.
IMAGE SOURCE: GETTY IMAGES.
Targeting pain
If you suffer from osteoarthritis of the knee, then you know that the currently available treatment options are lacking. More than 5 million people are treated for osteoarthritis of the knee annually, but the benefits of quarterly corticosteroid injections fade within weeks.
Flexion Therapeutics may have developed a better alternative.
The company's Zilretta is a non-opioid that has reduced the pain associated with the breakdown of joint cartilage by 50%. Importantly, Zilretta's benefit was maintained throughout the typical three-month dosing period, suggesting it offers a far more efficacious solution than corticosteroids.
Following word from the FDA that Flexion can file for Zilretta's approval without conducting a second study, the company's shares have been on a tear this year. However, there could be more room to run if management makes good on its plan to file for FDA approval this month.
FLXN Total Return Price data by YCharts.
The company's market research suggests that $2,000 annual pricing could be doable, and if so, this huge patient population could make Zilretta a blockbuster. So far, Flexion Therapeutics has held on to Zilretta development rights, and that means that if this drug is a hit, it stands to benefit significantly.
Admittedly, launching Zilretta without the help of a partner won't be cheap. But the company appears to have the financial flexibility to do it. Management finished up the third quarter with $161.5 million in cash at its disposal, and in mid-November, they raised another $64.8 million before fees and expenses thanks to a stock offering.
A new approach to cancer
Kite Pharma recently announced that it has begun a rolling FDA application for approval of KTE-C19, a CAR-T therapy that, if approved, could reshape cancer care.
The company expects KTE-C19's filing will be complete sometime in the first quarter, and given that this drug targets tough-to-treat B-cell cancer patients with limited treatment options, it wouldn't be surprising if a decision came in an accelerated timeline. If so, then KTE-C19 could become commercially available before the end of 2017.
An approval would be welcome news, given KTE-C19's robust efficacy in mid-stage studies.In a trial enrolling 111 people with diffuse large B-cell lymphoma (DLBCL) that failed to improve following standard treatment, 101 patients were treated with KTE-C19, and overall, 79% responded to it, including 52% who were complete responders.
Best Overall Response in Patients with 3 Month Follow-up

Subgroup

N

ORR

CR

DLBCL

51

76%

47%

TFL / PMBCL

11

91%

73%

Total

62

79%

52%
DATA SOURCE: KITE PHARMA.
KTE-C19's efficacy in this patient population, which has a historically poor prognosis, appears to be good enough to offset safety concerns, including high rates of severe cytokine response syndrome and neurological events.
If so, then KTE-C19 could quickly become an important new drug. Management expects to have enough capacity built to treat 4,000 patients in KTE-C19's first year post-launch, and based on the price of competing cancer drugs, a six-figure price-tag is likely. Those figures suggest this drug has nine-figure potential.
Targeting mutations
Agios Pharma collaboration partner Celgene (NASDAQ:CELG) is on track to file AG-221 for approval before the end of this year. If it makes good on that plan, then an FDA decision could be on tap sometime during the third quarter or early in the fourth quarter of 2017.
AG-221 is in development for relapsing/refractory acute myeloid leukemia patients with an IDH2 mutation.and data supporting the filing comes from an ongoing phase 1/2 trial showing a median duration of response of 6.9 months.
If the FDA eventually approves AG-221, then it could become an important new treatment option for AML patients. Roughly 20,000 patients are newly diagnosed with AML in the U.S. every year, and between 10% to 20% of these patients will have IDH2 mutations. Historically, patients with IDH2 mutations can have high post-treatment relapse rates and poor five-year survival rates, depending on the exact location of the mutation.Therefore a drug that can prolong disease progression and is safe enough to pass the FDA's gauntlet could be a major advance.
10 stocks we like better than Agios Pharmaceuticals When investing geniuses David and Tom Gardner have a stock tip, it can pay to listen. After all, the newsletter they have run for over a decade, Motley Fool Stock Advisor, has tripled the market.*
David and Tom just revealed what they believe are the 10 best stocks for investors to buy right now... and Agios Pharmaceuticals wasn't one of them! That's right -- they think these 10 stocks are even better buys.
Click here to learn about these picks!
*Stock Advisor returns as of Nov. 7, 2016
Todd Campbell owns shares of Celgene and Flexion Therapeutics.Todd owns E.B. Capital Markets, LLC. E.B. Capital's clients may have positions in the companies mentioned.Like this article? Follow him onTwitter where he goes by the handle@ebcapitalto see more articles like this.
The Motley Fool owns shares of and recommends Celgene. Try any of our Foolish newsletter services free for 30 days. We Fools may not all hold the same opinions, but we all believe that considering a diverse range of insights makes us better investors. The Motley Fool has a disclosure policy.