More Profits for the Gun Industry. Good for Them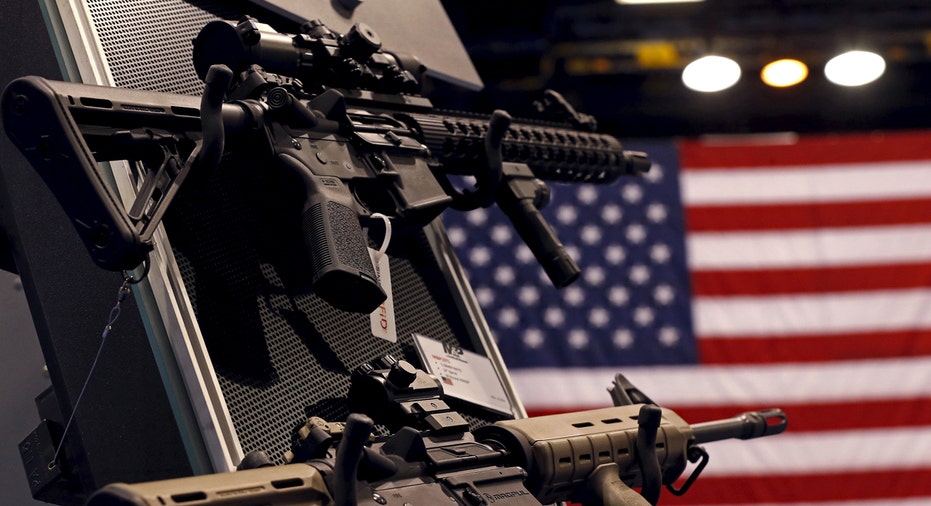 Sprague's Sports is a small business that sells guns.
The store, which is located in Yuma, Arizona – a town that boasts a population of about 125,000 people - also sells gun accessories such as ammunition, maps, cleaning gear and hats. It sells gun safes and offers repair services for firearms. It offers memberships to those who want to come and be trained how to shoot their guns safely in its state-of-the-art indoor range.
Spragues's Sports is a successful business. It was started in 1956 and currently employs more than 30 full time employees – many who have been with the company for decades. Its Facebook page has more than 3,300 fans. The business is a long time member of the local Chamber of Commerce and active in the Yuma community with most employees involved in local charities, fair boards and the Rotary club. Richard Sprague, the store's owner, tells me that he donates to about 150 local events a year. He likes what he does. "What we do is important," Sprague says. "We help people from all different walks learn how to shoot, take care of themselves, feed themselves and carry on a tradition that has fed this company."
He's right. I don't own a gun. I'm not a gun enthusiast. But I recognize that people like Sprague are important. He has a right to exist and to profit.
It's been a profitable year for Sprague's. But Sprague's is not the only one in the industry making money, of course. In fact, it's been a profitable year for just about anyone in the gun business. The industry has seen thirteen straight months of rising sales and yearly background checks by the FBI are expected to reach an all-time high in 2016. The makers of guns have seen their stock prices surge and their profits increase. There are many beneficiaries enjoying these good times.
We know about the big gun manufacturers, like Smith & Wesson (which release earnings this week), Remington and Ruger. But then there are thousands of others who indirectly profit from this industry. There are scopes and optics makers like Leupold Optics, Trijicon, Inc., and Aimpoint.  There are companies who make magazines for ammunition like Magpul Industries. There are niche clothing and holster companies like The Belt Man and Raven Concealment Systems. There's a growing group of companies in the suppressor industry, which makes silencers and other noise suppression products.
This is the American gun industry in 2016. It is an industry of large, but mostly small businesses. And it provides a livelihood to many.
According to the National Sports Shooting Foundation, the gun industry employs close to 300,000 people, pays about $15 billion wages each year and has an overall impact of about $49 billion to the U.S. economy. The industry paid more than $6.5 billion in taxes last year alone. More than 65,000 attendees are expected to show up at the industry's annual trade show which takes over Las Vegas every January. The National Rifle Association's meeting drew about 80,000 to its last annual conference and it's Great American Outdoor Show - which occurs in February near Harrisburg, PA - last year drew more than 170,000 visitors and generated around $70 million in economic impact, according to the group.
It's rarely good news when people talk about the gun industry. But it's important to remember these numbers every time the gun industry makes the news.
Guns are a hot topic this election year. President Obama has tried, and failed, to pass legislation through Congress that makes it harder for some to purchase and own firearms. Hillary Clinton supports stricter gun control rules and a ban on assault weapons. Donald Trump does not support a gun ban. Both candidates want to improve mental health treatment, particularly concerning those who want to purchase firearms. But neither support a repeal of the second amendment and the right to bear arms.
That's good news for the thousands of small businesses in this industry and its related industries and for the tens of thousands of people who they employ. The industry will always be fighting its critics and the public outcry after each tragic, gun-related death. The people who have suffered as a result of gun violence have a genuine concern about how easy it is to purchase firearms in this country and are right to support tougher rules.
But the gun industry has its rights too. It is an industry that is made up almost entirely of law-abiding people and small businesses like Richard Sprague.
"I am very proud of what we do," Richard Sprague says.
He should be. Good for him.