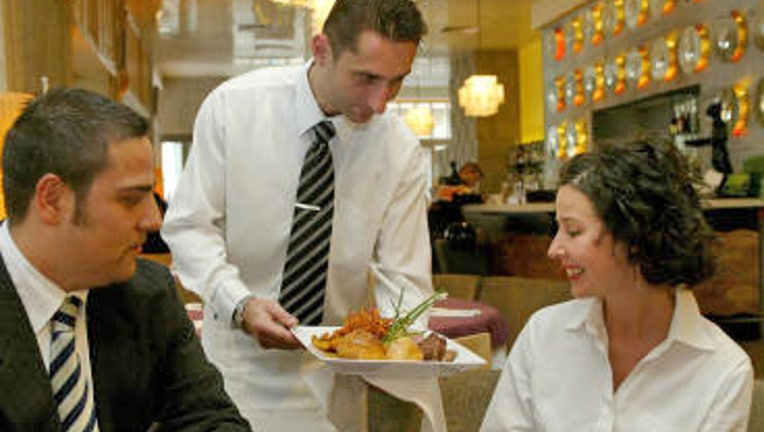 Craving a filet mignon for just a buck? Bargain lovers have met their match.
Local deals site LivingSocial on Wednesday showered Midtown Manhattan with $1 lunches that could be used between 11 a.m. and 2 p.m. on the day of purchase.
The initiative is part of the companys effort to introduce its LivingSocial Instant Deals program, while drawing attention to its mobile app and driving traffic on its website. The company competes with Groupon, which is gearing up for an initial public offering.
Some 50 restaurants were available for the local instant deals on Wednesday, including lunch vouchers at the Irish Exit, Cara Mia, Trump Grill and Angus McIndoe Restaurant in Times Square, which sported a $1 deal for $40 worth of food.
The deals became available at 6 a.m., but many restaurants were sold out before 10 a.m.
Its residents, and the city itself, move at a fast pace, LivingSocial CEO and co-founder Tim O'Shaughnessy said in a statement. LivingSocial Instant Deals will make it easier for Manhattanites and visitors to find a great value, fast, so they can spend more time living and less time looking for food, fun and cool services.
Local merchants work with LivingSocial to draft deals that will optimize traffic through their stores. Unlike the company's daily deals, which are live for 24 hours, the instant deals are only active for a short period.
The company called its instant deals a breakthrough in local commerce, enabling consumers to find immediate deals at restaurants and attractions within a 0.5-mile radius.
The event was the second rollout of LivingSocial Instant Deals, following Washington D.C.s launch in April, during which more than 27,000 $1 lunch vouchers were sold. The company said it plans to roll out instant deals in more U.S. locations soon.