Let's make a deal: Automakers, U.S. auctions align to prop up used car prices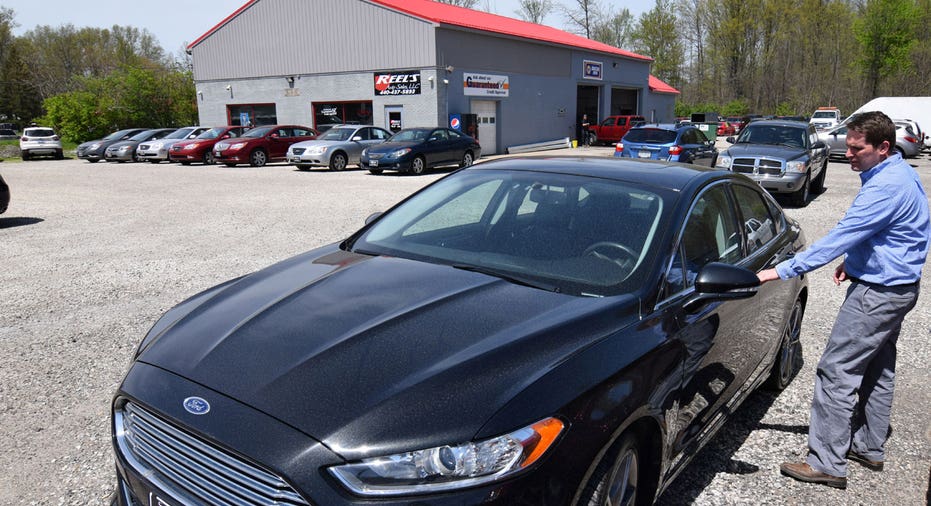 Two lanes apart at a noisy, fast-paced auto auction near Detroit, two vehicles show why major U.S. automakers have a problem with used cars.
In one lane of the Manheim auction facility, a black 2015 Chevy Malibu sedan with barely 20,000 miles on it sold for just over $13,000, less than half its original sticker price. In the other lane, a white 2013 Chevy Silverado pick-up truck sold for $11,500 - despite having 200,000 miles on the odometer.
America's renewed lust for new SUVs and trucks instead of smaller cars is already hurting major auto companies, which posted their fourth consecutive month of declining new vehicle sales.
But millions cars that were leased two or three years ago, many of them used compact and midsized cars with low mileage, are heading toward auction lots and used car dealerships.
That surge in supply threatens to depress prices for new and used vehicles, raising the risk of losses for automakers and finance companies on lease deals. It also undercuts the value of cars customers want to trade in for a new vehicle.
So major carmakers, including General Motors Co (NYSE:GM) and Ford Motor Co (NYSE:F), are aligning with auto auction houses with aggressive moves to make sure they are getting the best prices for their vehicles. Such maneuvers include transporting the automobiles to where the greater demand is based on real-time pricing data, spending more to spruce up used cars and slowing the pace which leased cars get moved to used car lots or auction houses.
Auto auction houses such as Manheim in southeastern Michigan are where the romance of new car marketing goes to die. The dominant player in the U.S. auction market along with rival KAR Auction Services Inc (NYSE:KAR), Manheim treats vehicles like commodities, grading them on a fine-tuned scale from one (poor) to five (excellent) that provides dealers with certainty and transparency.
"If a dealer sees a 2015 Ford Fusion with a rating of 4.3, they know what to pay for it and what they can sell it for," said Matt Trapp, a Manheim vice president on a tour of the auction, scanning tags on vehicles with his smartphone to pull up a multitude of transactions for that make, model, year, condition and mileage.
"If you don't want to overbid on this one, wait a minute and another will be right along," he said.
Increasingly, the auction houses and automakers are collaborating to try to raise the scores, and the prices, of vehicles running through auctions. Auction houses have offered add-on reconditioning services on used vehicles for decades, but after the lean years following the Great Recession, demand is rising for those higher-margin services.
Manheim's chief economist Jonathan Smoke says "we can help determine the optimal way to sell their vehicle, which includes location, timing," the level of reconditioning and whether to opt for a physical auction or online auction. Online auctions account for 30 percent of sales at Manheim versus 10 percent three years ago, he added.
$2,700 SEPARATES MEMPHIS AND MIAMI
Armed with detailed, real-time pricing data that was not available during the last downturn, auctioneers can now help automakers figure out where a used car could fetch the best price.
Manheim has an expanded logistics arm that can aggregate cars for transport to the place they'll fetch the highest price at auction, or arrange their sale before they even move.
Jason Ferreri, KAR's executive vice president of online services, said this is happening "significantly more often."
Neither he nor Manheim officials would give specifics. In April, KAR agreed to buy DRIVIN, a data aggregator that matches vehicle inventory to dealer demand, whose founders include Brad Keywell and Eric Lefkofsky, the co-founders of Groupon Inc (NASDAQ:GRPN), for $43 million in stock.
Ferreri said the deal was in response to automakers' demands for greater data services amid the influx of off-lease vehicles. This real-time pricing data helps the companies steer the used cars toward higher demand.
For example, the national price for a 2015 Chevrolet Malibu with average mileage the week of June 11 was $15,514, according to data compiled for Reuters by car-shopping website CarGurus.
In Memphis, that Malibu cost nearly 9 percent above the national average fair price, but in Miami it would sell for more than 9 percent below that price, representing a difference of $2,700.
Manheim's Matt Trapp, whose territory includes the U.S. northeast, says around 40 percent of vehicles coming off leases are returned to dealers within around five hours' drive of New York City. Many are now being shipped to other regions.
In New Jersey, for instance, one in three off-lease vehicles now leaves the state, Trapp says.
"I am not seeing a glut of used cars hitting the market," said Mike Gentry, who buys cars for 20 dealerships in northwest Ohio and attended the Manheim auction outside Detroit. "Automakers have set a floor for pricing and when they can't get that price they ship them 500 miles to where they can get a better price."
MORE PRICING TOOLS IN THE GARAGE
GM spokesman Jim Cain said the company is relying on "a lot more tools" including certified pre-owned vehicles "to support resale values." A Ford spokesman said the company has adopted a "disciplined approach" to maintaining used car values.
Those tools include slowing the flow of vehicles to the used market, which they can afford in the short term as their balance sheets are strong.
"With off-lease vehicles we are not seeing all of them coming to market, some of them are being held back," National Automobile Dealers Association chief economist Steven Szakaly told reporters on a conference call on Thursday.
Automakers also allow their franchised dealers to take first pick of vehicles just coming off a lease before they go to auction. These are usually sold as "certified pre-owned" cars that come with a factory warranty, and a higher price tag than a run-of-the-mill used car.
For vehicles that have suffered wear and tear, auction houses are now preparing for what Manheim's Mandy Savage calls a "tsunami" that will hit the market in the coming years.
At Manheim's body shop here in Carleton, Savage, the facility's general manager, says 90 percent of the vehicles being painted or undergoing small fixes are cars that have just come off lease. Automakers are increasingly willing to spend $500 to boost a car's resale value by $750, she said.
"This is not an art," she said. "It's a science."
But Mark Wakefield, head of the North American automotive practice for consultancy AlixPartners, said propping up used car values makes sense, but automakers will have to do more to stem the flow of used cars longer-term by trimming inventory levels.
"I expect to see more production cuts," he said.