'Leave' Scents Victory as EU Vote Divides Britain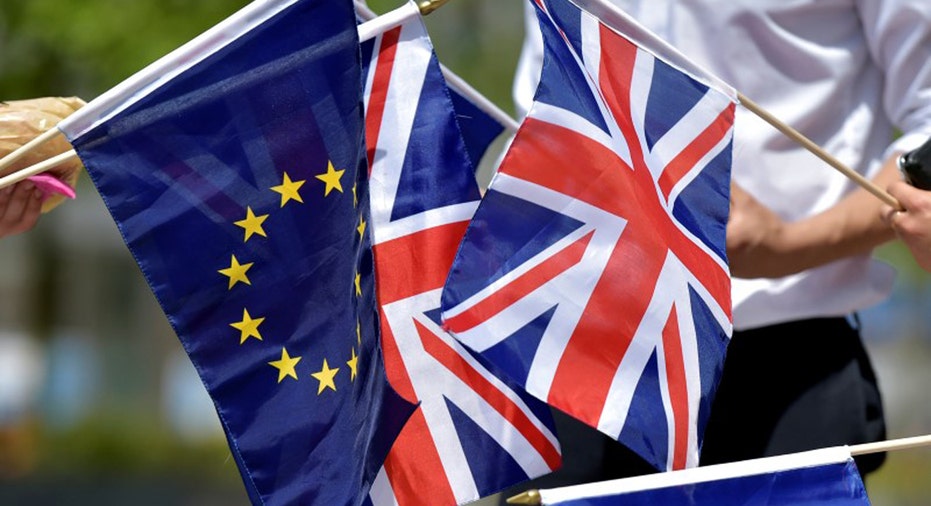 Britain's bitterly contested referendum on whether to quit the European Union was too close to call on Friday as partial results showed a deeply divided nation, while the pound was hammered on growing market fears of a "Brexit".
Bookmakers adjusted their odds to reflect the likelihood of a Leave vote as the lead swung back and forth in a nail-biting count, with the Betfair Internet betting exchange putting that probability as high as 79 percent.
With results declared from 206 of 382 voting districts plus parts of Northern Ireland, Leave was ahead by 51.3 percent to 48.7 in the referendum, in which a vote to break with Europe could usher in deep uncertainty over trade and investment and fuel the rise of anti-EU movements across the continent.
Initial results suggested those in favor of quitting the EU were outperforming pollsters' expectations. They scored close to 70 percent of the vote in Hartlepool in northeast England and in Basildon, near London.
It was not clear whether an expected pro-EU vote in the capital and across Scotland would be sufficient to redress the balance. In the London district of Haringey, 76 percent voted to remain.
"I think this could be extremely close. There is a disaffected vote," said John McDonnell, finance spokesman for the opposition Labour Party, which had favored a vote to Remain.
"People are concerned about how they have been treated with austerity and how their wages have been frozen for about seven years. A lots of people's grievances have come out and we have got to start listening to them."
Leading political analyst and pollster John Curtice said: "At the moment, at least, we have more places where Leave are doing better than expected than places where Remain are doing better than expected, and if that pattern continues then Leave are going to win the referendum."
Sterling swung wildly, initially rising on expectations of a Remain win but then tumbling by nearly 10 cents, its biggest fall in living memory. By 0232 GMT it was down 5.6 percent on the day at $1.4045.
That was a greater dive even than on 'Black Wednesday' in 1992 when billionaire financier George Soros was instrumental in pushing the pound out of the Exchange Rate Mechanism.
"Sterling is getting smackadoodled," said Tim Kelleher, Head of FX Institutional Sales New Zealand for ASB Bank in Auckland. "While we thought it was all going to be 'Remain', it's quite clearly not going to be as clear cut as that."
Prime Minister David Cameron had urged Britons to vote Remain, warning that the alternative was a leap in the dark that would hurt trade and investment, bring about a self-inflicted recession, undermine the pound and push up shopping bills and the cost of holidays.
Advocates of going it alone said a 'Brexit' would invigorate the economy by freeing business from suffocating EU bureaucracy, and allow the country to recover its sovereignty and regain control of immigration.
Britain's 27 EU partners are anxiously watching the vote, fearing the departure of the bloc's second biggest economy would weaken Europe's global clout and fuel the rise of eurosceptic movements in other countries.
Ralph Brinkhaus, a senior ally of German Chancellor Angela Merkel, told Reuters: "The released polls show the expected neck-and-neck race. It will remain exciting until the early morning hours. I hope that the British have decided against a Brexit."
PLUNGING POUND
Financial markets had initially been reassured by opinion polls showing a likely win for 'Remain', and by comments from prominent anti-EU campaigners that they expected to lose.
Nigel Farage, head of the UK Independence Party, told Sky News as voting ended: "It's been an extraordinary referendum campaign, turnout looks to be exceptionally high and looks like Remain will edge it."
Farage said his prediction was based on "what I know from some of my friends in the financial markets who have done some big polling". Government minister Theresa Villiers, who also campaigned for Britain to leave, told Sky her instinct was that the Remain side had won.
Opinion polls put Remain in the lead by margins of 52-48 or 54-46 percent. The surveys and Farage's comments had pushed the pound to its highest level this year, above $1.50, before it plunged on the early results.
Farage later tweeted: "I now dare to dream that the dawn is coming up on an independent United Kingdom."
Professor Vernon Bogdanor, a politics expert who tutored Cameron at Oxford University, told BBC television there was a possibility that Leave would win.
"One can't deny it's a real kick to the British establishment because all three party leaders have favored a Remain vote, business on the whole favored a Remain vote, the financial leaders have favored a Remain vote. The people have not taken their advice," he said.
IMMIGRATION ANGST
A vote to leave would send decades of European integration into reverse, marking the first time an independent nation has broken away. It would threaten to open further cracks in a grouping already reeling from successive crises over Greek debt and a mass influx of refugees from Syria and elsewhere.
A vote to stay would leave the EU intact, with its most free-market proponent still a member. However, what began as a domestic political gambit by Cameron has polarized the country and exposed wider challenges facing Europe: public angst over immigration and the falling living standards of many in the world's richest region.
Marred by the murder of a pro-EU UK politician, Jo Cox, who was shot and stabbed in the street a week ago, the campaign and its divisive rhetoric highlighted the populist wave also seeping into the U.S. election race.
If it votes to stay, Britain has been promised a special status exempting it from any further political integration, but European leaders will still have to address a sharp rise in euroscepticism across the continent.
A Brexit vote, however, would deal a potentially fatal blow to the career of Cameron, who called the referendum and campaigned for the country to stay in, against a Leave camp led by rivals from within his own Conservative Party.
"Thank you everyone who voted to keep Britain stronger, safer and better off in Europe - and to the thousands of Remain campaigners around the UK," Cameron said on Facebook.
In a letter, 84 eurosceptic Conservative lawmakers called on Cameron to remain prime minister regardless of the result. It marked the first attempt to heal the deep rifts that have opened up in the ruling party since the start of the campaign.
The signatories included prominent Leave campaigners Boris Johnson, the former mayor of London, and Michael Gove, a cabinet minister and personal friend of Cameron.
But despite the statement of loyalty, Cameron would face huge pressure from the country at large to step down as prime minister if Britons have defied him and voted to leave.
WEATHER DISRUPTION
Results are due to be announced throughout the night.
The vote came on a day when London and parts of southeast England were hit by torrential rain, causing floods and widespread transport chaos.
Five London polling stations opened late as staff struggled to get there, and two closed briefly because of flooding but were re-opened in back-up locations. Local media reported some voters had to wade through water to reach a polling station.
"In London/southeast and want to vote in the #EURef? Make sure you plan now to get back to your local polling station by 10pm!" the Electoral Commission said during the evening on Twitter as commuters struggled with train cancellations.
Among those affected was Johnson, who cast his vote with just 25 minutes to spare after returning to the capital from his daughter's graduation in Scotland.
"Let's see, let's see. It's in the hands of the people now," he said when asked how he felt about the vote.
(Additional reporting by Estelle Shirbon, Sarah Young, Ana Nicolaci da Costa, Michael Holden, Freya Berry, Ian Chua, Wayne Cole and Michael Nienaber; writing by Mark Trevelyan; editing by Mark John)