Kroger, Walmart have time to bid for Whole Foods, but is it worth it?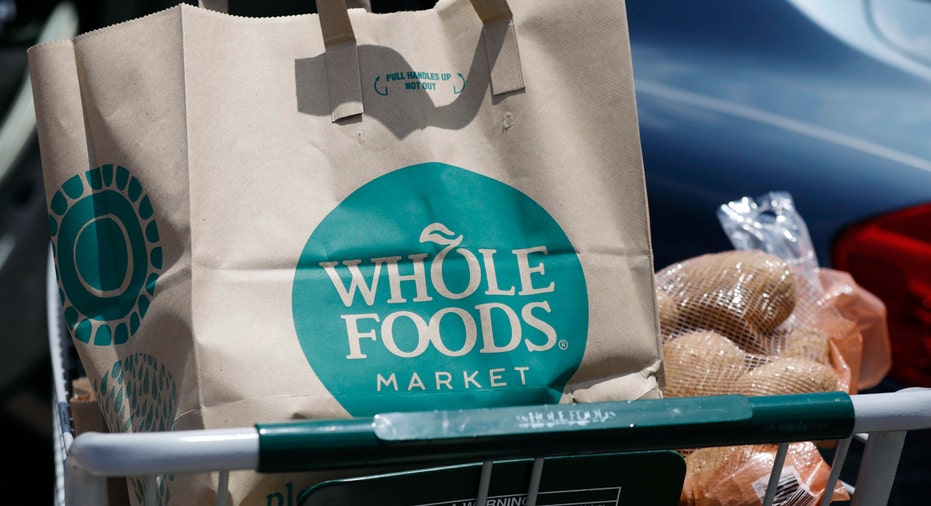 It's been one week since Amazon's (NASDAQ:AMZN) bombshell $13.7-billion bid for Whole Foods Market (NYSE:WFM) was made public. But with the deal yet to be signed and sealed, there's still time for other competitors to ignite a bidding war for the struggling grocery chain…the question is: Will the effort be worth it?
Since news of the deal was announced, investors have bid up Whole Food' shares– which have been stuck around the $30 range for the last two years –beyond the $42 per share acquisition price to $53.84. For some Wall Street watchers, that's a signal investors believe another bidder will come to the negotiating table.
Walmart (NYSE:WMT) and Kroger (NYSE:KR) are seen as the companies most likely to come in with a competing bid, though Reuters reported Friday a source said Walmart is not actively considering making an offer for Whole Foods.
What makes Whole Foods most attractive to those two leaders in the space is not necessarily the business model, but the opportunity to make Whole Foods and its more than 460 stores inaccessible to Amazon – an e-commerce titan trying to bolster its standing in the world of food retail.
"While Amazon might be determined to acquire a bricks and mortar asset, Whole Foods is the optimal solution for Amazon. All other assets are suboptimal by a wide margin – as a result, it is in any competitor's best interest to bid for Whole Foods to keep [it] out of Amazon's hands," said Barclays U.S. food and staples retailing analyst Karen Short in a note Friday.
Short sees a bid of up to $60 per share from Kroger, the biggest grocery store operator in America, as possible, and remarked such a tie up would make sense. Whole Foods would have access to Kroger's operating efficiency in a decentralized model and best-in-class customer analytics, an area it's been working quickly to build, while Kroger would have access to Whole Foods' strength in prepared foods. One worry for Kroger, though, is its desire to sacrifice its investment grade rating to make a deal work.
On the other hand, she said a bid as high as $70 from Walmart is also plausible in a "King Kong vs. Godzilla" scenario as the world's biggest retailer continues to go head to head with Amazon, battling for online market share amid an ongoing price war. Walmart has proved it isn't scared of growth by acquisition – over the last year, it's purchased Jet.com (an Amazon rival), which allowed it to significantly grow its e-commerce platform, as well as ShoeBuy, Moosejaw, ModCloth and Bonobos.
One potential hurdle from such a transaction with Walmart would be the misfit between Whole Foods's upmarket appeal and Walmart's traditional customer base. What's more, while JPMorgan (NYSE:JPM) equity analysts see a chance Walmart enters the fray, they also see two major speed bumps: Amazon's "war chest" of cash and stock could likely outplay Walmart's in a bidding war, and the idea that online is Walmart's expansion priority, not grocery.
"Given Walmarts [more than] 20% share in grocery, why should the company spend $14B+ on what it's already good at (selling food via brick-and-mortar) when the money insteasd could be used to expand and improve Jet.com and Walmart.com," they said in a note published this week, adding that Jet.com is Walmart's opportunity to steal customers away from Amazon's Prime membership service, while the company's namesake website is the "forgotten man's" alternative to Prime.
What's more, the JPM analysts said all other hurdles aside, it may simply be difficult for any other company to match the excitement coming from Whole Foods' management over the deal.
At a town hall held the day the deal was announced last week, Whole Foods founder and CEO John Mackey said the deal will be "amazing" for consumers since he vowed the food-quality standards the company has long been known for will not change, and remarked he was "super, super excited" about the agreement.
"A cynic might suggest with these words Whole Foods is merely trying to reassure a nervous employee base that sunny days lie ahead. But it seems apparent to use that both management and the board are highly supportive of this transaction, not only because of the immediate impact on the stock price, but also for the long-term fundamental opportunity and the compatible cultures," JPM analysts said.
Amazon CEO Jeff Bezos provided few details in last week's announcement about what exactly his $478-billion company will do with Whole Foods, though it is expected to continue operating under the Whole Foods brand name with Mackey leading it from the top. Investors and analysts largely see the deal as a way for Amazon to immediately better compete in the food retail space, expanding on its existing PrimeFresh service with access to Whole Foods' product assortment and store locations as potential distribution hubs.