Keystone Pipeline: TransCanada Touts U.S. Jobs as Trump Greenlights
President Donald Trump granted a permit to TransCanada (NYSE:TRP) that allows the company to begin building the Keystone XL pipeline, a hot-button issue during the recent election campaign.
The construction of Keystone XL, which Trump called "long overdue," will further reduce U.S. dependence on foreign oil and create a safer way of transporting crude oil to refineries, the president said during an announcement Friday in the Oval Office.
TransCanada CEO Russ Girling said Keystone XL will support thousands of jobs in the U.S. The company has previously estimated that Keystone XL would create at least 20,000 jobs. The Obama administration, which declined to give Keystone XL a green-light, offered a projection of 42,100 equivalent full-time jobs during a two-year construction phase.
"On behalf of thousands of people who have worked very hard to get here, as you pointed out, a very long time to get here, we're very relieved and very much just want to get to work," Girling said.
According to Girling, TransCanada expects to obtain final permits from other federal agencies by the end of 2017. Trump said he would call Nebraska Gov. Pete Ricketts, whose government must also offer its approval.
"The fact is that this $8 billion investment in American energy was delayed for so long, it demonstrates how our government has too often failed our citizens and companies," President Trump said.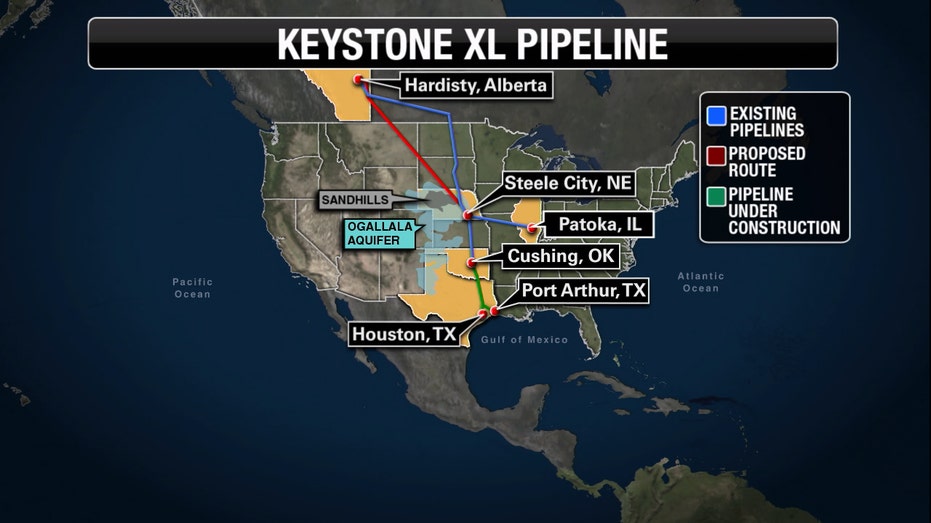 TransCanada had warned that costs could balloon to $10 billion as a result of the seven-year delay.
"I hope you don't pay your consultants anything because they had nothing to do with the approval," Trump said jokingly to Girling. "In fact, you should ask for the hundreds of millions of dollars back that you paid them. They didn't do a damn thing except get you a 'no' vote."
The 1,179-mile pipeline would extend an existing network that connects Canada to the Gulf Coast in Texas. Keystone XL would create a direct line from the Canadian oil sands in Alberta to a connection point in Nebraska. From there, crude oil can travel to Gulf Coast refineries, which turn crude into gasoline, diesel and other products.
TransCanada's stocks rose less than 1% in reaction to the news from the White House. Other midstream energy companies that manage pipelines saw gains, including Phillips 66 Partners (NYSE:PXSP). TC Pipelines (NYSE:TCP) rallied 2.3%, while Williams Companies (NYSE:WMB) climbed 1.6%.