Italy Seeks to Relaunch EU Ideal with Symbolic Summit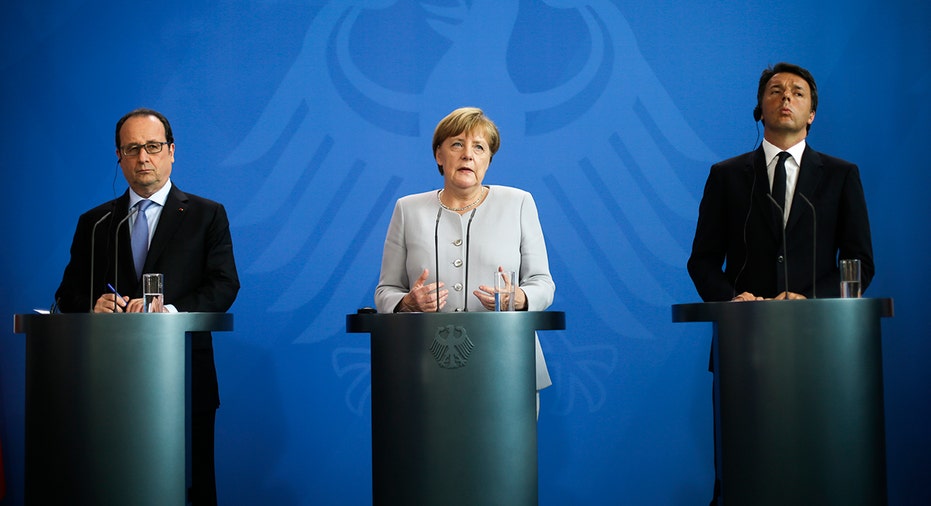 ROME (AP) — Italian Premier Matteo Renzi has invited his German and French counterparts to pay their respects at the tomb of one of the founding fathers of European unity in a symbolic bid to relaunch the European project after Britain's clamorous decision to leave the EU.
The location for Monday's summit carries particular resonance as Europe confronts Islamic extremist violence, slow economic growth and continued anxiety over the implications of the Brexit vote. Italy has a lot to gain from a reinvigorated EU as it copes with flat GDP, the migrant crisis and political uncertainties over a constitutional referendum this fall on which Renzi has staked his government's survival.
The island of Ventotene off Naples, filled with sun-worshipping tourists in the waning days of summer, was where detained anti-fascist Altiero Spinelli in 1941 began co-writing the "Ventotene Manifesto," which called for a federation of European states to counter the nationalism that had led Europe to war.
The document is considered the inspiration of European federalism.
Renzi has called Ventotene the "cradle of Europe" and is keen to highlight its historic role as Italy seeks even greater integration, particularly on the security front to help it cope with waves of migrants, and flexibility from Brussels as it tries to rein in its record public debt.
"It seems strange, and in many ways it is, that from this tiny island the biggest political victory of the 20th century was borne: 70 years of peace between peoples who fought constantly and cyclically," Renzi said in January when he visited Ventotene and announced plans to restore its abandoned prison into a museum and European learning center.
Monday's mini-summit will serve as a warmup for an EU-wide summit in Bratislava in September designed to chart the EU's post-Brexit way forward. It follows an initial three-way huddle by Renzi, German Chancellor Angela Merkel and French President Francois Holland in Berlin in the days immediately following the June 23 British referendum.
Charting a course is difficult until Britain formally begins the exit process, probably next year, and lays out proposals for its future relationship with the EU.
In Berlin, the three leaders pledged their commitment to European unity and plotted a common proposal to relaunch the European project focusing on three key areas: improving security, boosting economic growth and strengthening options and programs for young people.
The summit also gives Renzi a chance to hash out options as Italy copes with slow growth and other financial worries, especially at its banks which are struggling under some 360 billion euros ($408 billion) in bad loans.
According to recent Eurostat figures, growth was flat in Italy in the second quarter, compared with 0.4 percent growth in the EU. Unemployment was 11.6 percent in June, well above the EU average of 8.6 percent. Youth unemployment was even worse: 36.5 percent in Italy, exceeded in the EU only by Spain, and nearly twice as high as the EU average of 18.5 percent.
Renzi, however, has a bigger concern on the horizon, a gamble that he brought on himself and is worrying Europe as it could affect Italy's political stability and strengthen the euroskeptic, populist 5-Star Movement.
Renzi has called a referendum for this fall proposing a host of changes to the constitution, including reducing the power of the Senate and giving the central government control of some policy areas now in the hands of regions. Renzi has suggested he would resign if it fails, an outcome that Italy's business lobby Confindustria has warned would create "political chaos" and lead Italy back into recession.
In an interview this weekend with La Repubblica, Renata Colorni, whose father helped spread the "Ventotene Manifesto" through Italy's resistance movement and whose mother married Spinelli, said she had little hope that today's Europe could ever meet the Ventotene founders' original ideals.
"Honestly, today I don't see first-rate politicians, I only see statesmen who move through the European scene worried about losing the next national elections," she was quoted as saying. "What's missing is the will to risk it all for an ideal."