Is Honda Moving to Take On Tesla Motors?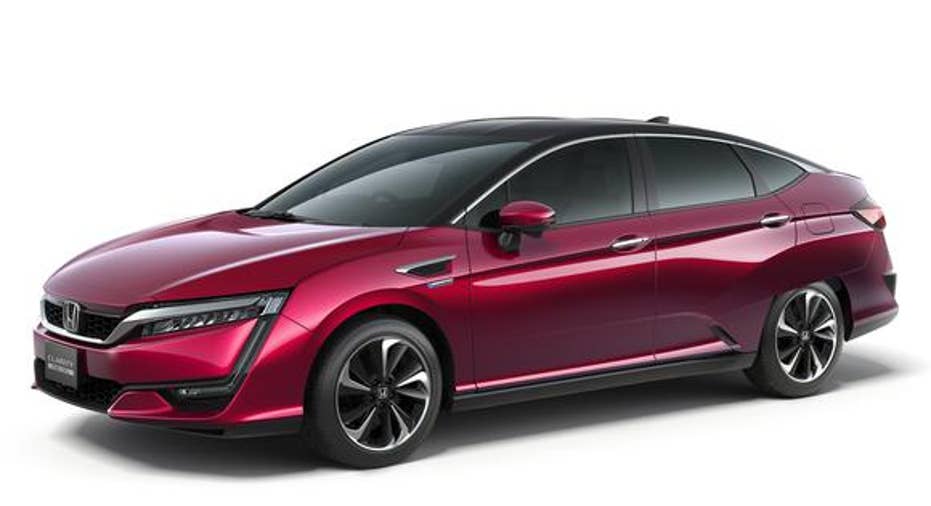 Honda's North America chief, John Mendel, showed off a 2017 Honda Accord Hybrid and a fuel-cell-powered Honda Clarity at an event on Thursday. Image source: Honda.
Honda announced what could turn out to be a big push to boost its green-car clout on Thursday. The Japanese automaker said that it will broaden its portfolio of alternative-fuel vehicles by offering a new hydrogen fuel-cell vehicle, a new battery-electric car, and a new plug-in hybrid, all under its "Clarity" sub-brand.
Until now, Honda's Clarity nameplate has been applied to its fuel-cell vehicles, which the company has for years sold in tiny numbers as a rolling research and development program.
But now, clearly feeling pressure to step up its green-car game, Honda is committing to building out its offerings under the Clarity name. Is Honda signaling a move to challengeTesla Motors?
What Honda said: Honda said that its previously announced Clarity fuel-cell sedan will get two electric siblings, both launching in 2017.
Honda said that the Clarity Electric will be "the first affordable, midsize, five-passenger battery electric vehicle (BEV) to offer premium content and features." The Clarity Plug-in Hybrid "will be the volume leader in the series, seamlessly combining an all-electric driving range in excess of 40 miles with a hyper-efficient gasoline-hybrid extended range mode."
"All of the Clarity models will leverage the platform that has enabled the Clarity Fuel Cell's low, wide and aerodynamic proportions and spacious five-passenger cabin," Honda said in a statement. "This shared platform strategy also enables flexibility in responding to infrastructure and market developments, and the ability to provide customers nationwide with an ultra-low carbon vehicle that meets their lifestyle needs while expanding the market for Honda advanced technology products... The first of the Clarity Series to launch will be the Clarity Fuel Cell, Honda's most technologically advanced vehicle ever, slated to begin deliveries to customers in select California markets in late 2016. The Clarity Fuel Cell will have a targeted monthly lease price of under $500."
Honda's hydrogen-fuel-cell-powered Clarity Fuel Cell sedan will go on sale in California later this year. Battery-electric and plug-in hybrid versions will follow next year. Image source: Honda.
Honda has set a bold goal for electrification. "On a global basis, Honda is aiming to have electrified vehicles account for two-thirds of its vehicles sales around 2030," it said in Thursday's statement.
Honda also announced that a reengineered version of its Accord Hybrid for 2017 will go on sale in the U.S. later this spring.
What Honda didn't say: With Honda's reputation for quality and comfort, the Clarity Electric has the potential to be a very interesting vehicle, given that it will arrive probably a few months before Tesla's Model 3is expected to start shipping. But Honda didn't tell us what kind of range the Clarity Electric will have, or even give us a general idea.
Until we know the range, it's impossible to know whether this new Honda will be a serious competitor to cars like the Model 3 -- or just another "compliance car" that will sell in tiny numbers.
What it means for Honda: Honda has been working on fuel cell technology for years, recently in a joint venture with General Motors . While GM has said that it doesn't expect to bring a fuel-cell vehicle to market until around 2020, Honda -- likely spurred on by Toyota's Mirai -- has clearly decided to move more quickly. Offering battery-electric and plug-in hybrid versions of the Clarity will help offset the costs of developing the fuel-cell version, and will put what appears to be a good vehicle architecture to wider use.
More broadly, Honda -- like most of its global rivals -- is obviously feeling pressure to up its electric-car game in the wake of Tesla's impressive Model 3 launch. In particular, when it comes to hybrids and "green" vehicles, Honda has long stood in the shadow of Toyota, the world's leader in gasoline-electric hybrid sales -- despite being one of the first automakers to bring hybrids to market.
Honda CEO Takahiro Hachigo would clearly like to recapture some of Honda's historical reputation for innovation and green leadership. The new plug-in Clarity models could help the company do that -- but the devil will be in the details, most of which haven't been revealed yet. We'll be watching.
The article Is Honda Moving to Take On Tesla Motors? originally appeared on Fool.com.
John Rosevear owns shares of General Motors. The Motley Fool owns shares of and recommends Tesla Motors. The Motley Fool recommends General Motors. Try any of our Foolish newsletter services free for 30 days. We Fools may not all hold the same opinions, but we all believe that considering a diverse range of insights makes us better investors. The Motley Fool has a disclosure policy.
Copyright 1995 - 2016 The Motley Fool, LLC. All rights reserved. The Motley Fool has a disclosure policy.