Instant Analysis: Domino's Pizza Inc. Introduces Zero-Click Ordering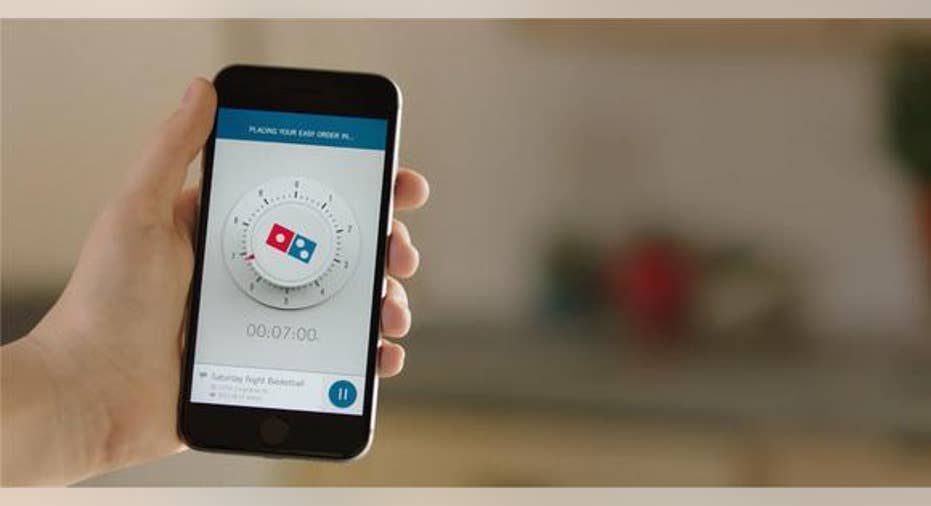 Domino's Pizza (NYSE: DPZ) recently introduced theirnew "zero-click" ordering app. After downloading the app, a customer links it to a favorite order saved under his or her profile. As soon as the app is opened a 10-second countdown starts, giving the customer a chance to cancel the order before it is automatically placed.
Image source: Domino's Pizza.
Is this another high-tech gimmick?Zero-click orders are just the most recent addition to Domino's "AnyWare" ordering solutions, which include orders from text messages, tweets, smart TVs, smartwatches, connected cars, and gaming consoles. The company also released a physical buttonfor automatically ordering pizzas in the U.K., as well as an autonomous pizza delivery robotinAustralia.
While it's tempting to dismiss these products and services as gimmicky ventures to generate publicity, nearly half of Domino's international sales camefrom its digital channel last quarter.
Domino's endeavors are arguably more diverse than Yum Brands' (NYSE: YUM) efforts with Pizza Hut. Pizza Hut has mainly focused on improving its mobile app, although it also recently tested out a digital menu which "reads" customers' minds with eye tracking technology. By detecting which pizza a customer has viewed the longest, the app makes recommendations to expedite individual orders.
Becoming the "Amazon of pizza"Domino's introduction of one-click and zero-click ordering solutions closely mirrors Amazon's strategy with Dash buttons, Dash Replenishment Service (DRS) appliances, and Echo speakers. By simplifying reordering with one click of a button, auto-refill levels on appliances, or a voice command, Amazon hopes to reduce the "friction" between deciding to buy something and placing the order.
By following Amazon's lead, Domino's hopes to make ordering pizza by phone or through a website a thing of the past. On it's own, zero-click ordering won't move the needle for Domino's, but investors should see if its "AnyWare" efforts boost its digital channels revenue in the near future.
The article Instant Analysis: Domino's Pizza Inc. Introduces Zero-Click Ordering originally appeared on Fool.com.
Leo Sun owns shares of Amazon.com. The Motley Fool owns shares of and recommends Amazon.com. Try any of our Foolish newsletter services free for 30 days. We Fools may not all hold the same opinions, but we all believe that considering a diverse range of insights makes us better investors. The Motley Fool has a disclosure policy.
Copyright 1995 - 2016 The Motley Fool, LLC. All rights reserved. The Motley Fool has a disclosure policy.