Impact on Companies From Japan Quake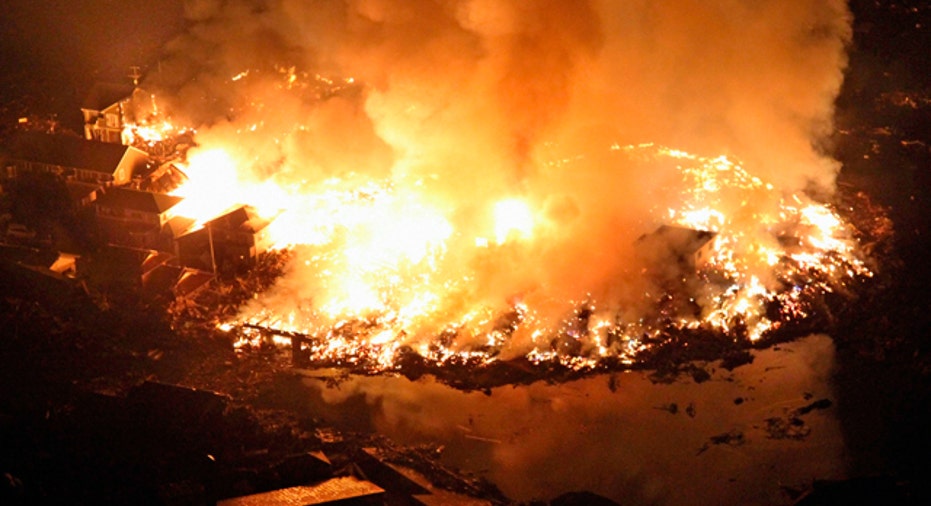 Following is the impact on companies from the mega-quake that shook Japan on Friday.
Companies are listed in alphabetical order.
Asahi Kasei Corp
Factory in Miyagi halted due to power outage. Workers evacuated so damages to facilities unknown.
Bridgestone Corp
No big damage to all factories so far.
Canon Inc 
No damage to facilities or big injuries.
Citigroup Holdings Japan
No damage to trading facilities, operating normally after quake. All staff in central Tokyo safe. Company will send staff home early. No confirmation of safety of all staff in retail branch offices outside Tokyo. Has no office in Sendai.
Cosmo Oil Co
Major fire at oil refinery, near LPG tank, in Chiba prefecture, east of Tokyo. All operations halted. Work to put out fire going on since 0658 GMT.
Fuji Heavy Industries Ltd 
Halted eight of 10 factories, including all five car and car parts-related plants for its Subaru-brand vehicles in Gunma prefecture, north of Tokyo. Aircraft factory and power products factory in Tochigi prefecture also suspended.
No injuries reported.
Fujitsu Ltd
Damage to some facilities but nothing serious. No casualties.
Honda Motor Co 
A 43-year-old male employee dies at Honda R&D Centre in Tochigi prefecture after wall collapses in cantine. In other Tochigi facilities, including other R&D sites and engine parts/transmission factory, walls and ceilings damaged, injuring 30-some employees.
Sayama, Tochigi and Hamamatsu factories halted production.
Suzuka factory in central Japan temporarily halted but restarted.
JFE Steel 
Says there was no fire at its
Chiba prefecture steel plant , denying earlier report s.
JSR (synthetic rubber maker)
Kashima factory, in Ibaraki prefecture, stopped production but no damage to facilities.
Mitsui Mining and Smelting Co 
Halts operation at Hachinohe zinc smelter, in Aomori prefecture.
Nippon Paper Group 
Factories in Miyagi and Fukushima prefectures halted production. Damage unknown.
Nissan Motor Co 
Production halted at all four car assembly factories in Japan, including those in severely hit Tochigi and Fukushima prefectures. Small fires confirmed at those two factories. Two suffered minor injuries at Tochigi factory.
Oriental Land Co 
To close Tokyo Disneyland, in Chiba prefecture, on Saturday. Undecided on operations for Sunday. No injuries to guests or staff reported as of 0930 GMT.
Panasonic Corp 
Two factories in Fukushima, producing audio products and digital cameras, one in Miyagi prefecture (Sendai) producing camera lenses.
Sapporo Breweries Ltd 
Little damage to Sendai factory. Products damaged. Production halted in Sendai and Chiba factories due to power outage.
Sony Corp 
Six factories, (two in Fukushima, four in Miyagi), all halted and most employees evacuated. One Miyagi factory makes semiconductors, the other three make optical film and various other parts. The two Fukushima factories make batteries.
Floor of chemical products factory in Miyagi flooded and about 1,000 employees taking refuge on second floor.
Sumitomo Metal Industries
Suspends operations at two blast furnaces at Kashima plant, in Ibaraki prefecture. No injuries reported.
Tohoku Electric Power Co 
Smoke noted in turbine room at Onagawa No.1 reactor, in Miyagi prefecture, spokesman says. No sign of radioactive leak.
Tokyo Electric Power Co 
Three reactors at Fukushima Daiichi nuclear plant automatically shut. Cooling systems attached to reactors also down, but does not necessarily result in radioactive leakage. Monitoring shows no radioactive leakage.
Tokyo Gas Co
Stopped gas supply to more than 35,000 households and facilities in Kanto area in eastern Japan.
Toyota Motor Corp 
Subsidiary Central Motor Co: Miyagi prefecture, near Sendai. Started production in January 2011, builds Yaris subcompact sedan. Capacity: 120,000 units a year.
Subsidiary Kanto Auto Works: Iwate prefecture. Builds smaller cars such as Belta sedan, Auris, Blade, ist.
Joint venture with Panasonic Corp , Prime Earth EV Energy, in Miyagi prefecture. Makes batteries for hybrid cars. Production suspended.
Toyota Motor Tohoku car parts factory. Operations started in Oct 1998. Production stopped, no injuries.