Hunting for the root of immigration woes? Look to the past.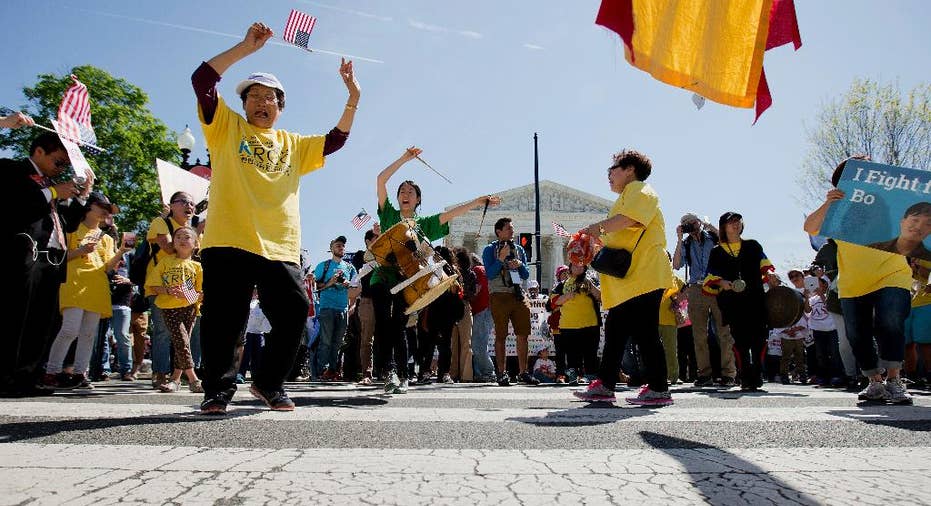 For more than a decade, lawmakers have been pointing at their counterparts to take the blame for what just about everyone agrees is a broken immigration system.
Republicans say President Barack Obama's immigration enforcement policies encourage more people to sneak into the country. Democrats blame Republicans for blocking legislation that would allow people already here to gain legal status and create a path for future, legal immigration.
But whatever specific policies are being fought over now, immigration experts say the problem took root at least 30 years ago, when President Ronald Reagan signed a 1986 immigration law that has become known as the "Reagan Amnesty" and allowed roughly 3 million people in the country illegally to gain legal status.
Immigration laws were overhauled again in 1990 under Republican President George H.W. Bush and again in 1996 under Democratic President Bill Clinton.
Obama has tried in his eight years in office to overhaul them once again, but nothing has passed.
Republican presidential nominee Donald Trump has said he will fix the system, build a wall along the border with Mexico and perhaps deport many of the estimated 11 million people living in the country illegally. But this week he has indicated he may back off from that idea.
"We're going to build the wall, and we're going to stop it. It's going to end," Trump said earlier this year. "We're going to have a big, beautiful wall."
Democratic presidential nominee Hillary Clinton, meanwhile, has pledged to push comprehensive immigration reform and to act on her own, as Obama has, if Congress doesn't approve such a measure.
Trump and Clinton have laid the blame for the current state of immigration — and the estimated 11 million people living and, in many cases, working illegally in the United States — on the other party.
But experts disagree.
"I think there's a lot of blame to go around and spread around for decades," said Mark Krikorian, executive director for the conservative Center For Immigration Studies. "There isn't one person responsible."
Instead, he said, the problem lies in how the Immigration Control and Reform Act of 1986 was implemented. He described the passage of the bill as something of a "con-job" that allowed millions of immigrants in the country illegally to have legal status with a promise of workplace enforcement and other measures to curb future illegal immigration.
But that didn't happen, he said. And there was little incentive to follow through on promises of strict workplace enforcement, he said, once millions of people were legalized.
"I definitely view this as the 30-year problem," said Doris Meissner, who headed the now-defunct Immigration and Naturalization Service under Bill Clinton and is now a senior fellow at the Migration Policy Institute in Washington.
The 1986 law was intended to create a new era of enforcement, including strict enforcement of the new law that barred employers from hiring workers who don't have permission to work in the United States.
Thirty years later that stringent workplace enforcement, and mandated use of the government's E-Verify system for employers to check the legal work status of prospective hires, is still being debated by lawmakers and the business community. Multiple iterations of federal legislation to require employment verification have been defeated in Congress.
Meissner said the ability of people in the country illegally to continue to find work during the economic boom of the 1990s was a significant incentive for more to come.
And while an average of about 1.3 million people a year were caught crossing the border illegally over the decade of the 1990s, the Border Patrol was relatively small, not growing above a force of 10,000 until 2002.
Meissner says part of the problem was the two immigration laws that followed in 1990 and 1996 that she said did very little to create a legal path to the United States for low-skilled workers. The government does have a pair of visa programs for seasonal agriculture workers and others who are considered seasonal, nonagricultural workers, but Meissner and other critics of the program argue that it is not sufficient.
"There is no line to get into," Meissner said. "This is why at the end of the day we need updated laws, we need immigration reform."
Instead, she said, the focus was on enforcement and making it easier to deport immigrants in the country illegally.
As that happened, the estimated population of people living in the country illegally rose from a few million in the late 1980s and early 1990s to today's estimated 11 million people.
The focus on enforcement may also have created an inadvertent incentive for immigrants in the U.S. illegally to stay in the country for fear that it would be harder if not impossible to get back in if they left, said Stuart Anderson, executive director at the non-partisan National Foundation for American Policy.
So, Anderson said, many people made the decision to stay and try to avoid federal law enforcement as long as they could.
"I don't think anyone would say that policy was successful," Anderson said. "No one would have said this is what we want the result to be."
In recent years the debate over immigration reform has focused on enforcement versus what to do with the millions of people already living in the country illegally.
Krikorian said lessons of the past are driving the latest efforts to put security and enforcement priorities first. And building a path to legal immigration for those considered to be low-skilled workers won't likely be a consideration going forward.
"The problem is that (in 1986) the legalization happened first," Krikorian said. "Then the political incentive to roll out the enforcement ... effectively evaporates."
___
What political news is the world searching for on Google and talking about on Twitter? Find out via AP's Election Buzz interactive. http://elections.ap.org/buzz
___
Follow Alicia A. Caldwell on Twitter at www.twitter.com/acaldwellap