German Automakers Fire Back at Trump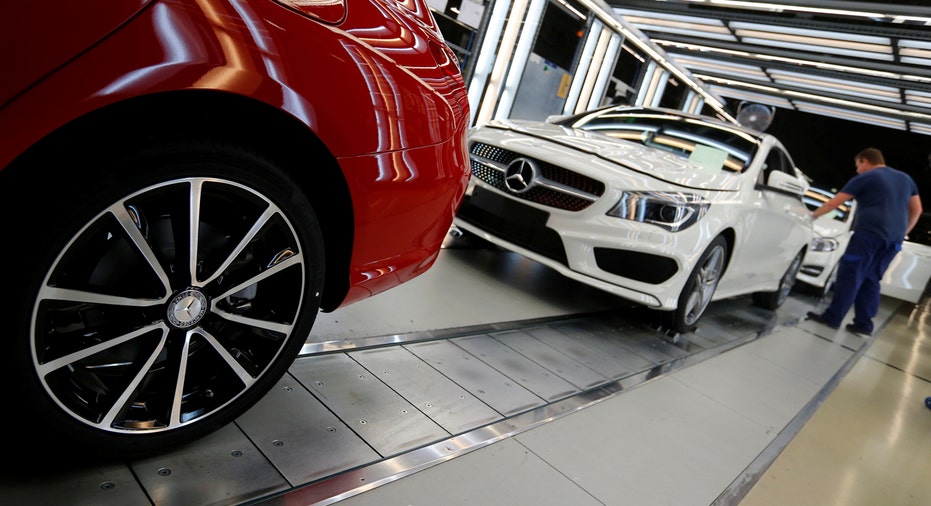 BMW and other German automakers don't appear ready to surrender in a new battle between President-elect Donald Trump and foreign car production. After taking shots at Detroit's Big Three, Trump turned his fury to the Germans on Monday, calling out the country's car industry.
"I would tell BMW if they want to build cars in Mexico and sell in the U.S.A. without a 35% tax, they can forget it," Trump said in an interview with German newspaper Bild, translated by The Wall Street Journal. "They can build cars for the U.S.A. but for every car that comes into the U.S.A. they will pay a 35% tax. What I'm saying is, they have to build their factory in the U.S.A. It will be much better for them and for our efforts."
Unlike their American counterparts Ford (NYSE:F) and General Motors (NYSE:GM), German automakers are so far holding firm.
BMW is standing by its decision to build a new $1 billion factory in Mexico, saying the facility will supply cars to global markets. BMW also noted that its assembly plant in South Carolina, where the company is spending $1 billion to increase capacity, is now the company's largest in the world.
"The issue is about commitment and BMW made a significant commitment to the U.S. when it began manufacturing vehicles in America more than 22 years ago," BMW said in a statement.
I would tell BMW if they want to build cars in Mexico and sell in the U.S.A. without a 35% tax, they can forget it.
BMW exports 70% of its U.S. production, according to company statistics. The Department of Commerce pegs the annual value of those exports at nearly $10 billion, more than any other auto company manufacturing in the U.S.
"For German producers, the United States is not only the second largest export market but also an important production site from which the world market is supplied," Matthias Wissmann, president of the German Association of the Automotive Industry (VDA), said in a statement provided in German. "One can only warn against the global rampant tendencies towards protectionism. In the end, all nations will be harmed, despite seemingly short-term benefits."
One government official went so far as to needle American car companies. In comments cited by Bild, German Economy Minister Sigmar Gabriel shrugged off Trump's tariff proposal, saying the U.S. should "build better cars."
Daimler, the owner of Mercedes-Benz, declined to comment on Trump's interview with Bild. Volkswagen didn't immediately respond to a request from FOXBusiness.com for comment.
Mexico is the home of a large manufacturing base for most major automakers, who have sought to capitalize on cheap labor south of the border. Also, vehicles can be shipped to the U.S. and other top markets without incurring taxes. Volkswagen, Mercedes-Benz and BMW all have a presence in Mexico.
In the U.S., Mercedes-Benz has expanded its Alabama plant to build more SUVs, and Volkswagen builds certain models in Tennessee.
According to the trade group VDA, 59% of the vehicles produced by German manufacturers in U.S. are exported to other markets. German car brands, who currently employ 33,000 Americans, nearly quadrupled their U.S. production from 2009 to 2016, Wissmann said in remarks made at the Detroit Auto Show last week.
Trump has been a frequent critic of the U.S. automotive industry, targeting Ford, General Motors and Toyota (NYSE:TM) for building vehicles in Mexico and shipping them into the U.S. tax-free. The soon-to-be 45th President has threatened to pursue tariffs of up to 35% on those vehicles.
Some corporate giants have already bowed to pressure from Trump. After taking heat throughout the presidential campaign and after the election, Ford scrapped plans to build a $1.6 billion plant in Mexico.
Meanwhile, Fiat Chrysler Automobiles (NYSE:FCAU) is making a $1 billion investment in two U.S. factories, opening up the possibility that production of Ram heavy-duty pickup trucks will return from Mexico. CEO Sergio Marchionne said Trump's policies could play a role in the final decision.
Both moves earned the automakers a positive thank-you tweet from the President-elect.
It's finally happening - Fiat Chrysler just announced plans to invest $1BILLION in Michigan and Ohio plants, adding 2000 jobs. This after...

— Donald J. Trump (@realDonaldTrump) January 9, 2017
Ford said last week that it will expand in Michigan and U.S. instead of building a BILLION dollar plant in Mexico. Thank you Ford & Fiat C!

— Donald J. Trump (@realDonaldTrump) January 9, 2017