German Arms Makers Go on the Offensive Aided by Military Spending Boost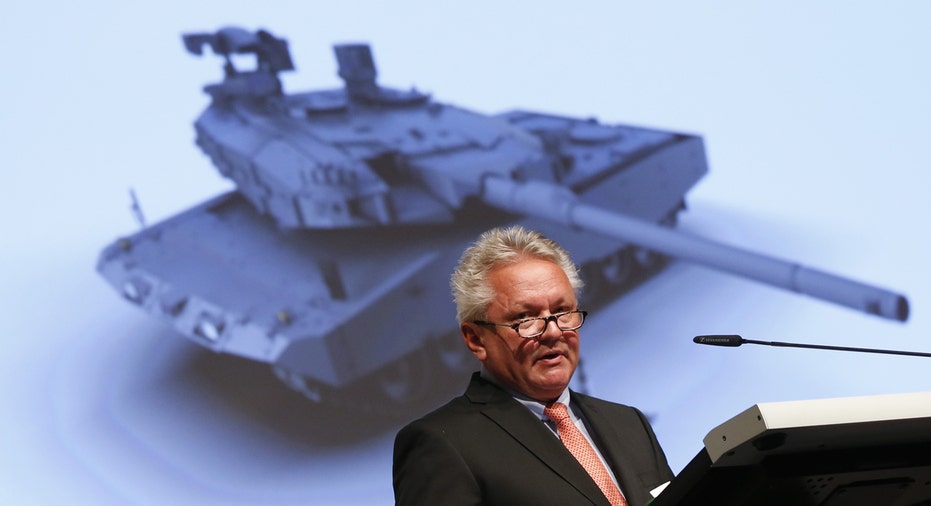 The German arms industry is back in business.
Germany's weapons manufacturers, long at the whim of the country's pacifist-leaning politicians, had until recently struggled to find new European orders.
But in the wake of Russia's incursions in Ukraine and its tougher military stance on the North Atlantic Treaty Organization's eastern border, German military spending is rising more than at any time since the Cold War. Most of the orders for new equipment and upgrades of existing kit are going to the country's biggest arms manufacturers -- Rheinmetall AG and Krauss-Maffei Wegmann GmbH & Co. KG.
One of the largest orders on the table is an expected EUR800 million ($858 million) agreement for both Rheinmetall and KMW to modernize a fleet of roughly 100 "Leopard 2" main battle tanks, a pillar of western defense during the Cold War.
The deal, which has yet to be signed, would bring tanks that have languished in storage into the 21st century, adding new armor to protect against roadside bombs, high-tech communications equipment and night-vision capabilities. The upgraded tanks, which experts say Germany could use to defend against a Russian ground attack, would be similar to the Leopard 2s that Canada has deployed to fight in Afghanistan.
KMW Chief Executive Frank Haun credits the general uptick in business to a 2014 NATO summit in Wales -- just months after Russia annexed the Ukrainian peninsula of Crimea -- at which members broadly committed to increase spending to 2% of gross domestic product.
"I think there is a need for refurbishment, as there is a need for new equipment without a doubt," said Mr. Haun.
The German defense budget is set to rise by 8% this year, to EUR37 billion, according to the Defense Ministry, slightly higher proportionally than China's expected increase for 2017. However, that surge still leaves German military spending well below NATO's 2% benchmark, at roughly 1.2% of GDP.
"This welcome change in direction is necessary to keep driving the modernization of the Bundeswehr," a spokeswoman for the Defense Ministry said.
Should Berlin heed calls by U.S. President Donald Trump to accelerate spending increases in order to reach the target sooner, German arms makers stand to reap a bigger windfall. But Germany, the largest economy in Europe, has so far resisted increasing spending too quickly due to limited public appetite for such a large defense budget.
"If [Mr. Trump] puts more pressure, it will help" the industry, Rheinmetall Chief Executive Armin Papperger said of the president's push for NATO allies to take on more defense responsibility.
For Mr. Papperger, the "turning point" for the German arms industry came in 2015. In December of that year, the German Defense Ministry signed a contract for a EUR467 million joint order with Rheinmetall and KMW for 131 "Boxer" armored wheeled vehicles, one of its largest orders in nearly a decade. The Boxer has already been deployed by Germany's armed forces, the Bundeswehr, in Afghanistan as a transport vehicle and field ambulance.
The "potential of a significant increase in German military spending has created an optimistic attitude among CEOs" of weapons manufacturers in the country, said Georg Wilhelm Adamowitsch, managing director of the Federation of German Security and Defense Industries.
Companies such as Rheinmetall largely have a monopoly on the domestic arms market. For most other western defense firms like BAE Systems PLC (OTC:BAESY), Europe's largest arms maker, and Lockheed Martin Corp. (NYSE:LMT), the Pentagon's No. 1 supplier, Germany is effectively a closed market. European firm Airbus SE provides the bulk of the German military's helicopters and planes.
Rheinmetall, the country's largest arms maker by sales, reported a 63% jump in profit for 2016, to EUR147 million, driven by its ammunition and vehicle systems units. That compares with a loss of EUR67 million in 2014.
Mr. Papperger said there is now the potential for "some big programs" with the German government, including plans to provide the Bundeswehr with new military trucks, infantry fighting vehicles and ammunition.
Military spending is also rising in NATO countries neighboring Russia, according to Pieter Wezeman, a senior researcher with the Stockholm International Peace Research Institute's Arms & Military Expenditure division.
This "will obviously benefit the German arms industry," he said.
Rheinmetall is upgrading Leopard tanks for Poland. Lithuania recently bought the Boxer from KMW and Rheinmetall, while Scandinavian countries have placed orders from both companies for upgrades of main battle tanks and new military trucks. The two companies are also finalizing deals in Romania.
German shipyards are benefiting from the new wave of spending. Thyssenkrupp AG, Germany's largest producer of warships, announced plans earlier this year to supply Norway with four new, high-tech submarines.
Still, KMW's Mr. Haun thinks the German defense industry will only truly thrive when it becomes more European. That would involve greater coordination on security and defense standards at the political level and further consolidation at the industry level, he said.
Privately held KMW merged in late 2015 with France's Nexter Group in a first step toward pan-European defense consolidation. The new entity, known as KNDS, is currently working on plans for a new main battle tank, which could enter service by 2030.