Futures Drift Lower Ahead of Labor Report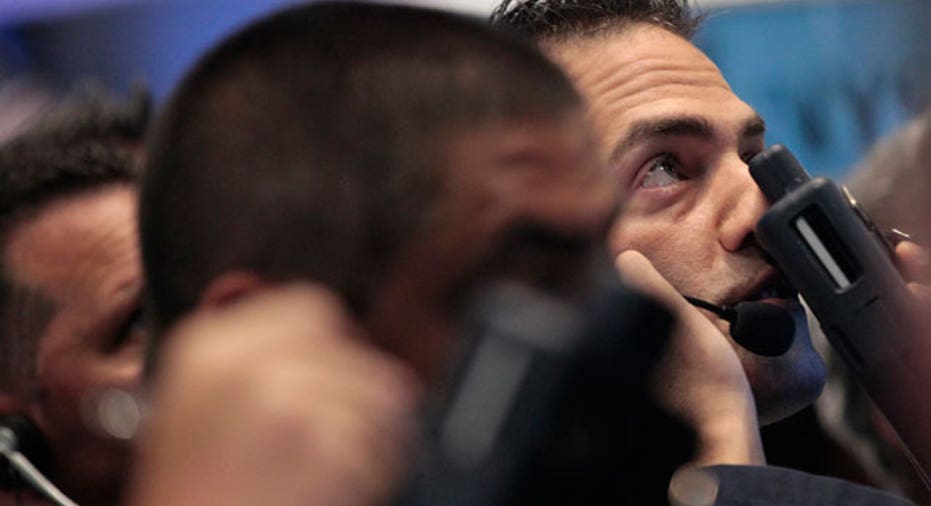 FOX Business: The Power to Prosper
Stock-index futures followed European markets modestly into the red ahead of a key report on the nation's labor market.
Today's Markets
As of 7:35 a.m. ET, Dow Jones Industrial Average futures fell 34 points to 11,012, S&P 500 futures dipped 4 points to 1,153 and Nasdaq 100 futures slipped 8.8 points to 2,196.
Wall Street has rallied for three-straight days, with the blue chips zooming 468 points to the upside, and the S&P 500 leaping close to 6%. A combination of relatively encouraging economic data and easing tensions over Europe's twin sovereign debt and banking crises has led traders to pick up shares that were beaten down last quarter, the worst since the financial crisis in 2008.  The gains haven't been limited to equities: commodities have surged in recent sections, and Treasury yields have been rising from record lows.
All eyes are on the Labor Department Friday morning ahead the closely-watched monthly employment report that is slated for release at 8:30 a.m. ET.  Economists expect the economy added 60,000 jobs last month, too slow a pace, economists forecast, to knock down the nation's unemployment rate of 9.1%.  A large portion of the gain in payrolls in September is anticipated to come from 45,000 Verizon workers who went on strike in August, and came back to work in September.
The jobless rate first rose above 8% in February 2009 and has been stuck there ever since, peaking at 10.1% in October of that year.  The beleaguered labor market has been a considerable drag on the broader economy as consumers have lacked the confidence to make purchases, weighing on businesses' ability to expand.
Market participants have also been paying close attention to developments from Europe.  Moody's on Friday slashed the credit rating of Lloyds (NYSE:LYG) and the Royal Bank of Scotland (NYSE:RBS), two big British banks, in a sign of the growing concerns over the banking system on that side of the Atlantic.
German Chancellor Angela Merkel and French President Nicolas Sarkozy are set to meet on Sunday to discuss a European Union summit that takes place in two weeks.  The leaders of the currency bloc's two largest economies will likely discuss the bailout of Greece.  There has been a growing chasm between the German and French view on the bailout; Merkel has been under political pressure to reduce Germany's roll, while French banks have a particularly high exposure to Greek sovereign debt.
The euro gained 0.07% to $1.34, while the greenback fell 0.14% against a basket of world currencies.
Energy futures were modestly lower.  Light, sweet crude fell 26 cents, or 0.31%, to $82.32 a barrel.  Wholesale RBOB gasoline slipped 2 cents, or 0.82%, to $2.66 a gallon.
Gold edged higher by $2.00, or 0.13%, to $1,655 a troy ounce.  The benchmark 10-year Treasury note yielded 1.995% from 1.988%.
Foreign Markets
The Euro Stoxx 50 fell 0.19% to 2,245, the English FTSE 100 dipped 0.1% to 5,286 and the German DAX slipped 0.3% to 5,628.
In Asia, the Japanese Nikkei 225 jumped 0.98% to 8,606 and the Chinese Hang Seng slumped 0.26% to 2,581.