Ford teases new off-road SUV as product plans revealed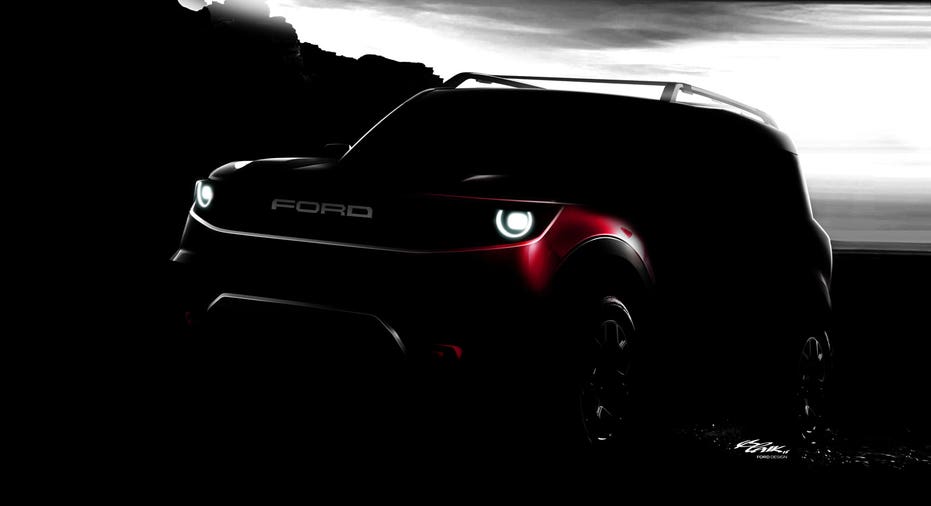 Ford laid out its plans for new and refreshed vehicles coming in the next two years, as the automaker looks to capitalize on profitable models like SUVs and accelerate the development of electric cars.
In a presentation Thursday, Ford teased the launch of a new, yet-to-be-named rugged small SUV, in addition to the previously announced return of the Blue Oval's iconic off-roader, the Bronco. With SUV sales projected to grab half of the U.S. market by 2020, Ford will reallocate $7 billion in cash from cars to sport-utility vehicles. The Escape and Explorer, which account for a combined 70% of Ford's SUV sales, will undergo redesigns.
The company also said it will continue to expand its truck business with new models and powertrains. The Ford Ranger and new F-Series Super Duty models are scheduled to debut in 2019, followed by a new F-150 in 2020. The next edition of the F-150 will offer a hybrid system.
Ford's push to revamp its truck and SUV lineups is expected to help fund new investments in electrification. The industry has benefited from consumers' shift away from sedans because crossovers generate stronger profits. Dearborn, Mich.-based Ford recently launched redesigned versions of the full-sized Explorer and Lincoln Navigator, which recorded strong U.S. sales gains in February.
"It's a bold move to pull back on passenger cars almost completely, but the good news is that the consumer shift to SUVs shows no signs of slowing down," said Jeremy Acevedo, manager of industry analysis at Edmunds. "However, this trend is far from a secret, and by the time 2020 rolls around, Ford's new vehicles will have a lot of stiff competition."
The two-year plan calls for several new hybrids, which are "on the cusp of a mainstream breakout," Ford President of Global Markets Jim Farley said. The automaker touted its new hybrid system as more efficient and less expensive. High-volume models like the F-150, Mustang, Explorer, Escape and Bronco will get hybrid versions. As for plug-in cars, Ford aims to reduce capital investment by 50% and roll out a new performance electric SUV in 2020. It will be the first of six electric vehicles from Ford by 2022.
Ford expects to reduce the average age of its showroom to 3.3 years, down from the current 5.7 years, as three-quarters of its lineup gets replaced.
"Our passion for great vehicles is stronger than ever," Ford CEO Jim Hackett said in a statement. "This showroom transformation will thrill customers, drive profitable growth and further build toward our future of smart vehicles in a smart world."
Fox News Autos: First new Ford Bronco image revealed along with plans for SUV blitz
Also on Thursday, Ford offered details on a set of driver-assist technologies that will be standard on new cars, SUVs and trucks up to the F-150 in North America. Ford Co-Pilot360 will feature automatic emergency braking, blind spot detection, lane-keep technology and other safety systems. Over-the-air updates will come through Ford's Transportation Mobility Cloud, which Ford previewed at the Consumer Electronics Show in January.
The announcements come nearly a year after Hackett took over as CEO. Hackett, the former head of office furniture maker Steelcase, pledged to reinvigorate Ford's product portfolio and offer a clearer strategy to bring the company into a future of electric cars, self-driving vehicles and ride-sharing services. Ford's stock had slumped under former CEO Mark Fields, as investors grew uncertain over the company's direction.
As part of Hackett's effort to cut costs, Ford is rethinking its process for developing new vehicles. Ford plans to become more efficient by moving to a system that uses five flexible vehicle architectures—such as a front-wheel drive unibody design—to get vehicles into showrooms 20% faster.
In January, the company reported weaker 2017 earnings than expected, and it confirmed a disappointing financial outlook for the current year. Shares are down 12.3% over the last 12 months, while General Motors is up 2.1%. Hackett said Ford's improved "fitness" will allow the automaker to undertake the aggressive revamp of its lineup moving forward.
Ford shares rose 0.45% to $11.07 in Thursday trading.