Ford Motor Company's Move to Mexico Isn't a New Development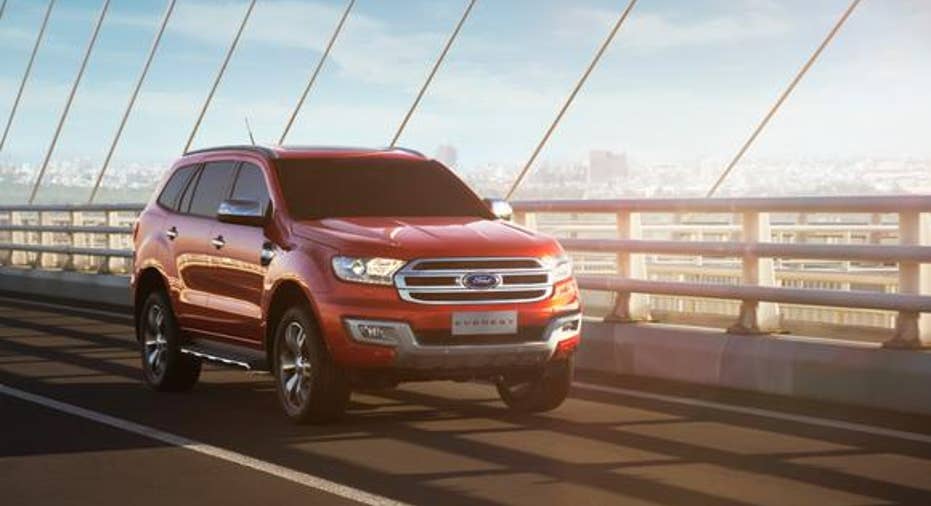 Beyond Mexico, the Everest should be more competitive after this week's announcements. Image source: Ford Motor Company.
Well, it's official, Ford Motor Company announced it would be building a new small-car assembly plant in Mexico -- cue extreme Donald Trump comments, now. Though this is a good move for Ford and its investors, many will oppose the decision. In other news, that's not even the only big announcement Ford made today. Let's take a look at its decision to invest $170 million in South Africa, what it means, and the details behind Ford's move to Mexico.
Mexico helps profitability Ford's decision to invest $1.6 billion will create 2,800 additional direct jobs in Mexico by the end of this decade, with construction on the small car plant to begin as quickly as this summer. The reasoning behind the San Luis Potosi State small car plant is simple: it will increase the company's competitiveness and increase margins on its small cars -- something that isn't easily achieved producing cars in the U.S. market. And while it's a controversial topic, the U.S. isn't likely to lose any jobs from the development as Ford plans to bring production of different -- see: more profitable vehicles -- here within a couple of years.
Further, while this topic has generated a lot of interest and debate, recently, Ford's actually had a presence in Mexico for nearly a century and has manufactured vehicles there in some form since 1925. Mexico is Ford's fourth largest manufacturing site for global consumers, according to the automaker, behind only China, Germany, and of course the United States. Vehicles produced in Mexico are delivered to Canada, China, Argentina, Bolivia, Brazil, Columbia, Chile, Paraguay, Peru, Uruguay and South Korea, in addition to the United States. Going forward, Mexico may play an even larger role in Ford's export strategy with small cars.
When you look at the grand scheme of things, Ford's $1.6 billion investment in Mexico is a part of a much bigger plan: Ford has invested more than $10.2 billion in U.S. Ford facilities, $2.7 billion in Spain, $2.4 billion in Germany and $4.8 billion in China, during the One Ford product plan. Still, many remain opposed to the move; Dennis Williams, UAW President, for instance.
"For every investment in Mexico, it means jobs that could have and should have been available right here in the USA," Williams said in a statement, according to Automotive News. "Companies continue to run to low-wage countries and import back into the United States. This is a broken system that needs to be fixed."
Ultimately, while this will be controversial, it's a good move for investors as Ford needs to open up production capacity in the United States to produce higher margin products such as SUVs, F-Series trucks, or, gasp, a Ranger and/or new Bronco. Moving production of smaller, lower margin, vehicles to regions with lower production costs just makes business sense.
More Rangers! But that wasn't the only intriguing announcement from Ford this week. Ford also announced it would invest $170 million in South Africa to build the all-new Everest SUV, which would create about 1,200 new jobs in the area. The investment will help the Everest's competitiveness as it will expand the SUV's range to eight derivatives across a wider price range, and it will enable consumers to choose between two engines instead of only the 3.2-liter five-cylinder which is currently in the Everest imported from Thailand.
Further, the investment will also increase production of the new Ford Ranger that was launched in the region at the end of 2015. Since its roll out, the Ranger's production has been running at maximum capacity at the Silverton Assembly Plant, and export demand for the truck remains at an all-time high, according to Ford.
"The R2.5-billion ($170 million U.S. dollars) investment reaffirms the importance of these markets as part of our growth strategy across the Middle East and Africa," said Jim Farley, Ford executive vice president and president of Europe, Middle East, and Africa, in a press release. "It further reinforces South Africa's position as a strategic export base for Ford Motor Company."
While Ford only sold about 78,000 passenger cars and light vehicles in South Africa last year, an increased focus on producing the Everest SUV and Ranger will be an important part of Ford's global growth story in emerging markets. And while Ford's small move to Mexico might generate some heated debate here in the States, for investors it makes business sense to help margins on passenger cars and open up production to higher margin vehicles here in America.
The article Ford Motor Company's Move to Mexico Isn't a New Development originally appeared on Fool.com.
Daniel Miller owns shares of Ford. The Motley Fool owns shares of and recommends Ford. Try any of our Foolish newsletter services free for 30 days. We Fools may not all hold the same opinions, but we all believe that considering a diverse range of insights makes us better investors. The Motley Fool has a disclosure policy.
Copyright 1995 - 2016 The Motley Fool, LLC. All rights reserved. The Motley Fool has a disclosure policy.