Exxon CEO struggles to reverse Tillerson's legacy of failed bets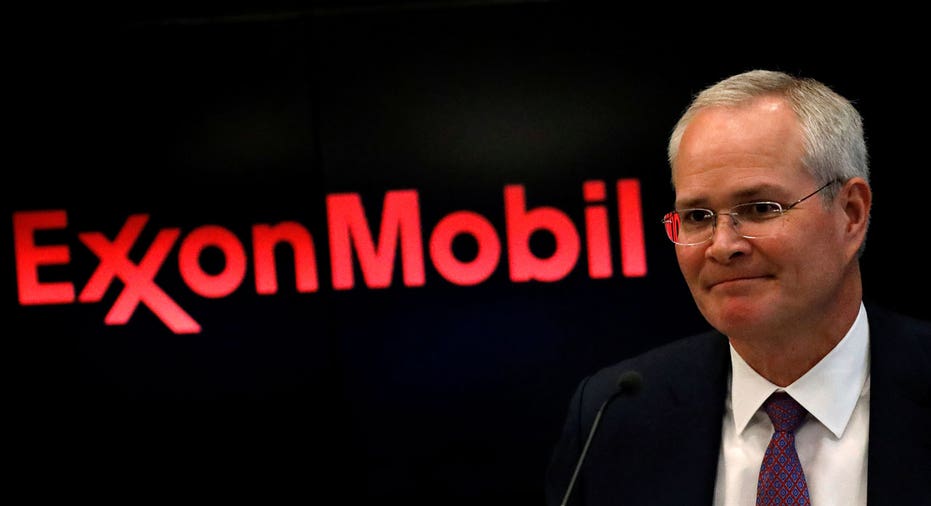 Exxon Mobil's $200 million write-down last month on abandoned ventures in Russia - once its next big frontier - points to challenges facing Chief Executive Darren Woods in his second year leading the world's largest publicly traded oil producer.
Some of the biggest bets taken by his predecessor Rex Tillerson, now the U.S. secretary of state, have resulted in billions of dollars in write-downs amid falling production and a stock price that has long lagged peers.
That leaves Woods facing the prospect of slow growth and billions of dollars in new spending that could weigh on results for years. In 2018, the company plans capital spending of about $24 billion - up about a quarter since 2016 - suggesting return on capital will get worse before it gets better as the firm waits for a payoff from new exploration under Woods.
Rivals including Royal Dutch Shell and Chevron, by contrast, have capped or cut their spending after finishing expansion projects. Exxon shares are down 18 percent since Woods took over in January 2017. Shell is up 2 percent and Chevron is down about 3 percent during the same period.
Woods is feeling the heat from investors who could have made more if they held shares in Exxon's rivals, as well as activist investors who want to see the company take renewable energy more seriously. Analysts are pushing for more transparency on operations, and some have called for Woods to sell assets.
Exxon declined to comment. A State Department spokesperson said Tillerson would have no comment on Exxon matters and referred questions to the company.
Exxon is set to host its annual analyst meeting in New York on Wednesday.
The firm took the $200 million after-tax charge to walk away from its Russia Kara and Black sea ventures with Rosneft. Five years ago, Exxon touted plans to spend more than $3 billion in Russia, but the firm halted operations in late 2014 when the U.S. sanctioned the country over its military operations in Ukraine.
Exxon also took $1.3 billion in charges against Tillerson's bets on natural gas in Mexico and Canada this year. Last year, it took a $2.13 billion write-down a year earlier - mostly on Rocky Mountain properties tied to Tillerson's 2010 purchase of natural gas producer XTO Energy Inc. - and disclosed it had reduced estimates of Canadian oil reserves by 3.5 billion barrels.
"There's no question that, over the past handful of years, Exxon has been a relative underperformer," said Hank Smith, co-chief investment officer of the Haverford Trust, which has held Exxon's shares for two decades and recently added Royal Dutch Shell to its portfolio. "It's been frustrating."
'EPIC FAIL'
Weak results from production have this year cost Exxon its standing as the oil major generating the most cash, a distinction that now goes to Shell.
Now, Exxon is spending more cash on projects that will take time to produce.
In Guyana, where the company is leading development of an offshore field estimated to hold at least 3.2 billion barrels of oil, Exxon and partners have said they must spend more than $4 billion on developing a project not expected to deliver oil until at least late 2019.
More spending awaits Exxon in Qatar, Mozambique and Papua New Guinea for liquefied natural gas projects, and for oil developments in Brazil, Ghana and Mauritania, the company has said.
Exxon paid more than $6 billion last year to double its acreage in the Permian Basin of Texas and New Mexico, the largest U.S. oilfield. Exxon's production there so far is relatively low compared to peers, about 200,000 barrels of oil equivalent per day. Exxon says it plans to triple output there through 2025.
With all Woods' development plans, it seems unlikely Exxon's capital spending will decline after this year, said Simmons & Co analyst Guy Baber.
The company did reverse some of the write-downs it took on reserves as oil prices rose. But the company's inability to translate those gains into robust profits in the final quarter of 2017 was an "epic fail," said Raymond James oil analyst Pavel Molchanov.
LITTLE DATA FOR INVESTORS
Some investors say it's too soon to evaluate Woods' tenure despite Exxon's lagging returns.
"There are few decisions that any one person, let alone Woods, could make in the first 12 to 13 months that would be able to really affect the company," said Mark Stoeckle, portfolio manager of Adams Natural Resources Fund, which holds Exxon's shares.
Exxon retains supporters on Wall Street. Its shares are recommended for purchase by 29 percent of the 24 analysts that cover the company, according to Thomson Reuters data. Half rate the shares as a "hold" and five advise "sell."
Analysts recommending the stock cite the strength of Exxon's assets.
Others, however, want more information on Exxon's operations. Of the world's five largest publicly traded oil producers, Exxon ranks last for providing detailed data to investors, while is the best, according to an analysis of quarterly earnings regulatory filings by investment researcher Redburn Ltd.
BP and Shell, for example, offer more than twice as much data as Exxon on each segment of operations, Redburn found.
"Exxon Mobil's greatest challenge for 2018 might not its valuation, assets or growth, but opening up to investors," said Redburn oil and gas analyst Rob West.
(Reporting by Ernest Scheyder; Editing by Gary McWilliams, Simon Webb and Brian Thevenot)