Euro Hopes, Corporate Shake-Ups Ignite Broad Rally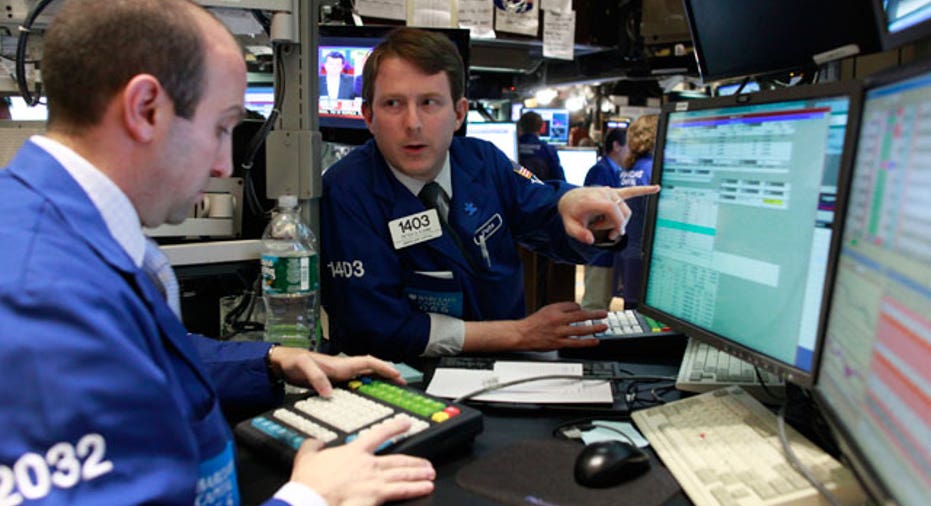 FOX Business: The Power to Prosper
Positive developments on the euro zone debt crisis and significant management changes at two big-name companies sent the blue chips soaring more than 250 points.
Today's Markets
As of 2:45 p.m. ET, the Dow Jones Industrial Average jumped 262 points, or 2.4%, to 11,402, the S&P 500 climbed 32.9 points, or 2.8%, to 1,198 and the Nasdaq Composite gained 72.9 points, or 3%, to 2,547. The FOX 50 leaped 19.9 points to 861.
The rally was broad on Wednesday, with every major sector climbing.  Financials like JPMorgan (NYSE:JPM) and energy shares like Chevron (NYSE:CVX) that were beaten down in the prior session tacked on the biggest gains. Meanwhile, utilities like The Southern Company (NYSE:SO) lagged behind.
Safe-haven assets that were the subject of strong buying pressure amid the market volatility over the last few days were sharply lower.  Gold plummeted $55.70, or 3%, to $1,818 a troy ounce. The yield on the benchmark 10-year Treasury bond climbed to 2.05%, after bottoming out at 1.98% the prior day.
The markets had been on a sharp three-day losing streak up until Wednesday.  Indeed, the Dow had plunged 474 points during the period, and the broad S&P 500 shed 4.4%.
Germany's Federal Constitution Court upheld the euro zone's first bailout of Greece, and subsequent rescue packages that have relied partially on funding from Europe's powerhouse economy.  There were fears on Tuesday that if the court failed to rule in favor of the bailout, or made significant changes in the terms, it could hamper the rescue of Greece, which needed billions of euros to avoid a default that could have endangered global financial markets.
The Italian Senate also approved a sweeping austerity package on Wednesday afternoon, sending it to the Lower House for review.  The measure is a key component in securing financial support from the European Union, and, while expected, came as a relief to many analysts that watch the situation there.
While the moves were seen as positive globally, sending foreign markets rallying, the euro zone debt crisis is likely far from over.  There are several countries in the bloc that have extremely high public debt loads, and austerity measures that the European Union has pushed countries to implement have been the focus of considerable political challenges.
Reshuffling at two major companies also helped boost sentiment on the day.
Yahoo! (NASDAQ:YHOO) removed Carol Bartz from the Chief Executive Officer position.  The move, combined with reports that the once powerful technology company is considering strategic alternatives, possibly including selling itself, sent shares soaring.
Bank of America (NYSE:BAC) unveiled a broad reorganization, including the removal of two top executives who were in charge of the largest U.S. bank by assets' investment management and consumer and small business banking divisions.
While there are few major economic reports on tap or the U.S. on Wednesday, a considerably better-than-expected reading of German industrial production came as a rare glimmer of hope amid many negative data points.  Industrial production for soared 4%, the biggest increase since March 2010, zipping past consensus forecasts of a gain of 0.5%.
The report is a "good start" for economic data that encompass the third quarter in Europe's largest economy, according to economists at Nomura.
The Federal Reserve's beige book showed economic expansion stalled or even softened in many of its 12 districts. "Economic activity continued to expand at a modest pace, though some Districts noted mixed or weakening activity," the Fed said.
The beige book provides anecdotal information, as opposed to hard data points, and its market impact is often muted.  Indeed, the report did little to slow the broad rally on Wednesday.
President Barack Obama is set to unveil a package of $300 billion in tax cuts and federal spending increases to reinvigorate the embattled labor market when he speaks before a joint session of Congress on Thursday, according to multiple reports.  Many economists have suggested a large fiscal expansion to increase the pace of economic expansion since the Federal Reserve is already embarking on a highly-accommodative monetary policy.  However, such an expansion might point to an increase in short-term deficits, something that is likely to face strong political opposition, analysts say.
Energy markets got a boost from concerns that supply would be reduced as a result of Tropical Storm Lee, which slammed the Gulf of Mexico.
Light, sweet crude gained $3.32, or 3.9%, to $89.34 a barrel.  Wholesale RBOB gasoline climbed 9 cents, or 3%, to $2.91 a gallon.
Prices at the pump moderated slightly overnight.  A gallon of regular costs $3.66 on average nationwide, essentially the same as drivers paid last month, but well more than the $2.68 they paid last year.
Corporate News
Nvidia (NASDAQ:NVDA) projected fiscal 2013 sales at a range of $4.7 billion to $5 billion compared, topping Wall Street's forecast of $4.45 billion. Shares were sharply higher on the news.
Urban Outfitters (NASDAQ:URBN) posted gloomy sales current-quarter sales data, and saw its price target sliced by analysts at Stifel Nicolaus, sending shares plunging.
HSBC (NYSE:HBC) is slashing 3,000 jobs in Hong Kong in a bid to reduce costs.
Foreign Markets
The English FTSE 100 jumped 3% to 5,310, the French CAC 40 soared 3.4% to 3,067 and the German DAX leaped 3.9% to 5,397.
In Asia, the Japanese Nikkei 225 climbed 2% to 8,763 and the Chinese Hang Seng rose 1.7% to 20,048.