EU Leaders Meet in Brussels Over Brexit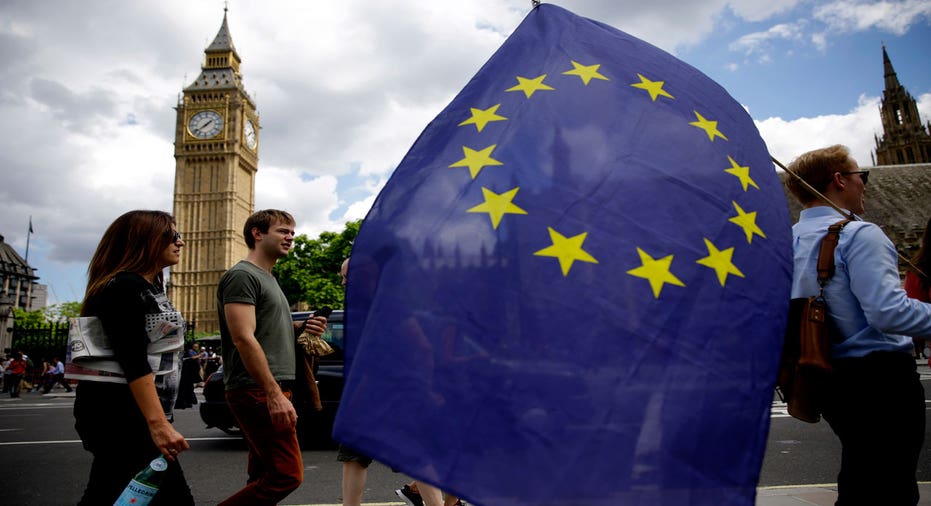 British Prime Minister David Cameron is set to meet his European Union counterparts Tuesday for the first time since last week's vote to leave the bloc, as European Commission President Jean-Claude Juncker urged the U.K. to provide more clarity about its plans.
Mr. Juncker was speaking in the European Parliament before he met with Mr. Cameron ahead of a summit meeting where the U.K. prime minister will address the leaders of the other 27 EU nations over dinner.
"I would like the U.K. to provide a position, not today not tomorrow, but swiftly...we cannot be embroiled in lasting uncertainty," Mr. Juncker said.
Mr. Cameron will be excluded for a second round of talks among the 27 on Wednesday. High on the agenda will be discussions about when the U.K. would officially notify its intention to leave, which would kick-start years of negotiations.
The EU leaders are also expected to send a message of unity after the gathering. But under the surface they are sharply divided over how the bloc should approach the exit talks and the future of the EU.
Several EU leaders, including Mr. Juncker and European Parliament President Martin Schulz, have called for accelerated European integration.
The German and French foreign ministers pushed for deeper economic policy integration in the eurozone and closer cooperation on security and immigration in a joint paper this week. But other more senior German officials close to Chancellor Angela Merkel have reacted with skepticism. German Finance Minister Wolfgang Schäuble has said any push to increase integration now would spark a backlash among voters.
In advance of the summit, Ms. Merkel called on the EU to debate all proposals that would bring its members closer together, including those that would return some EU powers to member states.
"There are of course many, sometimes contradictory, proposals. They range from demands to forge ahead... with European integration," Ms. Merkel told the German parliament, "to suggestions about devolving competences back to the member states."
"Every proposal that can help guide an EU of 27 members as a whole out of this crisis is welcome," she added. "Any proposal that strengthens the centrifugal forces that are pulling the EU apart would have unpredictable consequences for all of us. It would divide Europe further."
Turning to the looming negotiations to extricate Britain from the EU, Ms. Merkel warned London it wouldn't be able to pick and choose which aspects of its EU membership it wanted to retain.
"We will ensure that negotiations won't be conducted according to the principle of cherry picking," she said. "Those wanting to leave the family can't expect all obligations to become obsolete while privileges would continue to exit."
Mr. Juncker described Mr. Cameron as "still a friend despite the vote."
Mr. Cameron, who has promised to step down after leading the campaign to stay in the EU, will try to foster a constructive spirit with the other leaders, according to a British official.
He will also make clear to other leaders that Britain should enjoy its full rights in the EU while it is still a member of the bloc. Mr. Cameron has said the U.K. would wait until fall to issue any formal notification to leave.
Mr. Juncker's own position has come under question, with some diplomats saying that he may be pushed out of his role. That suggestion comes mainly from countries already upset with the commission chief over Brussels' migration crisis response.
Mr. Juncker stressed Tuesday he had no intentions to quit. "I'm not tired and I'm not sick...to my last breath I will fight for Europe, for a united Europe," Mr. Juncker said in reference to media reports about his poor health.
In a sign that emotions were running high, Mr. Juncker at the outset of his speech told the leader of the UK Independence Party, which campaigned for a U.K. exit, that he was "surprised" he was in the Parliament since he is "fighting for the exit."
Nigel Farage, seated close to Mr. Juncker, kept a British flag at his desk during the debate
Earlier, European Parliament President Martin Schulz thanked Jonathan Hill, the U.K.'s commissioner to the EU, who over the weekend stepped down. The other commissioners and parliamentarians joined in a standing ovation as Mr. Hill held back tears.