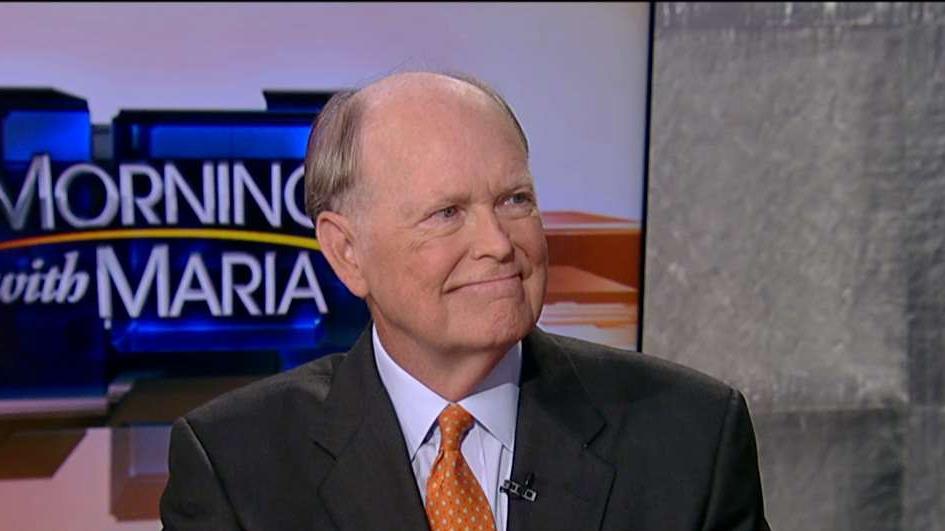 While uncertainty over a potential trade war between the U.S. and China weighs on investor sentiment, the tariffs will not have a substantial impact on the economy, according to former Federal Reserve Bank of Philadelphia President Charles Plosser.
"The U.S. economy, I think, is in pretty good shape," Plosser told FOX Business' Dagen McDowell during an interview on "Mornings with Maria" on Tuesday.
In its March meeting, the Federal Reserve led by Jerome Powell, raised interest rates by a quarter of a percentage point, placing the benchmark funds rate at a target of 1.5 percent to 1.75 percent. It marked the sixth rate hike since the Federal Open Market Committee (FOMC) began raising near-zero rates in December 2015.
Plosser, who served as a member of FOMC during the Great Recession would like to see the Fed "move a little faster" on rate hikes.
In October 2017, the Fed also began reducing the $4.5 trillion of bonds held on its balance sheet. The rate at which the Fed is unwinding the balance sheet poses inflation risks, in Plosser's opinion.
"We have all this quantitative easing we did – $2.5 trillion or so of excess reserves in the banking system that just sits there," he said. "The challenge is going to be managing those excess reserves because if they begin to flow out into the economy – that's when we are going to get inflation.