East Coast Braces for Hurricane Irene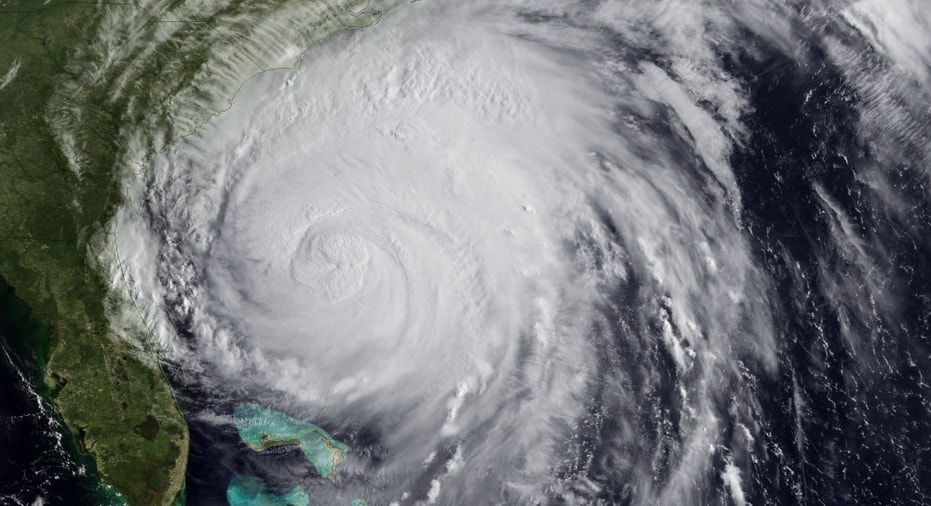 The United States urged 55 million people on its East Coast on Friday to prepare for the onslaught of massive Hurricane Irene, which President Barack Obama warned could be "extremely dangerous and costly."
"All indications point to this being a historic hurricane," Obama said, as Irene, a wide storm packing winds of more than 100 miles per hour (160 km per hour), bore down on the North
Carolina coast for an expected landfall on Saturday.
Hundreds of thousands of vacationers and residents were evacuating from coastal areas there and further northward up the East Coast.
Forecasters expect the menacing, broad hurricane to rake up the densely populated U.S. eastern seaboard starting on Saturday, then extend on Sunday to New York, America's most populous city with more than 8 million residents, and then into New England.
"The wind field is huge," U.S. National Hurricane Center Director Bill Read told Reuters Insider.
The NHC said hurricane force winds extended outward up to 90 miles (150 km) from Irene's center, while tropical storm force winds extended out to 290 miles (465 km), giving the storm a vast wind field width of nearly 600 miles (960 km).
U.S. federal and state leaders, from Obama downward, urged the millions of Americans in the hurricane's path to prepare and to heed evacuation orders if they received them.
"If you are in the projected path of this hurricane, you have to take precautions now .... don't wait, don't delay," Obama said, speaking from the island of Martha's Vineyard off the Massachusetts coast where he is vacationing.
"We all hope for the best but we have to be prepared for the worst," Obama added.
In earlier comments, NHC chief Read said Irene, which will be the first significant hurricane to affect the populous U.S. Northeast in decades, would lash the eastern seaboard with tropical storm-force winds and a "huge swath of rain" from the Carolinas to New England.
He said North Carolina would start seeing tropical storm conditions on Friday afternoon. Cities like Washington, Baltimore, Philadelphia and New York could experience heavy rain and wind and and power outages from the weekend.
Irene weakened early on Friday to a Category 2 hurricane from a 3 on the five-step Saffir-Simpson scale, but it still was carrying winds of up to 105 miles per hour (165 kph).
At 11 a.m (1500 GMT), its center was churning north 330 miles (530 km) south-southwest of Cape Hatteras, North Carolina.
The Miami-based hurricane center suggested on Friday Irene may already have peaked during its passage over the Bahamas, when its wind speeds made it a Category 3 "major" hurricane. But it could still roar up the eastern seaboard as a broad and dangerous Category 2.
"BIG, BAD STORM"
Coastal communities from the Carolinas to New England stocked up on food and water and tried to secure homes, vehicles and boats. States, cities, ports, hospitals, oil refineries and nuclear plants activated emergency plans.
"We've been through about four or five (hurricanes), but this looks like it'll be the worst," Henry Burke, a vacation homeowner in Atlantic Beach, North Carolina, told Reuters. U.S. Homeland Security Secretary Janet Napolitano urged residents not to delay precautions.
"The window of preparation is quickly closing," Napolitano said.
"This is a big, bad storm," North Carolina Governor Bev Perdue told CNN.
Maryland Governor Martin O'Malley told the TV network: "Anyone who thinks this is just a normal hurricane and they can stick it out is being ... selfish and stupid."
The U.S. capital, Washington, was also expected to feel heavy wind and rain. Extensive flight and rail service cancellations were expected.
Federal Emergency Management Agency (FEMA) chief Craig Fugate warned millions on the seaboard to expect power outages "for days," flash-flooding and strong winds EQECAT, a company that helps the insurance industry predict disaster damage, said Irene's forecast track represented "one of the worst-case scenarios" for the United States.
Wall Street firms scrambled to raise cash into early next week in case Irene causes major disruption in trading.
The repurchase market, a major source of cash for Wall Street firms to fund trades and operations, showed an increase in interest rates on loans that mature on Monday, a sign markets are worried there could be disruptions, if only temporary.
Northeast oil, natural gas and power facilities also made preparations. 1/8ID:nN1E77P0MF 3/8Oil prices rose slightly in choppy trade on Friday as traders weighed the approach of Irene toward refineries on the coast against concern about the health of the U.S. economy. 1/8ID:nL5E7JQ0LD 3/8
NORTHEAST CITIES PREPARE
Coastal evacuations were under way in North Carolina and were ordered for beach resorts in Virginia, Delaware and Maryland. Airlines began to cut flights at eastern airports.
North Carolina, Virginia, Maryland, Delaware, New Jersey, New York and Connecticut have declared emergencies.
Irene will be the first hurricane to hit the U.S. mainland since Ike pounded Texas in 2008.
New York Governor Andrew Cuomo said on Friday that New York City's mass transit system, the nation's biggest that serves 8 million riders a day, will be shut beginning around noon on     Saturday because of expected flooding and high winds from Irene.
Cuomo said in a statement the loss of subways, buses and commuter lines that serve the city and nearby suburbs could complicate evacuations.
In Washington, Irene forced the postponement of Sunday's dedication ceremony for the new memorial honoring civil rights leader Martin Luther King Jr. Tens of thousands of people, including President Barack Obama, had been expected to attend.
Flooding from Irene killed at least one person in Puerto Rico and two in Dominican Republic.
The storm knocked out power in the Bahamian capital, Nassau, and blocked roads with trees.
(Reporting by Jane Sutton, Tom Brown, Manuel Rueda in Miami, Daniel Trotta, Richard Leong, Joan Gralla and Ben Berkowitz in New York; Jeremy Pelofsky and Vicki Allen in Washington, Laura MacInnis and Alister Bull on Martha's Vineyard; Writing by Pascal Fletcher; Editing by Philip Barbara)