Diet Coke debuts new flavors, designs amid sagging sales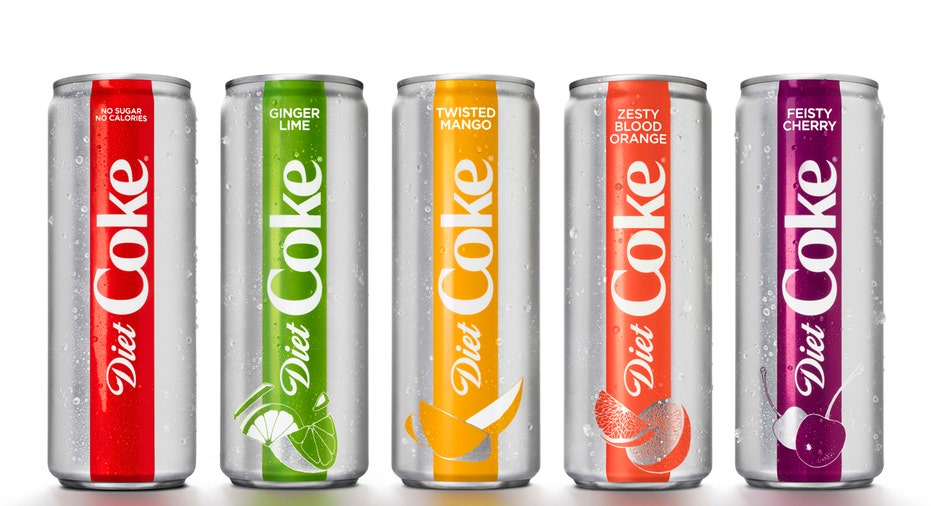 Diet Coke will be available in new flavors like twisted mango and ginger lime as Coca-Cola Co. attempts to jumpstart the slumping sugar-free soda, the company said Wednesday.
Coca-Cola is adding a slimmer 12-ounce Diet Coke can, updating the logo and offering the 35-year-old drink in four new flavors, which also include blood orange and cherry. The taste of the plain Diet Coke will stay the same, the Atlanta-based company said.
Diet Coke sales have fallen as more people switch to other low-calorie drinks, such as flavored fizzy water. In fact, Coca-Cola said the new slim 12-ounce cans are the same ones used for its Dasani sparkling water. Diet Coke will still come in standard 12-ounce cans, as well as other sizes, such as bottles and mini cans.
"We're maintaining the essence of Diet Coke while modernizing the brand to invite a new generation of drinkers to try it," the company said in a post on its website.
Coca-Cola said the new flavors and look — with a different color vertical stripe for each flavor and red for plain — are aimed at appealing to millennials. It spent two years on the makeover, and tested more than 30 flavors before settling on the four, which also include cherry and blood orange.
The changes will show up in U.S. stores by the end of the month and in Canada in February. There's no current plan to launch the makeover in other countries, but the company said other parts of the world are exploring ideas.
Diet Coke's makeover will occur months after Coca-Cola relaunched its "Coke Zero" brand as "Coke Zero Sugar." The brand was given a new recipe, as well as a fresh can and bottle design.
The Associated Press contributed to this report.