Dick's Deciding How to Use the Sports Authority Name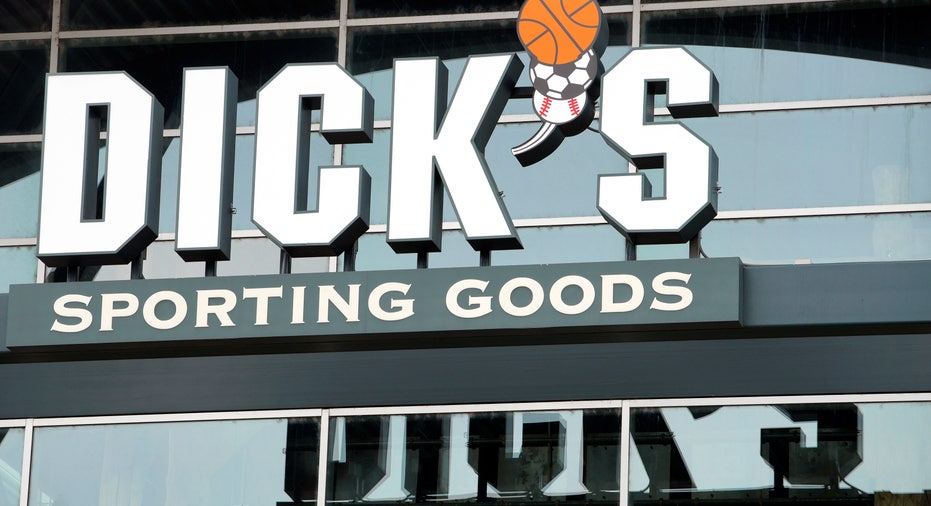 Dick's Sporting Goods (NYSE:DKS) surprised Wall Street with stronger sales in the second quarter, as the retailer appears to be gaining ground amid Sports Authority's downfall.
America's largest sporting-goods chain had warned that going-out-of-business sales at Sports Authority this summer could take a bite out of its sales in the short-term. However, the impact ultimately wasn't as severe.
Dick's earned about 1% more at $91.4 million, or 82 cents a share, in the second quarter. The bottom line surpassed the company's forecast of 62 cents to 72 cents. Sales of $1.97 billion, an 8% increase, also beat expectations. Analysts projected revenue of $1.88 billion.
Sales at Dick's and Golf Galaxy stores open at least a year were up 2.8%, a faster rate of growth compared to a 1.2% increase a year ago. Dick's was bracing for a decline of 1% to 4% in the latest period, citing pressure from Sports Authority's liquidation.
Shares rallied about 7% on Tuesday. Dick's is now up 66% since the start of 2016, widely outpacing a 6.8% improvement in the broader S&P 500. The seller of sports apparel and gear has largely weathered the consumer trends that have plagued other brick-and-mortar chains. For one, consumers are putting more of their money toward pricey electronics and other items rather than clothes. Just last week, Macy's (NYSE:M) announced that it will close about 100 stores.
Sports Authority is another casualty. It declared bankruptcy in March, and two months later, it decided to close any stores that didn't have a buyer. Dick's acquired the rights to 31 store leases, as well as intellectual property such as Sports Authority's trademark, customer list and online store.
On a conference call with analysts, Chief Operating Officer and interim Chief Financial Officer Andre Hawaux said Dick's has the right to retain or reject any of the leases. Any locations that the Pittsburgh-based company elects to take over will be converted into Dick's stores over the next 12 months. Most of the stores are located in California and South Florida.
Dick's ended the second quarter with 751 stores of its own, including Golf Galaxy and Field & Stream locations.
Dick's is still evaluating strategies on utilizing the Sports Authority e-commerce site, according to CEO Edward Stack. He added that Dick's has been more aggressive in pursuing sales growth online. In the second quarter, Dick's website accounted for 8.5% of total sales versus 7.3% last year.
"I'm sure we've picked up some of Sports Authority's online business," Stack said on Dick's earnings call. Across the board, Stack believes the retailer will capture a "significant amount of displaced market share" left behind by Sports Authority and other sporting-goods chains that have closed their doors.
Stack also said championship gear for the Cleveland Cavaliers and Pittsburgh Penguins sold well, while Dick's maintained a profitable golf business despite headwinds in the business.
Dick's is calling for better-than-expected earnings of 39 cents to 42 cents a share in the third quarter. Same-store sales are on pace to grow between 2% and 3%. Full-year earnings are projected to hit $2.90 to $3.05 a share, better than a previous estimate of $2.60 to $2.90 a share.