Detroit 3 Power Forward Despite Industry Slowdown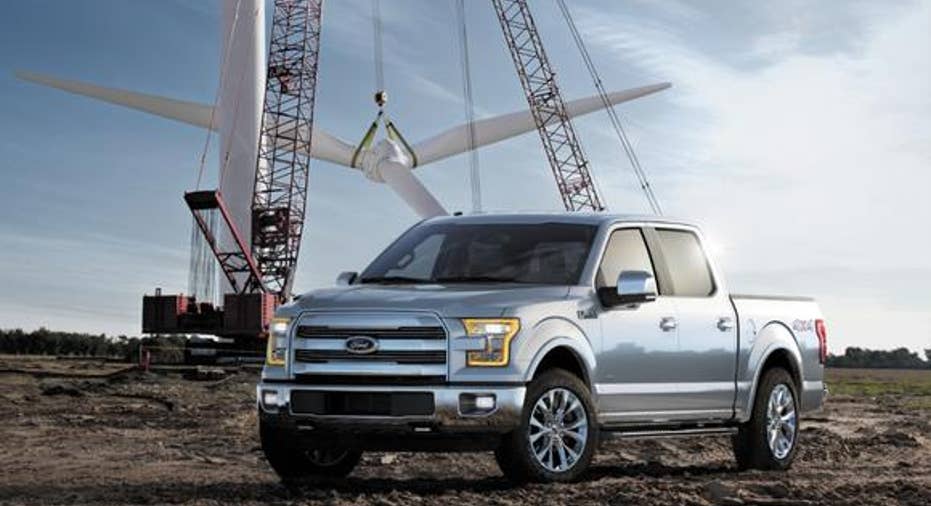 Ford's F-Series topped 70,000 units sold earlier in the year than usual. Image source: Ford Motor Company.
It's fair to say March was an intriguing month for automaker investors, at least when it comes to sales. While U.S. light-vehicle sales rose 3.1% last month, the seasonally adjusted annual rate (SAAR) dropped to a 13-month low of 16.56 million. That figure compared unfavorably to last March's SAAR of 17.14 million. Even worse, many analysts are speculating that with incentives spiking and fleet sales potentially rising (fleet sale information isn't final as of this writing), the quality of March sales was also in decline.
All of that aside, there were some intriguing story lines last month. For one, Ford Motor Company outsold General Motors for the first month in five years. Let's look at the highlights from Detroit's two largest automakers, as well as Fiat Chrysler Automobiles .
King of the hill, for now While Ford has stepped into the lead, chances are GM will take back its top spot in the U.S. market next month. Ford sold 254,711 vehicles last month in the U.S., an 8% gain over last year's result and its best March performance since 2006. Ford's SUVs and trucks again led the charge, with its combined SUV sales up 13% in March to 72,872 units. Sales of the Edge were up nearly 50%, and the Escape and Explorer followed with 8% and 4% gains, respectively. Meanwhile, sales of the F-Series topped 70,000 units last month, the first time since 2007 the truck reached that level of sales this early into a year.
Chart by author. Data source: Ford Motor Company monthly sales releases.
With sales of SUVs and trucks continuing to accelerate, it's not a surprise that Ford's average transaction price (ATP) in March increased by $1,600 per vehicle, nearly double the industry average, according to Ford.
However, while Ford indeed outsold GM in terms of units -- 254,711 to 252,128 -- it's worth noting that the two automakers were wildly different in terms of fleet sales. Consider that 37% of Ford's total sales were from fleet segments, which is much higher than last year's 29%. Furthermore, while government and commercial fleet sales are good business, rental fleet sales are typically less favorable, and that segment was the driving force behind Ford's fleet sales last month. Meanwhile, GM continued to shed its fleet sales, with only 21.5% of its total first-quarter sales going toward fleet segments. Also, during the first quarter, GM's commercial and government fleet sales were up 9% and 23%, respectively, while its daily rental sales were down roughly 36%.
For now, it's safe to say Ford's fleet sales are powering its total figures higher, but management notes that it will taper off in the second half of the year. Still, it's something for investors to consider when looking at sales data.
Chevy's Malibu. Image source: General Motors.
Speaking of GM...Even though GM's total sales remain unimpressive, its retail sales were up 6% compared with last March, reaching 193,524 units. It's not a new trend, with GM tallying retail delivery growth each month since April 2015.
"The strong retail and commercial sales GM has been delivering are the result of a multi-year strategy to strengthen our brands, attract new customers, and grow profitably," said Kurt McNeil, U.S. vice president of sales operations, in a press release. "We are growing retail sales faster than the industry, and we are doing it with disciplined incentives and inventories, and lower rental deliveries. Our business is very healthy, and we are going to manage it with conviction to keep it that way."
One highlight of interest was GM's Chevy Malibu, which posted its best first-quarter sales since 1980. Roughly 85% of its March sales were of the all-new model, which GM hopes to be a turning point for the model, and it was the fastest-selling car in its segment, turning in just 24 days on average.
GM's GMC brand posted its best March since 2005, with sales up 13%, and Buick managed to record its highest-ever conquest sales -- sales in which a consumer swapped from a competing brand -- representing 46% of the brand's total sales for the month.
Lastly, GM's ATPs were at $35,800 last month, up $1,500 sequentially from February, and a healthy $5,000 higher than the industry average -- which basically emphasizes that GM sells a lot of high-priced SUVs and trucks compared with other major automakers such as Toyota, Honda, and Nissan, which drive total sales with passenger cars.
FCA's Jeep Grand Cherokee. Image source: Fiat Chrysler Automobiles.
The third wheel Last in the U.S., at least in terms of total sales volume, was FCA, with sales of 213,187 units last month, an 8% increase from the prior year and the automaker's best March sales in 10 years. If you've been keeping tabs on the auto industry, it's no surprise that the gains at FCA were driven by Jeep, which had its best March in history, with sales rising 15%. It was also the 30th consecutive month of year-over-year sales gains for the brand, which has set a sales record every single month dating back to November 2013. Furthermore, Jeep sales are up 17% for the first quarter and account for 38% of FCA's total sales in the U.S. market.
Behind Jeep was FCA's Ram brand, which enjoyed an 8% increase in truck sales last month and a 12% increase throughout the first quarter, compared with last year. Much like GM and Ford, its SUV and truck sales are going to power the company's quarterly results for the foreseeable future.
While SUVs and trucks are carrying FCA, not everything was great last month. Consider that Chrysler's 200, which was supposed to be the brand's saving grace, posted a sales decline of 63% during the first quarter and 68% in March.
Ultimately, March's sales figures were slightly weaker than analysts and investors had hoped. However, many investors choose to group sales months not only into quarters, but also into two-month pairs. Many decide to group January and February together to form an average to help offset seasonality and harsh weather, and many do the same for March and April. So stay tuned for April's sales results before getting too pessimistic about March's slowdown.
The article Detroit 3 Power Forward Despite Industry Slowdown originally appeared on Fool.com.
Daniel Miller owns shares of Ford and General Motors. The Motley Fool owns shares of and recommends Ford. The Motley Fool recommends General Motors. Try any of our Foolish newsletter services free for 30 days. We Fools may not all hold the same opinions, but we all believe that considering a diverse range of insights makes us better investors. The Motley Fool has a disclosure policy.
Copyright 1995 - 2016 The Motley Fool, LLC. All rights reserved. The Motley Fool has a disclosure policy.