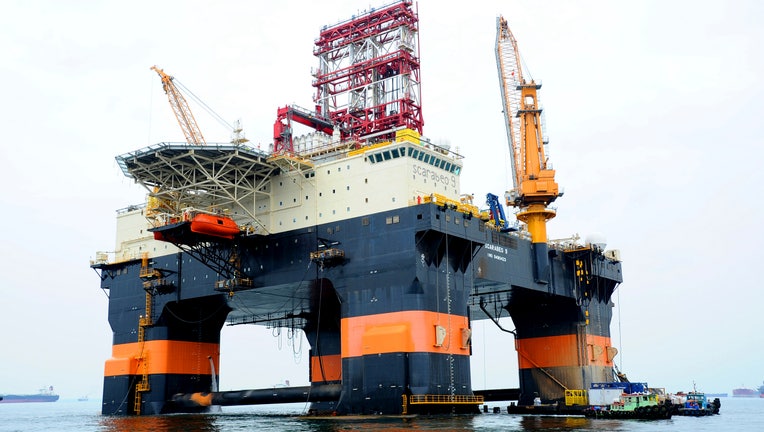 Oil prices fell Wednesday and snapped six straight sessions of gains as part of a wider market sell-off across commodities and equities.
The euro neared a one-year low against the dollar after data showed euro zone banks were still hoarding cash rather than lending it out, unnerving markets ahead of an important Italian bond sale and raising concerns about oil demand growth.
"The worry is that banks are borrowing and then sitting on the money and not lending it, and that will limit growth just like it did in the United States," said Mark Waggoner, president at Excel Futures Inc in Bend, Oregon.
The gains in the dollar weighed on commodities, dragging gold down 2 percent and outweighing oil market concerns about Iran's threats to shut off the Strait of Hormuz, a crucial chokepoint in the transport of crude.
U.S. stocks dropped following a recent year-end rally and the S&P 500 erased gains for the year as investors shifted focus to what is expected to be a difficult start to 2012.
Brent February crude fell $1.71 to settle at $107.56 a barrel. After briefly rising and pushing above its 50- and 100-day moving averages to reach $109.50, Brent fell as low as $106.77, below its 300-day moving average of $107.78.
U.S. crude fell $1.98 to settle at $99.36 a barrel, having traded as low as $99.11.
Crude trading volumes remained thin in the year-end holiday week, with Brent turnover 41 percent and U.S. crude 52 percent below their 30-day averages.
U.S. heating oil and European gas oil were more resilient, off just over 0.5 percent, because of concerns that Swiss refiner Petroplus could face a shutdown of its plants after lenders froze about $1 billion in borrowing allowances the company uses to buy crude.
Petroplus, which owns about 4.4 percent of European refining capacity, may run out of crude stocks in the coming days, according to traders, which could tighten the region's products supplies and threaten Europe's exports to the United States.      IRAN, SANCTIONS, THREATS
Facing the possibility of more European Union sanctions by the end of January over its nuclear program, Iran's first vice-president on Tuesday warned that the flow of oil through the Strait of Hormuz would be stopped if foreign sanctions are imposed on Iran's oil exports.
Closing off the Gulf to oil tankers will be "easier than drinking a glass of water," Iran's top naval commander told the country's state television on Wednesday.
The U.S. Fifth Fleet said it would not allow any disruption of traffic in the strait. France urged Iran to adhere to international law allowing freedom of navigation.
Turmoil and internal strife in fellow OPEC-members Iraq and Nigeria also have added to the concerns about potential threats to oil supply.
U.S. OIL INVENTORIES
Data from MasterCard showed U.S. gasoline demand continued to struggle, with driving demand down 1.6 percent over the Christmas holiday compared with a year ago.
Ahead of weekly reports on stockpiles, U.S. crude inventories were expected to have fallen last week, with distillate and gasoline stocks also off slightly, according to a Reuters survey of analysts.     Industry group American Petroleum Institute will release its data at 4:30 p.m. EST (2130 GMT) on Wednesday, with the U.S. Energy Information Administration's report following at 11 a.m. EST (1600 GMT) on Thursday.