Confidence Boosted, Back-to-School Shoppers Ready to Spend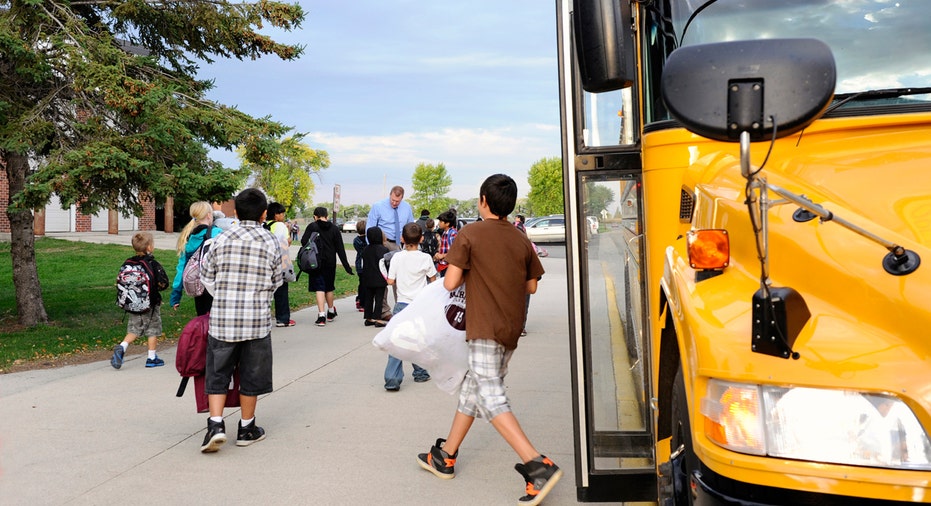 Parents across America have sharpened their No. 2 pencils and completed their math homework in preparation for the back-to-school shopping season. Data show shoppers are ready to dole out more green as they prep their students for a new school year.
While kids are still relishing summer's last rays, parents on the hunt for the hottest back-to-school gadgets and gear are finally willing to stock up on fresh supplies rather than simply re-use last year's items.
"We're seeing a very resilient and eager shopper at the low to mid-income levels, and that clearly is an indicator that back-to-school will be a very productive season for the retailers," said PricewaterhouseCoopers' Steven Barr, retail and consumer sector leader in an interview with FOXBusiness.com.
Ahead of the 2014 and 2015 school years, parents tightened their purse strings on school supplies for a number of reasons, but this year is different. The trend emerging among back-to-school shoppers is in line with economic data from the second quarter showing consumers as a whole began to feel more confident during the period, demonstrating more willingness to spend their cash as opposed to saving it.
The latest figures from the Commerce Department showed both consumer spending and personal income levels on the rise from the prior month in June, while retail sales jumped nearly 2% from the same period in 2015.
Parents are expected to spend a grand total of $75.8 billion on back-to-school items, up from $68 billion last year, according to the National Retail Federation, which said while families are looking for bargains, they're less worried about the economy now than they have been in the past.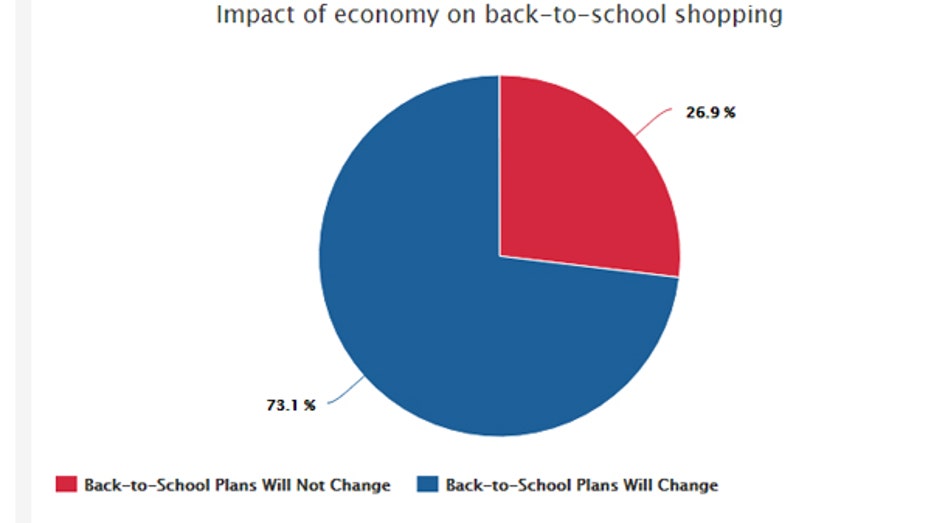 "We fully expect retailers to be aggressive with offering great deals both in stores and online for back-to-school shoppers. And retailers will keep a close eye on inventory levels as families spread out their shopping throughout the summer," NRF President and CEO Matthew Shay said.
Indeed, while kids step back into the classroom, retailers have taken note of distinct trends emerging in shopping habits this year. Within the technology space, students are on the hunt for fewer devices that can do more, according to Office Depot's Petter Knutrud, senior vice president of merchandising.
"Over the last two or three years, tablets were rather popular with middle school to early-college students. What we're seeing is a meaningful decline around 7% to 8% in tablets, but almost an identical uptick in laptops," he said.
Driving that switch is a desire to own technology that's become more integrated, offering users the ability to convert their laptops into tablets and vice versa. Lower price points, better battery life, and lighter building materials are also fueling the trend.
While shoppers hunt for the latest and greatest gadgets, Knutrud has also noticed shoppers snapping up paper products as students and teachers alike become more adept at integrating learning experiences across technology platforms and pen and paper.
"Year after year, we're surprised that there is no decline in paper-based products," he said. "We sell tens of millions of notebooks and binders, and it's because educators understand it's important for students to be writing in order to learn and retain information instead of doing it all digitally."
Following the overall trend of stocking up this back-to-school season, NRF data show families will rely less this year on discount stores, though it's still the No. 1 destination followed by clothing stores, online shops, and office-supply retailers. Shoppers are also expected to spend most of their budgets on apparel and electronics, followed by shoes and school supplies. Overall, online shopping is expected to see a 30% jump from last year, momentum PwC's Barr attributes to kids of Millennial parents entering the back-to-school age range.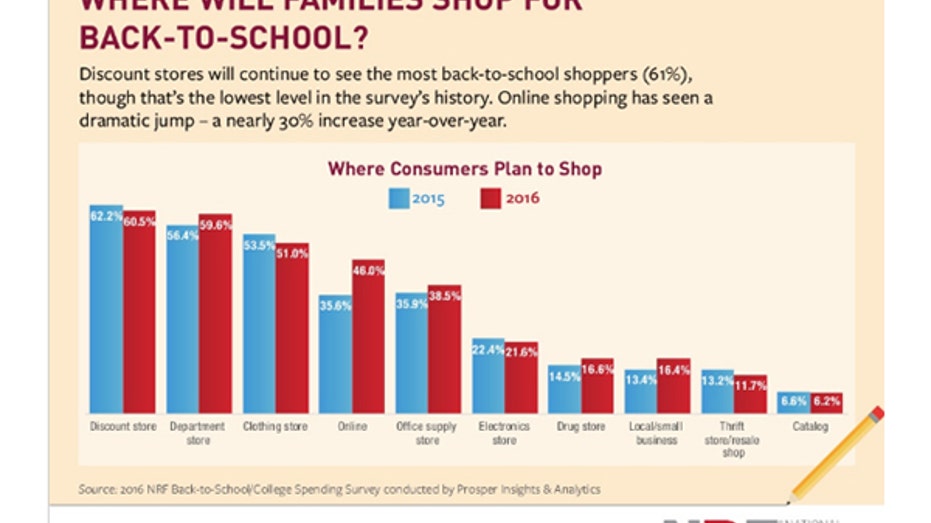 Still, while technology has made shopping for products during the hectic seasons both faster and easier, Knutrud said foot traffic at Office Depot stores across the country remains robust around the back-to-school season. Simply put, students still enjoy picking from an assortment of colorful folders, binders, and backpacks. He said one of the biggest days for his company is the day students go back to school when parents return to the stores to stock up on last-minute or forgotten items, or off-the-list supplies teachers request during the first week of class.