CEO Revamp Raises Questions About Whole Foods' Strategy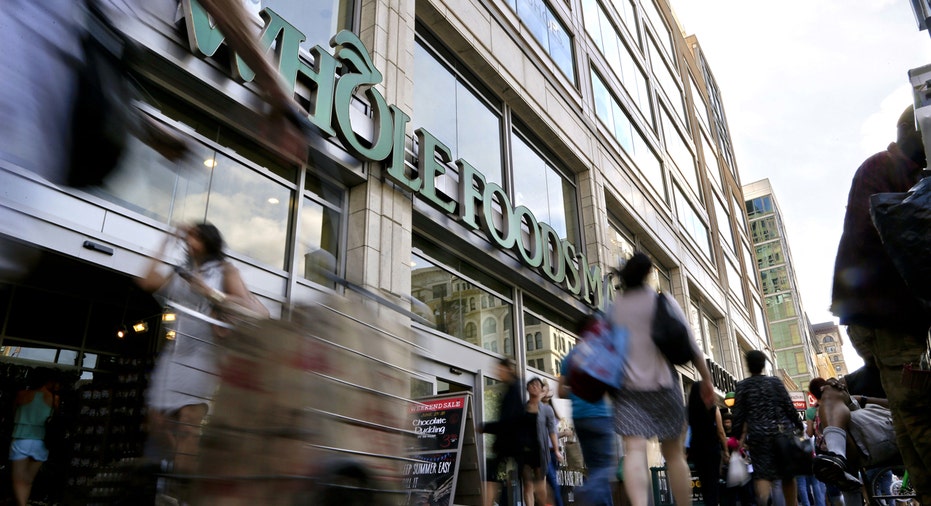 Whole Foods Market Inc.'s plan to return to one chief from a dual CEO setup the past six years raises fresh questions about its future strategy to battle a slump in sales.
The struggling grocery chain said late Wednesday that co-founder John Mackey will be the sole chief executive starting in January, as co-Chief Executive Walter Robb steps down to streamline top management.
"When business is going great, there aren't a lot of disagreements, and it can work. But when times get tough, that's when you start to bump heads," said Edward Jones grocery analyst Brian Yarbrough. "With two strong-willed people [Messrs. Mackey and Robb], this lasted a lot longer than we thought it would," he added.
Whole Foods declined to make Messrs. Mackey or Robb available for an interview or to elaborate on how the change will affect the company.
Whole Foods has been fighting a losing battle to get more shoppers in its high-end stores in recent years. The company said Wednesday its comparable sales -- a key metric for retailers -- have declined for the past five quarters and aren't expected to return to growth in the next year.
The natural foods industry has been under fire from traditional competitors like Kroger Co. and Target Corp., which are stocking more organic food at lower prices, and other factors like online grocery shopping and tighter pocketbooks among consumers.
Sprouts Farmers Market Inc., which bills itself as a more value-oriented fresh and organic foods chain, said Thursday its profitability took a hit in the latest quarter as it offered more promotions to drum up business. Its shares were recently down 12%.
Target, too, is still struggling to get its footing in grocery. On Wednesday, it said its grocery chief is leaving the company amid lackluster performance in her division.
At Whole Foods, Mr. Robb has championed a plan to invest in offering more promotions and discounts to appeal to value-seeking shoppers. It has yet to pay off, and some analysts say it could take much steeper discounts and several more years to boost sales.
Still, investors were impressed by the grocer's corporate cost cuts, which came in faster than expected. And Whole Foods said its sales trends are on the mend so far in the current quarter. Its shares recently rose 1.8% in midday trading Thursday.
But losing the man with the most operational focus of the two chiefs could result in changes to its strategy.
Even though Mr. Robb will remain on the board of directors, he would no longer help run the day-to-day business.
Mr. Mackey, a self-proclaimed foodie and environmentalist, tends to be a "big ideas guy," Mr. Yarbrough said.
In an interview earlier this year with The Wall Street Journal, Mr. Robb said: "I have the background of being president and chief operating officer. John is really brilliant at thinking 10 years down the road. I've got a lot of passion around the experience for our customers. John's got a lot of passion around healthy eating."
Whole Foods initially created the dual-CEO structure in 2010 specifically for Mr. Robb -- a longtime friend of Mr. Mackey and a leader at Whole Foods since 1991.
Mr. Mackey didn't want to leave, and Mr. Robb wanted to be a CEO. "We went for a walk and figured it out," Mr. Robb said in that earlier interview. He praised the dual-CEO concept as being the best of both worlds.
Before Mr. Robb stepped into the co-CEO position, Mr. Mackey was often getting himself into trouble for spouting off political ideas as a well-known Libertarian or trash-talking a rival store anonymously on online message boards.
He's still known for being somewhat of a wild card.
On Wednesday's call to discuss earnings, Mr. Mackey, compared competition in the grocery industry to the Civil War. Ulysses S. Grant, leading the Union Army, was always hearing from his generals about what Robert E. Lee was doing, Mr. Mackey explained. "And one day, Grant said, 'You know, I'm sick and tired of hearing what Lee is going to do. Lee needs to worry about what we're going to do.' And that's how I feel about our competitors."
Whole Foods was one of the few companies to still have a dual leadership structure. Earlier this year, Deutsche Bank AG scrapped the dual-CEO model, and software giant SAP let go of it in 2013. But others, like Samsung Electronics Co., Oracle Corp. and Chipotle Mexican Grill Inc. still have more than one chief.